Lively lets you turn your Live Photos into animated GIFs and videos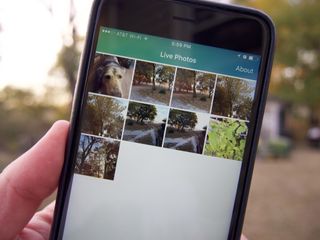 We've already started to see some interesting apps based around Live Photos pop up in the App Store, and a new app called Lively is the latest. Lively lets you take your Live Photos captured on your iPhone 6s or 6s Plus and export them as GIFs or videos to share with your friends.
When you load up Lively, you're presented with a list of all of your Live Photos. From there you can export to video or GIF format, and you can even change the speed of the playback. The app also includes 3D Touch support in the form of quick options to make a GIF or movie from the last live photo taken, along with Peek and Pop to quickly view live photos in the app. This certainly isn't the first app that we've seen for turning Live Photos into animated GIFs or movie files, but it's definitely a fun and well-made app worth checking out.
It's worth noting that Lively is free to download and try for the first three exports, but you'll have to pony up $1.99 to unlock unlimited exports via and in-app purchase. Still, if you'd like to give Lively a gander, you can snag it from the link below.
Get the best of iMore in your inbox, every day!
This is kinda of topic-
I made a gif from a string of burst photos from my mirrorless, I got some little app on my iMac. I couldn't post it to Facebook from Safari in OSX. I sent it to my iPhone, couldn't post it from Facebook app or safari.
In fact, the only built in app that could even play the gif was Messages.
All I could find on the subject was that you can post a LINK to a gif, but not actually upload your own. I wonder if this is fixed now, otherwise, why covert these pictures to gifs? (Obviously there are other sites/services besides Facebook; but that's where I post and share pictures) Sent from the iMore App

I have seen and heard of reports saying it was coming soon to Facebook ... but it seems to remain more in the future. Maybe the 6s/6s+ will spur things on. Here is a June 2015 Forbes article on the subject: http://www.forbes.com/sites/amitchowdhry/2015/06/01/facebook-starts-supp.... Using GIFs from http://www.wired.com/2015/10/julien-douvier-existential-daily-grind-gifs..., (a) if just upload an animated GIF to Facebook, it inserts a non-animated GIF; (b) if I upload a link to the article, I get the typical thumbnail image, article title, and link to the article; (c) if I upload a link to the animated GIF, it appears as a still BUT on the left is the host and on the right is an "animated GIF" arrow. (Clicking the arrow takes you to the animated GIF.) In conclusion, I am looking for the day when you can upload an animated GIF to Facebook, and it will auto-play like videos (depending on user settings).