Logitech Ultrathin Keyboard Folio for iPad Air review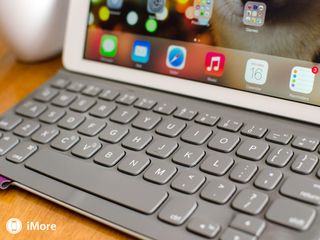 Logitech makes an extensive line of keyboard cases for all variants of iPad and one of their newest offerings is the Ultrathin Keyboard Folio for iPad Air. From the sleek exterior to the lightweight design, there's a lot to like about the Ultrathin Folio. But how does it do when it comes to getting down to business and hammering out emails, messages, articles, and anything else you could throw at it? Let's find out!
Starting off with hardware, the Ultrathin Keyboard Folio for iPad Air is well designed and provides access to every port on your iPad without having to remove the case or fiddle with chargers. If you want to take your iPad out, just slide it out. No trickery or hard clasps to undo. It really is that easy. When it comes to accessibility, the Ultrathin Keyboard Folio gets an A+.
On to the most important part of the case, the actual keyboard. Logitech has changed the design slightly over older models, most likely to make the case smaller and sleeker. The first tradeoff is that the Caps Lock and Tab keys are shared with the A and Q keys. This was a little annoying for me at first but something I got over rather quickly. The only other issue I find myself having with the overall layout is that I frequently hit the dedicated Home button key when trying to type an exclamation point or the number 1. I actually just did it typing that sentence. It's something I'm willing to overlook considering how fast I can type otherwise, but it's still something I'd like to see Logitech rethink in a future iteration. They're just too close together which makes it easy to close an app mistakenly while typing.
I've taken the Ultrathin Keyboard Folio with me to a few coffee shops and meetings now and for the most part, it's one of the most convenient keyboard cases I've used mainly because it isn't heavy and doesn't require me to fight with it in order to get my iPad out and replace it in a matter of seconds. The battery life is also great and can last for up to 3 months on moderate usage of about 2 to 3 hours a day.
The material used in the Ultrathin Keyboard Folio is somewhat of a double-edged sword. It's definitely durable and capable of handling moderate spills without sustaining any damage to your iPad, as long as you wipe it off quickly before it gets into any ports. The rubber material will also be more shock resistant than fabric cases or hard plastic ones. The downside is that it picks up dust, crumbs, and lint like crazy. Luckily, one quick swipe wipes them off with ease. It's definitely not a deal breaker but something to consider if that's something that bothers you. The Ultrathin Keyboard Folio currently comes in black, navy, red, grey, and a few two toned options. Getting a lighter color option could keep dust and dirt from showing as easily.
The good
One of the slimmest folios we've found that offers rather good protection without adding tons of bulk
Quick access to every single port on your iPad, no fiddling necessary
Rubber material is shock resistant and can help prevent disastrous spills if you get them quickly enough
Easy to slide the iPad in and out in a matter of seconds
The bad
Rubber material, though shock resistant, has a tendency to pick up a lot of dust and lint
Keyboard layout works great but the Caps and Tab keys sharing space with the Q and A keys may bother some people
I tend to hit the Home button key when trying to type a 1 or ! due to the spacing being so close, something I'd like to see Logitech take a look at in a future revision
The bottom line
If you want a sleek keyboard case that provides protection but manages to maintain the slim profile the iPad Air is known for, the Logitech Ultrathin Keyboard Folio is one of the best options currently available. Just be ready to accept a few keyboard oddities in return for great accessibility and amazing portability.
See also:
Master your iPhone in minutes
iMore offers spot-on advice and guidance from our team of experts, with decades of Apple device experience to lean on. Learn more with iMore!
iMore senior editor from 2011 to 2015.