QODE Belkin Slim Style Keyboard Case for iPad Air review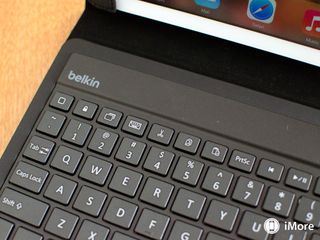 One of Belkin's newest cases, the QODE Slim Style Keyboard Case, lets you add a full size keyboard to your iPad Air while adding some pretty good protection at the same time. But does it hold up to real world use and are the compromises that Belkin decided to make worth it? That's what we're going to find out...
The QODE Slim Style Keyboard Case for iPad Air is one of Belkin's more durable options. And it's noticeable from the first time you pick it up with your iPad Air loaded into it. Since the iPad Air is so light to begin with, the extra bulk is noticeable. But for those that are more concerned about protection than they are having a sleek case, that may be a trade-off worth making.
Unfortunately, there are some keyboard layout issues that some people, including myself, won't be able to overlook. For starters, the keys are smaller than some other keyboards available for the iPad Air. In my experience, it has resulted in me skipping over keys or hitting the wrong ones. That brings us to the second oddity in which Belkin has decided to move the colon/semi-colon key to the bottom row next to the space bar. Every time I go to type an apostrophe, I keep hitting the enter key. I'll be the first one to tell you that this gets very irritating, very quickly. Whoever decided that was an okay sacrifice to make should be ashamed. Keyboard layouts are standardized for a reason, because we all know them by muscle memory!
Keyboard aside, the case construction it passable but I have found a few issues that are cause for concern. First off, the way the case stands is by way of a flap that you fold up and down depending on whether you need the keyboard or not. I feel after bending it so many times, you may run into issues with it tearing or wearing down. The same goes for the inside elastic that holds the iPad in place. Physics would dictate that over time, that elastic will eventually stretch out enough that the iPad Air could sag when inside the case. It also picks up a ton of dust and I've had a lot of trouble keeping it clean.
The Belkin Slim Style Case for iPad Air is one of the cheaper offerings we have looked at retailing for $79 and coming in a variety of different two-toned colors as well as a solid black option. Unfortunately, the cheaper price point in this case means a cheaper build quality and implementation than what we've looked at from other manufacturers.
The good
Adds quite a lot of protection due to the heavy material used to construct the case
A cheaper option for those on a tight budget
Full access to all ports on the iPad Air
The bad
Keyboard layout is dismal at best considering keys that are moved around and the small size of the keys in general
Elastic that holds the iPad in could stretch over time
The flap that stands the iPad up seems cheap
Again, moving keys around on a keyboard, never a good idea
No sleeper magnet functionality
Dust magnet (refer to photos below)
The bottom line
When I asked Belkin to send us their best offering for iPad Air, I wasn't at all expecting what I got, and I don't mean that in a good way. I wrote this entire review with the Slim Style Keyboard Case and wanted to cry after hitting the damned enter key instead of typing an apostrophe for the 20th time. The name is somewhat confusing as well considering this case is anything but slim when stacked against its competitors. The keyboard layout is just plain odd and not something I could ever get used to. Changing the position of commonly used keys is unacceptable. I am however debating replacing my Swiffer with this case, as it does a much better job at picking up dust.
See also:
Master your iPhone in minutes
iMore offers spot-on advice and guidance from our team of experts, with decades of Apple device experience to lean on. Learn more with iMore!
iMore senior editor from 2011 to 2015.