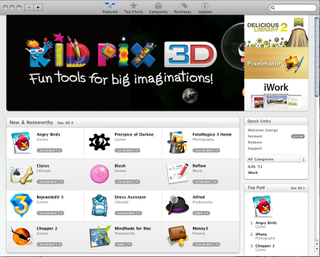 Apple's long-awaited Mac App Store has gone live! The New Mac App Store, part of Apple's taking iPhone and iPad innovation "Back to the Mac" comes with OS X Snow Leopard 10.6.6, which is available as a software update on your Mac.
Some of the apps available at launch include old Mac favorites -- and iOS favorites as well:
The iWork '09 suite
The iLife '11 suite
Twitter for Mac
Flight Control
Angry Birds
Things
Aperture 3
Lego Harry Potter Years 1-4
So are you going to be using the new Mac App Store? Let us know what you think in the comments.
[Apple (opens in new tab)]
Writer for iMore, YouTube Vlogger, and Host for [TEChBrits]
is anyone else having trouble downloading from the store? I get an unknown error (100) everytime I try to download anything. I've restarted a few times too. Must just be a lot of traffic right at the open.

Try clearing the com.apple.appstore cache. I read that this fixes the problem.

I also get the error; I tried clearing the cache like you suggested but it didn't fix the issue.

engadget claims this is how to fix it http://www.engadget.com/2011/01/06/mac-app-store-generating-error-messag...

I kept getting Error 100 after installing the Mac App Store as well, a normal restart fixed it for me.

Time to upgrade my os I guess. Is that expensive?

I'm new to Mac but I believe you just hit System Update. Or are you using an older version of OS X?

I was wondering why this wasnt posted here, of all places. I'll be downloading when I go home for lunch.

Looks great. BTW, Twitter for Mac (Tweetie 2) is awesome!

Home-run! I already don't want to buy an app any other way.

Looks great.
And we won't have to listen to all of the poor Windows users whining about how bloated it is on their cheap computers. ;)

I likes the twitter app, I hope the majority of games stay around the 4.99 - 9.99 range, otherwise I won't buy.

I dont know about you...but for me...$4.99-$9.99 for a game is a little ridiculous!

MacBook Air just became a whole lot more appealing!!!

completely agree! now i cant decide between a macbook air or an ipad 2. i should probably wait for os x 10.7

Promising so far, but on the desktop the need for trial versions -- not separate "LITE" versions -- is more important. For example iStopMotion (stop motion photography -- if you have kids and Legos, really, REALLY fun) costs $50 for the most basic version, but does not work with all types of cameras. When I bought it a few months ago from their site, I downloaded the time-limited trial from their site, made sure it worked with my camera, decided it was worth the money, and bought it.
On the App Store, I do not see any way to do this. With $1-$4 iPhone and iPad apps, this is not much of a problem, but with more expensive apps, they really need an obvious try-before-you-buy scenario.

When's the cydia store going live?

Very freaking cool. I just got evernote and twitter for mac and I am loving it so far

I use my Mac Mini as a HTPC, the only screen being the big tv. The only apps I use are related to video conversion and media streaming, like Plex, Handbrake and hacks to improve functionality, such as allowing AirPlay streaming to the mac from iOS devices, improving trackpad features, remote desktop etc. I don't think many of these sorts of apps will be approved by Apple so won't be in the App Store, so I'm not sure I'll ever really use this.
If I had a desk and a sit-down-in-front-of-the-computer experience with a Mac I could see this would be amazing though and I would surely be buying loads of apps.

Is that a full-featured version of Aperture? Or some stripped-down version? $79 seems too good to be true for something that normally costs $200.

This concept seems like one that is executed much better on a phone and kind of translates pointlessly to the computer seeing as how apps have always been on computers to begin with. But to each their own.

I could not disagree more. The whole point of this is to make the precess of buying and installing apps as easy as it is on the iPhone and iPad. Mac users now have a one stop shop that they can go and get apps from and installing takes only one click.

Have you ever used a Mac?
Most newcomers to the Mac get tripped up when installing/uninstalling apps with all the funky dealings with disk images, dragging/dropping, ejecting, urghhh.
Good post about that:http://daringfireball.net/2009/09/howshouldmacappsbe_distributed.
The Mac App Store makes installing/uninstalling/updating dead simple. This distribution model on the desktop/laptop will be a runaway success.

For a small number of apps, yes, but it is not without its own problems. For example, each install appears to put an icon in the dock (not sure if that is optional, but each I have installed has done it)...after a few installs, those users who have confusion with disk images are going to be taken aback daily by an overcluttered dock.

Any app that is running is on the Dock so it really is no different. And it is still a far more simple install process then it was before. Plus you always have the option of removing any icon from the Dock.

It's a little different, in that you have limited real estate for icons in the dock, and if every App Store install places an icon in that dock, that real estate will fill up fast with apps that are not running.
No, it is not difficult to remove an icon from the dock, but the type of user who is confused by dragging an icon to the applications folder is the type of user who might not know how to remove icons from the dock.

I cannot sign into my account. It presents sign-in box but won't allow me to enter my ID or password.

Hi guys - anyone know if apps you own on the iPad / iPhone can automatically be downloaded for free on the Mac? For e.g. If I have bought 'Angry Birds HD' for £2.99 on my iPad - do I have to buy that AGAIN on the Mac App Store - or should I just be able to install it again for free??? Be very grateful if anyone can answer that asap!

They're not universal apps like on the iPhone and iPad. So youll have to buy it again.

I love this idea myself. One of the most annoying things about windows and some OSX installers is that they spread allot of files withing the system and directories you never know about so even if there is an uninstaller your system wont be "clean" once you install these applications.
Now with AppStore the same clean install/remove method that is used on the iPhone can be applied to OSX computers. I own an MBP and downloading it as i write this.
I do love windows7 also but i wish they could introduce something like this as well. Installers just suck. I could kiss Steve for this wonderful idea :D
Anyway going to test the AppStore now...

There is still an installation process/script happening (in most cases), so files may still be created in places outside the application bundle.
While instillation is indeed as-simple-as-can-be, I am concerned about security. Ordinarily an administrator name and password is required to install anything; now, apparently no passwords are required except for the iTunes account. Even though the apps are carefully vetted by Apple, I do not want users installing apps on my corporate computers without I.T. approval.

What are the prices like?

@Ronald-
I also have a Mini connected to my HDTV. How is Plex different from Zumocast?
Thanks.

I'm kind of let down. The text is too small for me to see, since I use my 27" iMac in the living room and usually sit on the sofa. I can't figure out a way to make it bigger without sacrificing screen resolution!...Command + doesn't work (doesn't work with iTunes either and the "large text" command in preferences barely makes a difference.) I'm just pretty surprised that Apple hasn't worked this out already.
I downloaded Mashable just to see what was up - and I couldn't enbiggen the text there either.
Unless I upgrade to Snow Leopard on my Macbook Pro (which would be stupid with the impending release of Lion) I don't see myself using the Mac App store.
Kinda bummed about it too, b/c I was looking forward to this. Am I missing something? Any suggestions?

Only thing I will be using this store for is to download the Twitter app. Which I did...and now it is done. :)

TheNextWeb is reporting the existence (not the How-To) of a what seems a trivially easy way to pirate app store apps. If true, Apple needs to get on this pronto before it mushrooms into something that will keep 3rd parties from using the store
http://bit.ly/fMEyH7

I was completely blown away wow mon

Well... have download it... but my Mac have stall numbers of times... and a notification saying (Please RESTART your com... by holding your Off button.. until it off... then on back.) Something like that... are you guys having the same problem?? this thing never occurs to me until i download the 10.6.6 patch... -.-"
Note that i have already send error report log to Apple.. not sure if that helps..

I bought Aperture last night. I'm glad they are splitting up iLife. With aperture now I only need the iMovie function of iLife not the whole package. I only used iPhoto and iMovie from iLife anyway.

I don't understand why people are saying it's too expensive. These are full Mac Apps!! No different to ones you would buy pre-AppStore.

Because their computer skills go no further than gaming and tweeting.

WILL THERE BE A CYDIA MAC STORE????
DOES ANYONE KNOW?
Get the best of iMore in in your inbox, every day!
Thank you for signing up to iMore. You will receive a verification email shortly.
There was a problem. Please refresh the page and try again.