Mac gamers can finally play Star Wars: Knights of the Old Republic II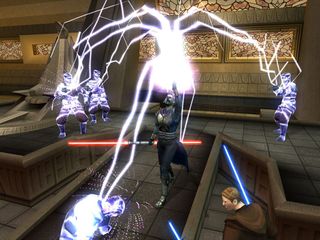 Over 10 years after it was first released in 2004 on Windows and the original Xbox, Aspyr Media has now released the Mac version of the classic role-playing game Star Wars: Knights of the Old Republic II - The Sith Lords. It has also launch a Linux-based version of the game.
Both Knights of the Old Republic games are set thousands of years before the events of the Star Wars movies. Knights of the Old Republic II, originally developed by Obsidian Entertainment, has the player fighting as a Jedi to stop the Sith Lords from destroying the Old Republic. Aspyr Games says:
You can get the game for $6.99 in the Mac App Store or for $7.49 via Game Agent and Steam.
$6.99 from Mac App Store - Download now

(opens in new tab)

$7.49 from Game Agent - Download now
$7.49 from Steam - Download now
Source: Aspyr Media
I have been writing professionally about technology and gaming news for 14 years.
Good lord. I don't mean to be a Debbie downer but... 10 years later the game comes to the platform? Go ahead & skewer me... I deserve it.

Dude, it's Star Wars. Ten years is nothing. I'm still waiting for a nice retail release of the 1983 Atari coin op of Star Wars.

I hope this means the IOS version is coming soon. I love what Aspyr has done with that game engine. I also love what Disney is doing with Star Wars. It's great to see these old games get a new life and a second chance. They are well designed and fun!

I'm playing the original KOTOR on my iPad now. For the 4th time, I think.
Spectacular game. Looking forward to playing KOTOR II on my iMac!

Disappointed, I must say. KOTOR 2 is no doubt a good game (from what I've read - only ever played the first one), but I was hoping for a port of something more recent - not really for Mac but more for the Linux side, with Steam OS being due soon and all. Good price though. Cheaper than the iOS version of KOTOR 1, if I'm not mistaken.
Get the best of iMore in in your inbox, every day!
Thank you for signing up to iMore. You will receive a verification email shortly.
There was a problem. Please refresh the page and try again.