Mac Games you need to play: Avernum 2, Blackguards 2, and more!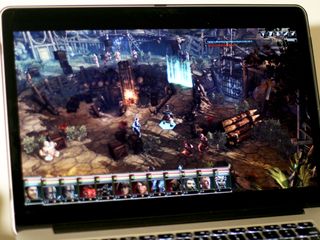 Who says there are no games for Mac? There are plenty, including a few releases that have just come out worth keeping your eye on. Here's a roundup of some of the more noteworthy titles I've come across in my travels. We've got a heavy focus on strategy and role playing games this week.
Anoxemia
Dr. Bailey and his operations drone find themselves marooned at the bottom of the ocean with a dwindling oxygen and power supply on a quest to collect samples of contaminated sea life. You must avoid obstacles like mines and other dangers — including some you can't see. It's a side-scrolling action game with some clever mechanics and some very eerie graphics.
The creepy underwater setting is dark — very dark — and you never know what's going to come swimming out of the water at you. It's an indie game with a web site that lets you play a demo, thanks to the Unity web player.
Avernum 2: Crystal Souls
Spiderweb Software is a premiere purveyor of old-school style turn-based role playing games for Mac and PC. They've been turning them out for decades — ever since 1994. Their latest effort is Avernum 2: Crystal Souls. Avernum is a massive underground kingdom populated by the cast-offs from above. This game continues the story of how the Avernites wage war against their oppressors.
This is a ground-up rewrite of the original Avernum 2, made for modern systems, but with its classic gameplay style intact. There are dozens of hours of play here, multiple quests you can go on, more than 100 towns to explore and hundreds of magical artifacts to find. You won't need to have played the first game (or any other Spiderweb title) to get the most out of this; the learning curve is low and it's made to be an independent game.
If you're still not sold, you can download a demo from the web site
Blackguards 2
Daedelic Entertainment has released Blackguards 2 on Steam this week. It's a strategy role playing game set in a medieval land in which you control a group of anti-heroes led by Cassia, whose years in a dungeon have driven her mad with a lust for power.
This SRPG has a hex-based battle system that requires you to think out how you're going to set up and use your troops before you rush into battle; it's more of a thinking gamer's title than many others, but there's plenty of action as well. There are different character classes, each with different attributes, skill trees to learn, a multitude of weapons, magical items and spells, and lots more besides.
One of the things that makes Blackguards 2 remarkable is that it's come out same day for Mac and PC. It's 10 percent off for a limited time.
Stronghold Kingdoms
Firefly Studios' Stronghold series is a line of real-time strategy game that focuses your attention on building castles and routing your enemies using means military and and economic. The company developed a massively multiplayer online real time strategy (MMORTS) game based around the same concept called Stronghold Kingdoms that's been out for PC since 2012. Now they've released it for the Mac!
The central theme is still the same: You're building castle strongholds to house your military and your civilians and to protect them from invaders, using all means at your disposal: Agricultural, military, economic and more. But now the scope of the game is much wider, because it's massively multiplayer, so you're playing with (and competing with) thousands of other players too.
Stronghold: Kingdoms is free to play, so you don't have to put down any money first, though you do have to create an account. You can purchase in-game items to enhance gameplay, including strategy card packs and more.
Tengami
This atmospheric adventure puzzle game uses medieval Japan as the backdrop for a beautifully told story. The art theme is really interesting: It's set up like a pop-up papercraft book, and even the characters you interact with throughout the game are 2D, as if they too were made of paper. Tengami is very esoteric: There's no narration and precious little instruction; there's also no fighting or overt violence. So if you're looking for a peaceful, meditative game that won't stress you out, Tengami is a great offering.
Tengami was released in 2014 for various platforms including iOS, but it comes to Mac and Windows now thanks to a release on Steam.
Warhammer Quest
Chilled Mouse has released Mac, Windows and Linux versions of a turn-based strategy game based on Games Workshop's legendary tabletop RPG Warhammer. You control a team of heroes as they explore dungeons around the borders of the empire, encountering all manner of vile beasties and wicked foes along the way.
Warhammer Quest has had a kind of convoluted development process: It started as a tabletop board game back in the 90s, and has already been adapted to video games as a title for iOS. If you've played Warhammer Quest for iOS you know what to expect: An overhead turn-based game in which you go on a dungeon crawl with a party of heroes that you assemble, retiring to towns and villages between battle sequences to unload loot, replenish supplies and more. Now Warhammer Quest is available on computers.
What are you playing?
Whether you grab one of these games or something else, let me know — what Mac games are you playing this month?
Master your iPhone in minutes
iMore offers spot-on advice and guidance from our team of experts, with decades of Apple device experience to lean on. Learn more with iMore!