Mac Help: Is the Apple Thunderbolt Display worth it?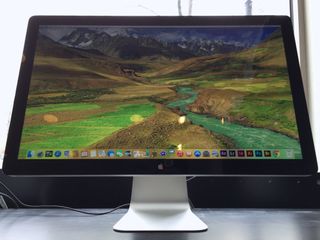 (Image credit: iMore)
Given that the Mac can work with just about any display using the right adapter, what exactly do you get with the Thunderbolt Display, anyway? That's the question I'm trying to help a reader with this week.
M.J. writes:
I'm a fan of the Thunderbolt Display. It has a beautiful color gamut, looks like a Mac peripheral and sports oodles of screen real estate with its 2560 x 1440 pixel resolution. It's just a great monitor, period.
What's more, it hooks up to the Mac using a single built-in Thunderbolt cable (hence the name), but provides three powered USB 2.0 ports, a FireWire 800 port, Gigabit Ethernet, and additional Thunderbolt port for you. There's also built-charging cable for MacBooks old and new alike (it's a MagSafe charger which works with older MacBook Air and MacBook Pro models, but Apple includes a MagSafe 2 adapter to connect to all the newer MacBooks too — except for the MacBook — the new MacBook, which uses USB-C. What's more, the Thunderbolt Display has a built-in FaceTime camera and speakers, so you won't have to clutter up your desk with an external webcam or external speakers.
If you're looking for the best-integrated display that looks and acts like a proper Apple product, you won't find anything that works, looks and sports the same features as the Thunderbolt Display.
Having said that, it's pretty ferociously expensive compared to other 2560 x 1440 resolution 27-inch displays. You can find displays for less than $300 with the same resolution and the same screen size. And connecting them to a Mac with Thunderbolt is trivial: You usually just need a Thunderbolt to DVI or HDMI adapter to make it happen.
These dramatically less-expensive displays are not going to be calibrated the same way as the Thunderbolt Display and they're not going to look the same as the Thunderbolt Display. But if you're on a budget and you just want to see more stuff on the screen, such displays are the way to go.
There are a few things that make me pause when considering the Thunderbolt Display. Its design is one of them. It was created before Apple moved to the thinner design used by the iMac in 2012, which means it still has a thick black bezel, it's heavy and awkward to move. Customers in the store I work in often confuse our demo model, connected to a new Mac Pro for an older iMac. Also, it has three USB 2.0 ports: Fine for mice, keyboards and slower storage peripherals. But much of the USB peripheral world, especially hard drive makers, has moved to faster USB 3.0. Those devices will work with the older USB 2.0 interface, they just won't work at optimal speed.
I'd like to see Apple update it, but I don't think that'll happen right away. Apple's newest hotness is the 5K iMac, which came out in late 2014. That device uses a screen with such high resolution that there isn't a Mac that has an external interface that can handle it.
That won't happen until Apple updates Macs with Intel Skylake processors, which aren't expected to go into distribution until later this year. There's no guarantee that Apple's going to be early with Skylake-equipped Macs, either.
Bottom line: If you want a display for your Mac that looks and acts like a Mac display should, Apple's Thunderbolt Display is a good choice. Especially if someone else like an employer is paying the bill. But if you want to get more for your money, shop around and accept that the display you're looking at won't have an Apple logo on it.
Get the best of iMore in in your inbox, every day!
Peter - if I want a docking station configuration is there a DIY option? I want to use the bigger monitor screen (with Macbook closed), improved audio and keyboard and mouse. The Thunderbolt display seems to deliver this at a price and is a very old product - is it possible to replicate this with other products ?

I use the Elgado thunderbolt 2 dock with a 27 inch moniter. It has the added advantage of having three usb 3.0 ports as well as HDMI.

The LG34UM95 and the LG34UC97 are better in every way and about the same price. I honestly could not see anyone buying a Thunderbolt Display in 2015. I still have one but it's painfully out of date and the price is ridiculous for your your getting.

No they are not. I also own the LG and the screen brightness, the color warmth and the calibration of the LG don't come close. I put the LG next to mu iMac27" mid 2011 - an almost obsolete machine - yet that display has an even better image than my new LG curved 4k, if we forget for a minute the lower resolution

I'm running my 2011 i7 15" MacBook Pro laptop closed but plugged into the older Elgato Thunderbolt (1) dock which I paid only $140 from OWC on close out. It added three USB3 (my PB came only with USB2) audio I/O, gigabit enet, HDMI and another Thunderbolt pass through and it came with the Thunderbolt cable!
For a fine display, I'm running a Viewsonic IPS energy star from Amazon that I paid only $150 for and it looks fantastic. This display is capable of the full sRGB gamut which is what is used by photo printers and I've calibrated it with a ColorMunki (also used for calibrating my printer) so what I see on the screen is what I will get on my prints!
The Apple Thunderbolt display is fine but still pricey and soon to be replaced (or phased out?). Being able to get the ColorMunki, sRGB ips display and USB3 via the elgato dock and all for less $$ made more sense for me?!?

I was in the market for a new display a couple of months back. I have a Thunderbolt display in the office, but wanted a similar display at home. Some of the items on my wishlist:
- A decent to good IPS display
- 27"
- 2560 x 1440 resolution
- Built-in hub with ethernet and multiple USB ports
- Preferably with a Thunderbolt connection If you are looking for something like that, the Thunderbolt display can not really be beat, especially because of the "single" cable solution. If you look around for a Thunderbolt Display they can be bought for around $850 or so. There aren't really any other displays with a Thunderbolt connection (more on that later) so if you want a similar experience you'll need:
- A good 27" IPS display
- A Thunderbolt dock
- An Apple Macbook charger Combine the costs of those items and you'll have a Thunderbolt display like price. And you'll probably be missing a built-in webcam, speakers and mic. There is only one other display to consider with Thunderbolt and that is the LG 34UM95. That's what I bought in the end. I couldn't justify buying a Thunderbolt display with old technology (Thunderbolt 1, USB2). The LG is pretty awesome being a 34" 21:9 display (so it's very wide) and a resolution of 3440 x 1440, USB 3 and Thunderbolt 2. It sill has downsides though:
- There is only one USB3 port, the other 2 are USB 2.
- No Ethernet port (so I use the Apple dongle thing for that, which uses up the Thunderbolt port on the display)
- No charging cable.
- It's from plastic. Seriously, it feels cheap when you plug in cables. Luckily you don't do that much.
- It has built in audio which OSX switches to when I connect, even if the Macbook has headphones plugged-in. So if I put on a funky tune, the entire office can listen in for a few seconds. I already had the spare charger and an Thunderbolt > Ethernet adapter. The LG is now at the office and the Thunderbolt Display at home (the wife uses a Macbook as well) and they both are great for where they are used so I'm happy. But I still would have preferred to buy an updated Thunderbolt Display with USB3, Thunderbolt 2 and a sweet new iMac like-design and panel-glass fused screen, but that display is still a dream :(

I have the 34UM94 (Same as the 34UM95, but has 3 year warranty and is the commercial version) for same price. I love this screen, I don't regret getting it.. The biggest issue I have is it was soooooooooo big they had to stitch 2 screens together and every now and again you see tearing right down the middle.. Also, for some reason, it occasionally has trouble waking from sleep mode.. only one side comes up or one side is 'garbled'... very odd..

I love it as well, but I don't have the tearing issue (or I have never noticed it). Are you gaming on it? If they had built-in a decent webcam (I use the Macbook cam a couple of times a day for FaceTime) and non-transparent stand (so I can hide the cables) it would be my perfect office monitor.

I would consider one of these bad boys for $700, but for that price it would also be my TV. Sent from the iMore App

The best thing about it for mac users is probably the thunderbolt connection. They'll also pop up on the refurb section of apple.com now and then but even then, that's still pretty expensive. Another to keep in mind is Dell u2713hm http://www.amazon.com/Dell-U2713HM-27-Inch-LED-lit-Monitor/dp/B009H0XQQY... with a color gamut of more than 99-percent sRGB. I got mine refurb for around 270 off of slickdeals.net but carried a year warranty. Works great after 2 years now.

I think this is really good advice. I have two TB displays (home and work), and there's nothing better. But the fuzziness of a non-retina display is really noticeable. I'm waiting for Apple to be able to offer a 5K display - apparently at least a year off and will require purchase of a new MBP - and would not personally buy the current generation of TB display in the meantime. Also to add into the mix is how long Apple will even support TB going forward, or whether they will move us to USB-C on the MBP line.

I was so impressed with Dell's P2715Q 4k monitor I bought another one. Incredible, bright picture for a little over $500. This is THE monitor to get! http://accessories.us.dell.com/sna/productdetail.aspx?c=us&cs=04&l=en&sk...

So I'm confused. I'm getting ready to purchase a 5K Retina iMac. "That device uses a screen with such high resolution that there isn't a Mac that has an external interface that can handle it." I understand you cannot use target display mode (signal going out to another screen). What about input?? I know that sort of defeats the purpose of having a 5K screen, but I would like some clarification.

I think you have that backwards. The 5K iMac can OUTPUT up to 3840x2160 to an external display, but you cannot INPUT to the iMac. In other words: the 5K iMac does not support Target Display Mode at 5K.
.
However, I can't find online if it will work at lower resolution. ie- it is unclear if one could use the 5K iMac as a target display at 2560x1440 from a Mac Pro / mini. Sent from the iMore App

I've been thinking about the monoprice display. Sent from the iMore App

Almost two years ago, I decided to downsize and consolidate my home office. I was using both a 2008 Mac Pro, and a 2012 11" Macbook Air, which I love for portability. For almost everything I needed to do, the Air performed just fine. Many times, I would have to use my Air anyway for FaceTime and Skype, since my Mac Pro setup wasn't equipped with a camera and mic. After some research, I decided to sell my Mac Pro, together with its two, Dell 24" Ultra Sharp LCDs, and purchase a TB display. I still have several high capacity FW800 drives for backup, work files and media storage. And since my office was renovated a few years ago, I put some money into wiring it with Cat 6, using a managed switch, so I like to use a wired connection whenever possible, which the TB display provides. I use the "Location" option under SysPrefs/Network, and create a "Home" and "Mobile" profile, so I can go from wired, static IP, to wireless, DHCP, with two clicks (or use Auto for quick connections). The TB is large enough for me now, that I don't need the additional monitor. I just slip the Air (closed) on the TB stand (fits perfectly), plug in three connections (TB, Power, USB), and that's it. When I leave, I can be disconnected in about 5 seconds. The third connection is to a USB 3.0 hub that I keep my newer, high-speed devices attached to, and low-bandwidth USB devices get plugged into the slower ports on the display. So, for me, it makes sense. My eyes aren't spoiled (yet!) by Retina displays, so this display is fine for my purposes. I can keep my legacy devices, but still add new USB stuff. I use an Elgato eyeTV, so this can function as my office TV also, though I'm not a big TV watcher. And, besides a Mac Mini, running OS X Server, and an old testing / project iMac, I only have my one machine to maintain. Finally, as with most of my Apple purchases, I purchased it refurbished from the online Apple store and saved about $200 dollars.

An external monitor on a laptop totally defeats the purpose of a laptop.
If you really want an external monitor (and even an external keyboard?!), get a Mac mini (or a Mac Pro)!! That's what they're for!

Not at all. Being able to use the MacBook Pro as both a desktop and laptop has been great. Sent from the iMore App

TMav is right. Its crazy using two computers at times. With people who have a lot of data movements it can drive them crazy. Id often go mad with handling files between two computers. Having externals for everything was not an option. Now that i have only one computer data management is very easy and whenever i need to edit or do design work, id connect it to a display and enjoy the larger screen, when done i like the mobility of my laptop maintaining the same data that i worked on just now.

It appears to be a nice monitor and using the ports as a docking station is a big plus. But the price does seem high. For that price you would almost expect it to be retina now. As far as docking stations, I've been using the Belkin Thunderbolt dock and it's been good. Sent from the iMore App

I am in a similar situation. Dont know which display to buy. The one and one thing that is pushing me towards Apple display is because of Apples customer service. Recently in my house Dell and Sony products came in and stopped working within weeks of buying it. It was a nightmare to get something done with them. I am talking 50+ calls, consumer courts etc. Atleast with the extra 400$ i might be paying compared to a good display i know apples customer care is the best. My iMac had display issues and everything was just a chat away. Within 2 days id have my display changed. Also considering thunderbolt, i agree with Paul totally. When you look at good displays (4k or not), the cost ends up coming to the same amount with may be 50-100$ difference at most. Apple even though outdated still stands out very well compared to the new displays. Most people fight over thunderbolt 2 but thunderbolt 1 itself is so freaking fast. Its almost comparing one type of SSD to another where there is minimum difference. I have gone through so many displays but i still for some reason feel relieved to buy an Apple Display. Another imp. thing i am considering is the resale value. Apple being apple will sell at a very good price 2-3 years form now. Even if this isnt 4k it will sell. Try selling an iMac today and even with the existence of 5k iMac that thing will go in a very good price. The other displays most likely will not.

Call me crazy, but I've just bought a brand-spankin' new Thunderbolt Display today to use with my 2012 Retina MBP at the office...and I love it! Granted, there are cheaper offerings with higher resolutions available, but I mainly bought this as a docking station for my MacBook and the plus in convenience is well worth the price for me!

Sometimes, a man must hold on to his convictions and simply believe that something better will come along. Especially when it comes to innovation and technology. I trust Apple will come out with a new Thunderbolt 3 display sooner than you think.

Not sooner than 6 months, however,
Thank you for signing up to iMore. You will receive a verification email shortly.
There was a problem. Please refresh the page and try again.