How to stream from a Mac to an Apple TV with no Wi-Fi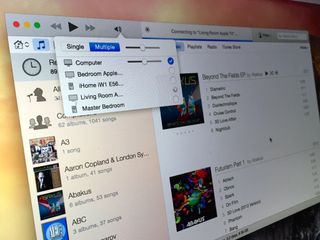 The Apple TV is capable of streaming video content over the Internet or content that's stored locally on host Macs or Windows PCs connected to the same Wi-Fi network. But what if there is no local Wi-Fi network? Well, this week, I'm actually coming to you with a question, because I'm stumped.
D.T. writes:
The third-generation Apple TV supports peer-to-peer AirPlay, which doesn't require an existing Wi-Fi network to work. Devices with Bluetooth and Wi-Fi on and active (even if they're disconnected) can see and stream content to a third-generation Apple TV.
There's a catch: It only works on iOS 8, near as I can tell — there's no Mac support for this feature.
When it works, though, it's pretty cool: Even if neither the iOS 8 device nor the Apple TV are on the same Wi-Fi network, you can still stream content to it.
Assuming getting the karaoke content on an iOS device isn't an option, I'm afraid I don't have much better news. I tried creating an ad-hoc Wi-Fi network on my Mac (by selecting Create Network... from the Wi-Fi menu in OS X Yosemite), but the Apple TV couldn't see it. Creating an ad-hoc network for your Apple TV to connect to used to work back in the Snow Leopard days, but broke somewhere around Lion and hasn't come back.
A direct ethernet-to-ethernet connection would seemingly be out of the question as well, thanks to the "position distances" issue that D.T. notes. The only other way I can see to do it using a Mac is to bring a small Wi-Fi hotspot with you, like an AirPort Express or another portable device that will enable you to create a temporary hotspot that the two devices can connect to each other and see each other through. Nothing's making you use an Apple router, of course. And given that you can pick up a cheap Wi-Fi router for practically pocket change, this is probably the path of least resistance.
It seems that getting video to stream from a Mac to an Apple TV requires a Wi-Fi, that part is unequivocal. I've checked Apple's support forums and elsewhere and haven't come up with a good solution.
Anyone have any other ideas?
I've always been frustrated here when the internet goes down, yet I still can't stream my media from the Mac to my Apple TV's. Everything at home here is on CAT6 ethernet, no wifi. From reading this I got the feeling I would have to use wifi on the main Mac used to stream and the Apple TV? There are other people I know who have no internet at home that I wish I could set up with a Apple TV also but it seems to need the internet. I just wanted them to use it so they could stream media from their computer to the TV. I understand why Apple has it this way but wish it was more open to other options.

You can use Ethernet to link your AppleTV and Mac fine - that is how I have mine setup to avoid slowing down my wifi whilst streaming.

Actually, peer to peer AirPlay is enabled on Yosemite macs of a certain build. It's buried in this document, page 13 http://training.apple.com/pdf/tg_osx_tech_deploy_reference.pdf It has worked unreliable in my experience, though not more unreliable than iOS 8 devices unfortunately.

Section pulled from reference PDF: AirPlay OS X Yosemite supports the ability to stream content from a Mac to Apple TV even if the devices are on different networks or there's no network available. A Mac with OS X uses Bluetooth Low Energy (BTLE) to begin the discovery process of available Apple TV devices and then establishes a connection directly to Apple TV using Wi-Fi. In OS X, peer-to-peer AirPlay lets employees use AirPlay directly from a supported iOS device or Mac to an Apple TV without first connecting to the infrastructure network. Peer-to-peer AirPlay eliminates the need to join the right network or disclose Wi-Fi passwords, avoids reachability issues in complex network environments, and provides a direct path from the AirPlay sender to AirPlay receiver to optimize performance. Peer-to-peer AirPlay is enabled by default in iOS 8 and OS X Yosemite v10.10, and doesn't require any user configuration. Peer-to-peer AirPlay requires:
• Apple TV (3rd generation rev A Model A1469 or later) with Apple TV software v7.0
• Mac computers (2012 or later) with OS X Yosemite v10.10
• iOS devices (2012 or later) with iOS 8 To find the model number of an Apple TV, refer to this Apple Support article. Peer-to-peer discovery is initiated using BTLE when a user selects AirPlay on a Mac with OS X Yosemite v10.10 or a device with iOS 8. This causes the device and the Apple TV to visit Wi-Fi channel 149 in the 5GHz band and Wi-Fi channel 6 in the 2.4GHz band, where the discovery process continues. Once the user selects an Apple TV and AirPlay starts, the Wi-Fi radios timeshare between channel 149 and whichever infrastructure channel each device is currently using. If possible, the AirPlay sender roams to the same infrastructure channel the Apple TV is using. If neither device is currently using an infrastructure network, the devices will utilize Wi-Fi channel 149 only for AirPlay. Peer-to-peer mirroring adheres to 802.11 standards, sharing Wi-Fi bandwidth with other Wi-Fi devices. When you deploy Apple TV on a large enterprise Wi-Fi network, consider the following guidelines:
• Connect Apple TV via Ethernet whenever possible.
• Don't use Wi-Fi Channel 149 or 153 for your infrastructure network.
• Don't place or mount the Apple TV behind objects that could disrupt the BTLE and Wi-Fi signals. Note: Bluetooth Low Energy discovery is a distinct subset of peer-to-peer AirPlay.

As long as the Mac in question supports BTLE and Wifi Direct, you should be able to AirPlay to a 3rd-generation Apple TV (running the latest Apple TV software) from a Mac running Yosemite. I believe Macs with BTLE support have had Bluetooth AirPlay discovery since Mavericks and the update that added that capability to the 3rd-gen Apple TVs, as long as there is a routable network connection between the two.

Why wouldn't you just use a thunderbolt to HDMI adapter to directly display your screen, no delay, no extra setup. It sounds like your Mac is new enough and capable. Just a thought but I think the Apple TV here is just making this more complicated than it needs to be. Hey you could even use a VGA adapter if the TV has a VGA input...

I'm hoping apple updates Mac AirPlay so it actually transfers streaming directly to the Apple TV instead of just mirroring, like on iOS. Currently, for me anyways, when I'm watching something on the Internet on the Mac , like YouTube, and want to transfer it to Apple TV it streams to both the Mac and Apple TV at the same time and is extremely glitchy. I think it's because it's mirroring and trying to steam to both devices at once instead of just streaming directly to the tv and using the Mac as only as remote control like on iOS . Doing the same thing from iOS is smooth. Mirroring is great when you want that. But often you just want to transfer what your streaming to your Mac to the TV and use the Mac as a remote. Anyone know what I'm talking about? Or am I confusing? Sent from the iMore App

No I'm totally with you that's why I always AirPlay from my iPhone 6 when watching something. Sent from the iMore App

Instead of running long ethernet cables (as distance was an issue) I would suggest using powerline adapters to run the long ethernet through the existing powerlines in the building. As long as there are two outlets avaiable (1 near the macbook and one near the TV, this should work as a pseudo hard wired solution. No wifi needed.

After an interesting morning of trying all kinds of interesting ways to do this using a retina MacBook and an Apple TV 3 (2012) I hit on what I think is the most straightforward method although it does require an iOS device: Turn the iOS device into a hotspot. Connect the Apple TV and the Mac to the hotspot. Airplay. Running Ethernet from the MacBook to the Apple TV did work but I couldn't get iTunes TV shows to play via Airplay from the MacBook. The crux there is iTunes, when streaming over Airplay, wants access to the store to authorize. Or at least that's appears to have been happening. Using the iOS device as a hotspot gave iTunes a line to the store.
Thank you for signing up to iMore. You will receive a verification email shortly.
There was a problem. Please refresh the page and try again.