How to use macOS Sonoma's new Game Mode to supercharge your Mac's performance
What is Game Mode, and what can it do for you?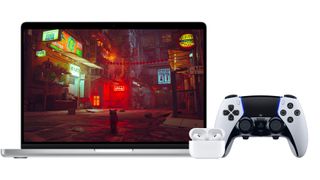 (Image credit: Apple)
During WWDC 2023 back in June, Apple dropped a Mac gaming bombshell. An excited Jeremy Sandmel (Apple's Senior Director of GPU Software) announced Game Mode.
Available for Apple silicon Macs running macOS Sonoma, this new under-the-hood feature, he said, would, "..give gamers an edge when performance is measured in precious milliseconds."
Fast forward to September 26 when Sonoma came out, making the feature available to everyone who could use the latest update for a bunch of Macs. You may have already seen Game Mode appear as a notification, letting you know that it's enabled as you're about to play something.
So what is Game Mode, and how does it work? Most importantly though, how does it help you and your Mac?
Game Mode in Action
When you're playing a game on your Mac, Game Mode makes sure it runs at optimal speeds by prioritizing the game on your Central Processing Unit (CPU) and Graphics Processing Unit (GPU).
Any tasks you're running in the background or other apps you might have open are reduced in priority, so they don't slow down the game by making demands on your processors. The result? 'An optimized gaming experience with even smoother and more consistent frame rates.'
Another benefit of Game Mode is it dramatically lowers latency between your Mac and its peripherals by doubling the Bluetooth sampling rate. If you're listening to the game on your AirPods as you play, the audio action is much better synced, so there's no lag between an on-screen event and its sound effect.
Even better is the increased performance regarding inputs from Bluetooth controllers. This makes the game far more responsive, giving you the edge you need when battling the baddies or putting together a sporting move in your favorite title.
What games can be used in this mode?
According to Apple, Game Mode works with almost any game. This includes recent and forthcoming titles such as SnowRunner, No Man's Sky, World of Warcraft: Dragonflight, and Resident Evil 4.
The upgrade is all under the hood, and is automatic; developers don't have to modify or patch existing games for them to run with Game Mode. In a nutshell, if a game runs on your Apple silicon Mac under macOS Sonoma, it very likely runs in Game Mode.
How to use Game Mode
To activate macOS Sonoma's Game Mode, you have to do – nothing. That's right, nothing. As long as you're playing your game in full-screen, Game Mode activates automatically.
You can tell when it's on too, as you get a notification telling you Game Mode is on as soon as your game launches in full-screen mode. If it launches in a window, click the green icon in the top-left window to make it full screen.
Drag your pointer to the top of the screen, and in the menu bar, you'll see an icon in the shape of a game controller. Click on it for a drop-down menu with the option to turn Game Mode off. Doing so will keep it off for that particular game until you turn it on again using this menu. This setting stays put even if you quit and reopen the game.
While it will rarely prove necessary to turn Game Mode off, if you have a background task running that you don't want to slow down, it might be prudent to do so. Just don't forget to switch it on again afterward.
Any other Sonoma boosts for gamers?
Sonoma also brings some new tools for game developers. The new Game Porting Toolkit makes it easier for them to port their games to the Mac from other platforms. It's now much easier to evaluate how a game will run on the Mac; what used to take months can now be done in days. Converting the game's code to macOS is quicker and simpler too.
Shortening the development time means porting games to the Mac is cheaper, and therefore publishers need to sell fewer of them to make a profit. Now Mac gaming is less financially risky, maybe we'll see more titles ported to the platform.
A Word of Caution
It seems churlish to end on a cynical note in an article about something as great as Game Mode, but we have to ask, will it really revolutionize Mac gaming? Developer tools for gaming titles on the Mac have been improving for a few years now, but the flood of Mac titles we're so often promised never seems to arrive and the Mac continues to lag when it comes to new releases.
At this year's WWDC for example, we were shown Hideo Kojima's Death Stranding. It looked great, but it was released on the PlayStation 4 in 2019. A recent high-profile Mac release was No Man's Sky, released on June 1, 2023, a day before the WWDC keynote.
It's a welcome arrival, but the game came out in August 2016 on the PS4 and Windows, followed by other consoles in subsequent years. Once more, the Mac is years behind the zeitgeist.
Game Mode is undoubtedly an exciting feature for gamers, as is Game Porting Toolkit for developers and publishers. But whether they see the Mac arrive as a serious games machine, only time will tell.
Master your iPhone in minutes
iMore offers spot-on advice and guidance from our team of experts, with decades of Apple device experience to lean on. Learn more with iMore!