MacBook Air 11-inch vs. 13-inch: Which ultralight laptop should you get?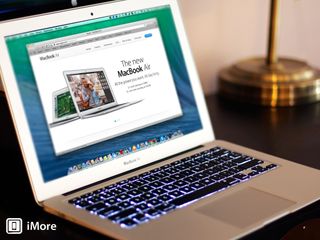 We've already compared MacBook Airs and MacBook Pros, and you've decided that the svelte MacBook Air is right for you. Now you have to decide which MacBook Air is right for you - the smaller 11-inch model or the larger 13-inch version? Also, what configure to order options make the most sense? Let's have a look.
Originally published in 2014, we've updated this article with info about the 2015 models.
Comparing MacBook Air models
The 11-inch MacBook Air is Apple's least expensive laptop - its entry-level system, if you will. For that, you get a system equipped with an 11.6-inch display (measured diagonally) that can display 1366 x 768 pixels natively. You also get 4 GB of RAM and 128 GB of flash storage. You can double the storage capacity for another $200.
Priced only $100 more than the base model 11-inch MacBook Air at $999, the 13-inch MacBook Air's 13.3-inch display shows 1440 x 900 pixels natively, but under the hood it's very similar - 4 GB RAM and 128 GB flash storage. Like the 11-inch model, you can double storage capacity to 256 GB for another $200.
With their lids closed, both MacBook Air model rise barely more than half an inch above the table. Tapered from front to back, they're 0.11 inches at their lowest point and 0.68 at their highest. The 11-inch model is less than a foot wide (11.8 inches) and the 13-inch model is 12.8 inches wide. The 11-inch is lighter by slightly more than half a pound - 2.38 pounds, compared to the 13-inch's 2.96 pounds.
Both systems come equipped with 802.11ac networking and Bluetooth 4.0 support, and both come equipped with stereo speakers. Also, both sport backlit keyboards with an ambient light sensor that automatically adjusts the backlighting brightness. And despite the 11-inch's diminutive proportions, the keyboard is the same size as its 13-inch cousin, so you make no compromise there, either.
All systems now come equipped with OS X 10.10 Yosemite along with the latest personal and productivity software for Mac, including Pages, Numbers and Keynote, Apple's answer to Microsoft Office.
The MacBook Air in its standard configuration provide you with a spectrum of buying choices from $899 to $1,299, butting up against the base model 13-inch MacBook Pro with Retina display (and more than the legacy 13-inch MacBook Pro still in Apple's current product matrix). But you can spend almost $1,800 if you murder out a 13-inch MacBook Air with all options.
Let's start to compare systems and see what options makes sense.
Maximum portability vs. more screen real estate: How much difference does two inches make?
The 11-inch MacBook Air is a bit of an odd duck: it's the only laptop that Apple makes with a 16:9 aspect ratio. The 13-inch MacBook Air and every MacBook Pro sports a screen with a more conventional 16:10 aspect ratio instead.
This gives the 11-inch MacBook Air a decidedly more cinematic feel to it, despite the tiny size. That's the same form factor you'll find on your flat-screen HDTV, for example. The same aspect ratio used in movies. In practical use, this means that you see more width than you do height. So the 11-inch MacBook Pro generates wider, shorter windows than its 13-inch brother.
At 135 pixels per inch, the overall pixel density of the 11-inch MacBook Air is a bit higher than the 13-inch model's 128 PPI - measurable but not huge. The net result is that stuff looks just a smidge smaller on the 11-inch MacBook Air.
Some users love the wide screen; others hate it and claim that the screen is too small. It's very subjective, so my advice is to compare both to see what works best for you.
The resolution of the 13-inch MacBook Air is 1440 x 900. It's actually the same size as the 13-inch MacBook Pro sans Retina display, but with higher resolution. It's higher-res but not Retina - and that's an important distinction to make - Retina display is not an option on either MacBook Air model. That undoubtedly helps the MacBook Air with its amazing battery life, but it also puts it at a disadvantage for users looking for the best-quality graphics and text reproduction on their laptop.
Having said that, we survived for years without Retina display systems - if you don't have it, you may not miss it. And the 13-inch MacBook Air gives you a decent amount of screen real estate to do what you need. If the screen gets too cluttered, fire up Mission Control and create a second desktop space.
Light weight vs. freedom from power outlets: How long can each MacBook Air last without charging?
Screen size isn't the only fundamental difference between the 11-inch and 13-inch MacBook Air. Because it's bigger, the 13-inch MacBook Air can pack more battery capacity inside than the 11-inch, as well. Inside the 11-inch MacBook Air is a 38-watt-hour battery, and inside the 13-inch is a 54-watt-hour battery.
Both MacBook Air models have outstanding battery life, thanks in part to the use of Haswell processors inside. Intel's Haswell chips have a smaller die size than previous processors and are more power-efficient, which means laptops that use them like the MacBook Air can last longer on a single charge.
Apple estimates the 11-inch MacBook Air model can go up to 9 hours without recharging, while the 13-inch can go up to 12 hours. So if all day battery life is a consideration, the 13-inch MacBook Air may be the better alternative.
Slender design vs expansion: What can you connect to the MacBook Air?
Both the 11-inch and 13-inch MacBook Air come similarly equipped - a 720p FaceTime HD camera embedded in the center of the bezel above the screen, a 1/8-inch headphone jack, dual microphones (better audio quality when recording your voice or using Skype or Facetime), two USB 3.0 ports (one on each side) and a single Thunderbolt 2 port on the right side, suitable for driving an external display with up to 2560 x 1600 pixels at millions of colors (the resolution of Apple's own 27-inch Thunderbolt Display), while simultaneously operating its internal display.
There is one key difference between the two machines, however: the 13-inch MacBook Air also sports an SDXC card slot on its right side. If you use or plan to buy a digital camera that writes to SD card, and you plan to use your MacBook Air to edit and catalog photos and videos shot with that camera, the 13-inch may be a better choice.
Is more RAM worth it?
4 GB of RAM is the standard across the line, and it's perfectly sufficient to run Mavericks and any normal productivity apps and Internet apps that you might need to.
If you're working with really memory-intensive apps - image-editing apps, video editing apps and music-making apps, for example - or if you're planning to run a lot of applications simultaneously - going with 8 GB may be worth it. It'll certainly give you more head room.
Upgrading to 8 GB may "future proof" your MacBook Air a little more further down the road, as well. Apple's steadily increased the amount of base RAM it includes in laptops to give them more headroom for beefier performance; my late 2010-era MacBook Air came with 2 GB, and it's feeling the pinch now that it's running Mavericks.
It's important to note here that you have to order your MacBook Air with the amount of memory you think you'll need, because it's soldered to the motherboard. You can't upgrade after the fact. So consider your needs carefully.
Is more flash storage worth it?
Likely be the most difficult decision when buying a MacBook Air: Deciding how much storage is sufficient. If you're migrating from another Mac, chances are you have files you want to bring over. Applications too. How much storage do you need? And how much can you offload?
Compared to the 500 GB hard drives that have become common in laptops in recent years, 128 GB of flash storage is scant space. Chances are you're going to have to pare down, perhaps dramatically. If there are infrequently used files that you've archived but you still want to keep, this may be an opportunity to offload to an external hard drive, server, or even cloud service. And judicious use of iCloud as a repository for some files may be a good idea as well.
Having said that, you do have options. The 256 GB configuration of either the 11-inch or 13-inch MacBook Air is $200 more - $1,099 and $1,199, respectively. And if you don't think that's enough, you can double it again from 256 GB to 512 GB.
Any way you slice it, flash storage is pricey.
Past MacBook Air models have been upgradable. Third parties specializing in SSDs designed to work in older MacBook Air models don't yet have SSD upgrades for the newest MacBook Airs, so you're stuck with what you get from the factory. And if you run out of space inside, you'll need to offload files one way or the other.
Is an i7 processor worth it?
With clock speeds way below MacBook Pros and some PC laptops, the MacBook Air looks on paper like it should be a pretty anemic performer, but looks are deceiving. Having flash storage makes a big difference in overall performance, since the CPU isn't bottlenecked by a hard drive. It also helps that the same company that makes the computer makes the operating system that runs on it, and the operating system is thoroughly optimized to take advantage of that hardware as best it can.
Perhaps one of the more intriguing configuration options for the MacBook Air comes with its processor. Across the board, a dual-core 1.6 GHz Intel Core i5 processor is standard. But if you're willing to pony up $150 more, you can replace that processor with a faster 2.2 GHz dual-core Intel Core i7 processor instead.
Beside the difference in clock speed, there are other differences inside the i7. It has more of memory cache, which stores frequently accessed data and can means the i7 works faster and more efficiently. The i5 and i7 both sport "Turbo Boost" technology, which will automatically make the processor cores run faster when needed, for short bursts. That Turbo mode practically doubles the clock speed - 2.7 GHz on the i5, 3.2 GHz on the i7.
Both processors utilize integrated graphics - Intel's HD graphics 6000. While gaming purists and heavy-duty video users may scoff at integrated graphics, they've come a long way. Today's MacBook Airs offer smoother and better graphics performance all around, compared to their predecessor.
All this reinforces that if you're looking for maximum performance, the i7 is a solid $150 spent. But ultimately, it's entirely optional - the standard processor is more than enough for general use.
Who should buy the 11-inch MacBook Air?
If weight and size is your most overriding factor for your laptop, the 11-inch MacBook Air is your machine. It's barely larger than an iPad Air (albeit more than twice the weight), but it's a fully functional Mac computer that can do just about anything you need it to. The 11-inch MacBook Air is also a terrific computer for kids in school and college students looking for a lightweight, flexible system.
There are a couple of compromises you make with the 11-inch model - 20 percent less viewable area on its display than the 13-inch, and the absence of an SD card slot. But if neither of those are significant factors in what you're doing, the lightweight, tiny 11-inch MacBook Air may be your ideal traveling laptop.
Who should buy the 13-inch MacBook Air?
Of the two MacBook Air models, the 13-inch is the better value: its base configuration is only $100 more than the 11-inch, and it offers superior battery life, more screen real estate and SD card support.
For the price difference between a 13-inch MacBook Air and Retina MacBook Pro, you get a significant faster processor and better graphics performance, a much better screen, more memory and storage options (up to 16 GB RAM and 1 TB flash storage), and better expandability to boot thanks to two Thunderbolt 2 ports and an HDMI port. The MacBook Pro with Retina display is also heavier, by about half a pound.
Bottom line: If you're not willing or able to pay for the MacBook Pro with Retina display, or if you want to save weight and don't care about the differences in the two machines, the MacBook Air is a fantastic, lightweight laptop that will get the job done.
MacBook Air: Everything you need to know
Still undecided?
If you still can't decide with MacBook Air is the right one to choose from, I'd recommend dropping by our [Apple notebooks] discussion forum and posting a question there. iMore has a thriving online community that can help answer questions and offer advice based on their own experience. You're also welcome to post comments here.
The MacBook Air is a fantastic, flexible computer that's easy to carry thanks to Apple's ingenious engineering - feather-light and slim. For road warriors and other who don't want to be encumbered with a heavy computer, the MacBook Air makes a fantastic traveling companion.
Get the best of iMore in in your inbox, every day!
I buy, provision and distribute hundreds of these a month (along with a lot of other devices) to users, and take it from me, you don't want the 13". If you can't get by with the 11" what you really want is a MacBook Pro retina, which is today only marginally heavier and thicker than the 13" Air. It's a far better machine and you almost can't tell the difference in terms of weight, portability etc. the only reason to buy an Air at all is the portability, and only the 11" one is truly that much more portable than a regular MacBook Pro retina.

I was about to ask if the 13" MBA is really that lighter and more portable than the 13" MBP with retina. This helps a lot. Another question I had though is which one of these to prefer if majority of my tasks comprise of programming, text editing, image editing, online movie streaming(Netflix) and general web browsing. Sent from the iMore App

You bring up some good points, which I also shared in my "who should buy" summary. As far as the 11 vs 13, I'd point out that only one of them has a 12-hour battery - the 13. That alone is enough to send some people to that model instead.

I agree.. Battery was a big reason for me and my dad getting the MBA 13" for my mom. They are retired and travel a lot now... We wanted something that could last as long as possible so she wouldn't be chained to an outlet as much.

my best frends sister just got Volvo XC70 Wagon by working part-time online... check out this site>>> http://smarturl.it/bhtmj6

I love my MacBook Pro with retina display. Editing and digital design is more pleasing on the fly. Sent from the iMore App

I would probably end up with an 11" just because it is cheaper and the screen real estate isn't that big a difference for me. I shouldn't be using it beyond 9 hours so the battery life would be fine. Sent from the iMore App

You got your ratios mixed up. The 11" MBA is 16:9 and everything else is 16:10.

Excellent article, Peter. I particularly enjoyed the 411 on the SSDs. Sent from the iMore App

I have a 13" MBA and I love it. I still pull it out of my bag and have people at work ask me about it and how cool it looks (we're forced to use the surface pro as our everyday computing device which is, paired with windows 8, the most ill conceived device I've ever had to use). I tell them about how functional and easy to use they are but pricey. I just convinced a coworker to purchase one and she loves it. When someone asks me about buying a computer I say go MBA 13" every time. Sent from the iMore App

Good write-up.. My dad and I went in together and got my mom a maxed out 2013 MBA for this Christmas. It's sitting waiting to be opened. She loves to do photos and family videos so it'll get used. She holds onto a system forever (last one was 6 years) so we wanted to future proof this as much as possible. :) Do you have any opinion on AppleCare+ for the laptops? I usually forgo it on my phone or tablet because I'm more likely to upgrade early.

AppleCare + isn't available for laptops - it's just straight up AppleCare. And I recommend it heartily. You'll pay more than $249 the first time your MacBook Air goes in repair out of warranty, which makes it worth the money. And Apple's exceptional build quality notwithstanding, stuff wears out - screen hinges, trackpads, batteries. It's nice to get that stuff fixed for free. Just remember that if you don't buy it when you get the Mac, you have until the machine's one-year anniversary. That's different than the AppleCare+ plan on iOS devices, which has to be activated within the first 30 days of ownership.

I chose the MBA 13 because of the battery life. That's the huge one for me. I like to be able to use my machine anywhere without plugging in. Having that extra 3 hours over the MBP with Retina is important to me. Plus I really don't need all that power on the road. I have an iMac at home which I use for my more power hungry tasks.

Thank you for writing this article! I'm still using a 2008 aluminum MacBook, and itching to upgrade. Still faced with the dilemma between ultra-portability of the 11-inch MBA, and the 13-inch with extra 3 hours of battery life & bigger screen. Just $100 more? So tempting! Or $200 more on top of that for retina MBP? Such a slippery slope.

13 inch! Sent from the iMore App

I'm really interest I a MBA 13" cause the use I'm willing to give need a bigger screen than 11". If you're thinking on 11" it worth to consider 13" cause a better performance machine and a better image, both weigh the same. Excellent review iMore help a lot people willing to purchase an lightweight computer with the quality of Apple. Sent from the iMore App

5th paragraph under "portability vs real estate", I believe you meant MacBook Air, instead of comparing a MacBook Pro to another MacBook Pro.

Great catch. I had to re-read it three times before I found it. Fixed!

I bought one of these cute little 11" (early 2013) and use it as a secondary laptop! My primary is top of the line fully loaded MacBook with Retina late 2012 ... or something like that! LOL The MacBook Air is also for my multimedia pleasure (Apple TV, syncing with my iPhone 5 and iPad 4th generation! OK, stop bragging .... ;) What I would like to suggest is if you want to get MacBook Air (any size) then get one with no extras .... i.e.; extra RAM, storage and etc. If you feel like adding some goodies, then stop there and go buy a MacBook with Retina. FWIW, as Peter's great article says, 11" with 4 GB RAM runs Mavericks and majority of programs perfectly fine. One last thing, based on my own experience, these SSDs are much faster than old HDDs. Meaning, swapping to SSD when your programs require more RAM than available, happens so fast you wouldn't notice much bottleneck, if at all.

Thanks! I wasn't sure which one to buy my fiancé. Going 13in for her Christmas present! Sent from the iMore App

I have the 11, which I love but the screen does feel a little squashed. For recording music and writing I do wish I'd gone for 13 to be honest. Everything else it's fine. I'd recommend the 13 to everyone unless they really are tight on budget. Sent from the iMore App

swap your MacBook Pro (no retina) 's optical drive for an SSD = best of both world

It sure solves a lot of problems - I did the same thing to a polycarbonate white MacBook and it's still going strong and performs well. Doesn't really do anything to shave weight or size off the MBP, but if you have a machine that you can still use, it's crazy not to.

As a student with the laptop being my main computer, bigger screen was no brainer. Better battery life was also taken in consideration. Couldnt be more happy by my purchase. Worked on 11inch airs that my flatmates have and it can get you tired working with such small screen estate thats for sure Sent from the iMore App

As a student with the laptop being my main computer, bigger screen was no brainer. Better battery life was also taken in consideration. Couldnt be more happy by my purchase. Worked on 11inch airs that my flatmates have and it can get you tired working with such small screen estate thats for sure Sent from the iMore App

Under the section - Slender design vs Expansion, 3rd paragraph. I believe you meant MacBook Air instead of MacBook Pro when you mentioned the 13-inch model includes a card slot vs the 11-inch MBA. And, between the two, I would definitely choose the 13" MBA. Bigger screen + longer battery life for the win! Sent from the iMore App

I had the MBA 13" and exchanged it for the RMBP 13" ... Glad I made the switch, the new RMPB 13" gets great batter life and the screen alone is worth the upgrade IMO. As noted above you really can't tell the difference in weight with day to day use however they keyboard does feel much better on the RMBP, on the Air the keys were very shallow.

I would say that you had some bad keyboard on Air. But i hear you. I would switch too but i enjoy the battery life way too much and just can not justify making the with (and by that losing also a portion of money i invested) just because of better resolution

I'll buy the 13" MBA. The better battery life is a deal breaker for me. Sent from the iMore App

I have a 2012 13 inch and love it. The form factor and design is great. Sent from the iMore App

I will buy the Mac book pro. Thanks for the post. Sent from the iMore App

I have a 2011 MacBook Air i7 and an still very satisfied with it. I would love to upgrade but can't justify it since the air runs so well. Sent from the iMore App

I'd hesitate to get the 11" as a main computer unless you have an external display for using at home. The 13" is just big enough to work on its own for basic web surfing and writing, but the lack of vertical space on the 11" will probably start to grate over time. The better battery life does make it an improved option than previously though! Sent from the iMore App

I am using the Air 13 as the main computer. And i can say it is enough for work on its own. Right now i extended the space by buying 23 inch monitor, but the 13 inch screen in still my main and the 23 inch is only for displaying websites and stuff.

I just ordered a refurbished MBA. I had a hard time making up my mind, but finally went with the 13" with 8GB RAM and i7. It also has 512GB. I'd like to use this computer for 5+ years. I know the MBP display is better, but the MBA looks good to me, and I love the extra lightness and HUGE battery life of the MBA. I have a 2008 MBP, and I never got more than 4 hours of battery life from it. I'm planning to buy an Apple TV soon so I can use Airplay when I want to watch stuff on my TV. I look forward to traveling with this new computer without worrying about charging it.

I am new to the world of macs and also a complete rookie when it comes to computers. I am a college grad looking for a new laptop for basic purposes - music, web browsing, maybe a little bit of photoshop etc... nothing fancy. This may be a stupid question but do the standard 13" MBPro and MBA have the same amount of memory and storage before paying for any upgrades? I think I want the MBA b/c of price and because I don't really care much about having retina display. I can get 256 GB of memory on a 13" MCA for $1299.. which is more memory than you get with the 13" MBPro for $1299, correct? Thank you for any advice, I find all of your columns about Macbooks very helpful.

Keyboard can be typed even in the dim light with ease. Display of screen and keyboard adjust itself according to light condition. Multi touch trackpad of Apple MacBook Air 13-inch Laptop (Silver)helps you to control cursor movement. http://www.flipkart.com/apple-md760hn-a-macbook-air-4th-gen-ci5-4gb-128g...

I really can't decide b/w MBA11" and MBA13". I m a college student and dont really want an card port. But screen size matters. Is there a noticible difference in screen b/w the two. Please suggest one.

I am looking to buy a MacBook Air for my wife. She is a high school English teacher. I was looking to go with the 13" because f battery life and SD slot. Any suggestions on RAM and memory? She handles a lot of word processing, and presentations. She also incorporates many pictures both personal and professional. Any suggestions? Thanks!

My school gave my grade 11" MacBook Airs and the teachers 13" MacBook Airs. But I am deciding weather to get a 11" or 13" for my own personal use. I use a lot of photoshop, illustrator, etc. and also use video editing. So I am wondering what would be the better option in my case. I'm not sure about the 13" but my 11 inches battery only lasts about an hour and a half if that.. so I'm not completly sold on the 11" (but then again our IT decided to put Windows software on the Macs after 2 years of using the apple software, so that could have an effect. Plus they blocked a lot of things so I didn't get the full experience using the apple software, and I've only used photoshop on the Mac with windows, so I don't know if their is a difference there or not. (P.S. never change a Mac computer to Windows software, it REALLY sucks and crashes 24/7.)) So I'm wondering what would be better for a person who uses a lot of photoshop, some video editing, and some journalism. If anyone could help me out I would appriecate it! Thanks (And I probably won't be able to afford the MacBook Pro with Retina but if I somehow can that's what I will probably go with even though I don't know much about it other than it's the best computer to use Adobe Photoshop on.)

I have an 11 inch 2014 MacBook Air. I bought an SD card reader for £6.99 which connects to my Mac via usb and I can access all the data on my micro SD cards. So unless you don't like the idea of connecting an external device you can still use SD cards with an 11 inch MacBook Air. Sent from the iMore App

I use a 15" MacBook Pro for work and that thing is a serious workhorse. I would like to be more portable and go down to a 13" preferably over an 11". My coworker uses an 11 and it's just a tad too small for me. I used to have a 12" PowerBook and is my favorite Mac ever. It's just need more real estate nowadays and the 13" makes a difference.

If I were in the market for a MacBook Air, I would probably go for the 11 inch model. I find that toting around my MacBook Pro or MacBook can be tricky at times. I've lugged the latter around a lot (mostly to my boyfriend's house) because I'm a freelance writer and now freelance copy editor. It would be so nice to have a MacBook Air because it's so lightweight and portable and I'm the type of gal who always seems to have a heavy backpack purse, so it would definitely lighten my load.
Thank you for signing up to iMore. You will receive a verification email shortly.
There was a problem. Please refresh the page and try again.