MacBook Air vs. (mythical) Retina MacBook Air: Should you buy now or wait?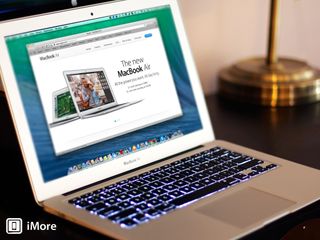 Apple refreshed the MacBook Air this week, bumping processor speeds modestly and dropping the price $100. Meanwhile, rumors abound that Apple is working on a new laptop model, possibly a MacBook Air with Retina display. Is now the right time to buy a MacBook Air, or should you wait to see what shakes out of the Apple tree?
From the outset, I want to make it clear — right now there is no Retina MacBook Air. There are rumors that one is on the way, but rumors are often wrong, and that may not be what Apple plans to do at all. But it's a question I've been hearing a lot since the new MacBook Air models debuted on Tuesday, so I thought I'd take a crack at answering it.
The updated MacBook Air gets a 100 MHz faster processor, but other than that, the hardware remains untouched — graphics, RAM and storage are all the same as before; the outward appearance of the MacBook Air is identical to its predecessor, and in all other respects it's the same device as it was.
That includes the display. The 11-inch MacBook Air sports a 1366 x 768 pixel display, while the 13-inch bumps the resolution up to 1440 x 900. That's the same resolution that's been around for a while.
The case for higher resolution
Meanwhile, many Apple customers in the market for a new laptop have flocked to the MacBook Pro with Retina display. The 13-inch model sports an astonishing native resolution of 2560 x 1600 — and in fairness, that's way too small to read anything. The highest scaled resolution is 1680 x 1050, still a damn sight better than the 13-inch MacBook Air.
But resolution only tells part of the story. The Retina MacBook Pros also renders text very smoothly, making it easier to read text at smaller point sizes, and produce beautiful imagery with clarity and depth unmatched by anything on the MacBook Air. Putting them side by side and looking at the same image is especially telling — the MacBook Pro with Retina Display just looks a lot better.
So it's reasonable to want a MacBook Air with Retina display. Why hasn't Apple done it? Battery life comes into play - the 13-inch Retina MacBook Pro has a 71.8 watt-hour battery, almost one-third more capacity than the 13-inch MacBook Air. Yet the Retina MacBook Pro's battery life is estimated at only 9 hours, compared to 12 for the MacBook Air. The additional power needed to drive the higher resolution display is a big reason for that.
The MacBook Air fits an important part of the Mac ecosystem. It's Apple's most lightweight laptop, and it works the longest per charge of any MacBook. The MacBook Air is a solid performer despite its lightweight CPU, thanks to a streamlined architecture with features like PCI Express (PCIe)-based flash storage and Intel HD 5000 graphics. But it really can't compete with the Retina MacBook Pro for heavy-duty use.
Putting the clues together
I don't have any particular insight if Apple is indeed working on a MacBook Air with Retina display, but it makes sense to me that that's the direction we're headed. Retina displays are now ubiquitous across the iOS line, and the "standard" MacBook Pro sans Retina display seems destined for the dustbin. That leaves the MacBook Air the odd man out.
If we accept as an inevitability that the Retina MacBook Air is on the way, the question is, when? The fact that Apple has just refreshed the MacBook Air may be a subtle clue. It seems unlikely, only a month before Apple's Worldwide Developer Conference (WWDC), that Apple would have another MacBook Air introduction.
Intel's roadmap for its own processors may give us another clue. Intel's 2014 chip, code-named Broadwell, is behind schedule. It was originally expected to be released in the second calendar quarter of 2014, which would dovetail with WWDC and be a good opportunity for Apple to showcase a new product featuring the chip. But Broadwell's release has been pushed back to the second half of 2014.
A key feature of the Broadwell processor is a big boost in graphics performance, key for any sort of Mac working with a Retina graphics display, especially one that might be working at lower clock speeds to conserve power. If the mythical MacBook Air with Retina display is dependent on Broadwell, Apple will probably have to push its release to later this year.
Buy now or wait?
I'm asked regularly if now is the right time to buy something or if you should wait until the next refresh, and my answer doesn't waver: Buy a Mac when the need arises, and accept as part of the transaction that it'll be superseded by a newer model with better specs before too long.
I'm also of the mind that it's not always a good idea to be on the bleeding edge with new products from Apple. The first Retina MacBook Pros were marred by a burn-in or ghosting problem with the screen, for example. It may be worth waiting to find out how good the new laptop is before investing in one.
Bottom line: If you can wait, wait. You'll always be rewarded with the newest, shiniest product. If you can't, then pony up your cash and be happy with what you get. Life's too short for buyer's guilt.
Are you planning to get a new MacBook Air or are you going to wait to see what else Apple has up its sleeve this year? Sound off in the comments.
Master your iPhone in minutes
iMore offers spot-on advice and guidance from our team of experts, with decades of Apple device experience to lean on. Learn more with iMore!