Macbook vs. Pixelbook: What's the difference?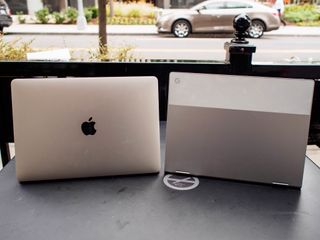 Apple and Google have both now released updated 12-inch laptops for 2017, with Apple launching the latest version of the Retina MacBook, while Google has unveiled the first Pixelbook. These small laptops offer portability for those that need something more flexible than a phone or tablet. But how do they stack up against one another? Here's what you need to know.
What are these laptops, exactly?
The 2017 Retina MacBook is the latest iteration of Apple's ultra-slim, ultra-portable laptop. It features a single USB-C port for charging, driving external displays, and data transfer, as well as a 3.5mm audio jack.
Similarly, Google's Pixelbook is also slim and portable, though it is slightly thicker than the MacBook. It features two USB-C ports, as well as a 3.5mm audio jack.
How small are these computers, exactly?
The MacBook comes in with a thickness of 0.14-0.52 inches when closed due to the tapered nature of the device. It's also 11.04 inches wide, with a depth of 7.74 inches. Overall, the MacBook weighs 2.03 pounds.
On the Google side of things, the Pixelbook is a steady 0.4 inches when closed, with a width of 11.4 inches and a depth of 8.7 inches. The Pixelbook weighs in at 2.4 pounds.
Both computers might outweigh a tablet, but both come in notably lighter than larger computers like the MacBook Pro.
How do the displays on the MacBook and Pixelbook compare?
The MacBook features a 12-inch IPS LED Retina display with a resolution of 2304x1440 and a pixel density of 226 ppi.
The Pixelbook, meanwhile, has a slightly-larger 12.3-inch LCD display. Its resolution is 2400x1600, with a pixel density of 235 ppi. The Pixelbook's display is also a touchscreen, with support for Google's new Pixelbook Pen stylus.
What sort of power are the MacBook and Pixelbook packing?
In its base configuration, the MacBook comes with a 1.2GHz Intel Core m3 Kaby Lake processor that boosts to 3.0GHz. You can also configure the MacBook with either a 1.3GHz dual-core Intel Core i5 or 1.4GHz dual-core Intel Core i7 chip.
The Pixelbook utilizes similar processors, though on the dual-core i5 and i7 options. The Pixelbook's Core i5 runs at 1.2GHz with a 3.3GHz boost, while the Core i7 runs at 1.3GHz with a 3.6GHz boost.
How do their memory and storage offerings stack up?
The MacBook comes in memory configurations of either 8GB or 16GB, along with SSD storage options of 256GB or 512GB.
Google offers the Pixelbook with 8GB or 16GB of memory, as well as 128GB, 256GB, or 512GB of SSD storage.
What about color options?
The MacBook comes in one of four color options: Space Gray, Silver, Gold, and Rose Gold.
The Pixelbook, on the other hand, only comes in one color scheme: silver with Corning Gorilla Glass detailing.
How does battery life compare between the MacBook and the Pixelbook?
According to Apple, the MacBook gives you up to 10 hours of web surfing or 12 hours of movie playback in iTunes. The standby time is said to be 30 days. The battery is charged through the USB-C port, with a 29W USB-C charger included in your MacBook's box.
The Pixelbook is also supposed to last 10 hours for under normal usage. The device also supports fast charging over USB-C, letting it charge up to two hours of battery life in 15 minutes, or 7.5 hours in 60 minutes. Like the MacBook, the Pixelbook also charges through a USB-C port.
Speaking of USB-C, what kind of ports do these computers have?
The Retina MacBook, since it's 2015 debut, has only had two ports: a USB-C port for power and data, and a 3.5mm audio jack. That has not changed in the latest version of the device.
The port story is pretty much the same on the Pixelbook, except that it has two USB-C ports instead of one. With this, you can connect a peripheral and charge at the same time without having to connect some sort of adapter.
You mentioned a touchscreen earlier. Do both computers have touchscreens?
No. Apple has so far been fairly insistent that they don't want to build a Mac with an iPhone-like touchscreen, and they feel that the best way to use a Mac is with a keyboard and mouse or trackpad.
The Pixelbook, meanwhile, not only has a touchscreen, it's convertible, with the display moving on the computer's hinge to stand up for watching movies or lay flat like a tablet. This variable positioning makes it easier to draw with the Pixelbook's companion stylus, the Pen.
The Pixelbook has a stylus?
Yes indeed, though it's sold separately. The Pixelbook Pen allows you to write, draw, and annotate on the Pixelbook's display, and features like pressure sensitivity and tilt support, much like the Apple Pencil.
The Pen also has a button on the side, which you can hold to access Google Assistant. In fact, if you circle text or images while holding the button, you can get help and answers about that what you've circled.
You can grab the Pixelbook Pen for $99 from Google.
Does the PixelBook support Google Assistant? What about Siri on the MacBook?
Siri has been present on Macs since the introduction of macOS Sierra in 2016. High Sierra, the latest version of macOS, also features Siri built in, so you'll find it on the MacBook and any other Mac you buy this year.
The Pixelbook features access to Google Assistant out of the box. In fact, the Pixelbook features a keyboard that lets you bring up the Assistant any time you want, as well as support for the "Ok Google" wake word that lets you control Google Assistant entirely with your voice.
Tell me about the audio and camera setups for the MacBook and Pixelbook
You'll find stereo speakers on the MacBook, as well as dual microphones and the aforementioned 3.5mm headphone jack. When it comes to camera specs, the MacBook sports a 480p FaceTime camera.
The Pixelbook features stereo speakers as well, though it has four microphones instead of two. Google says that the four mics help improve noise cancellation during video calls. The Pixelbook has a 720p camera that records video at up to 60 frames per second.
What about wireless connectivity?
The MacBook and the supports 802.11 a/b/g/n/ac for Wi-Fi, as well as Bluetooth 4.2.
The Pixelbook features the same support for 802.11 a/b/g/n/ac and Bluetooth 4.2.
Anything else?
You can use your iPhone to connect to the internet on your MacBook if you're away from Wi-Fi. If you've got an iPhone and are in an area without Wi-Fi connectivity, you can instantly switch your MacBook over to use your iPhone as a Wi-Fi hotspot, using the internet through your phone's cellular connection.
This is also true if you have a Pixelbook and one of Google's Pixel phones. Just connect to your Pixel through your Pixelbook's Wi-Fi menu.
Alright, so how much do these cost?
The MacBook starts at $1,299 for the model with the Core m3 processor with 8GB of memory and 256GB of storage. You can max out a MacBook with a Core i7, 16GB of memory and 512GB of storage for $1,949.
Meanwhile, Google sells the Pixelbook starting at $999, which gets you a Core i5 processor, 8GB of memory, and 128GB of storage. For $1,199, you can get 256GB of storage. Finally, the Core i7 configuration, which is not yet available, will come with 16GB of memory and 512GB of storage for $1,649.
Any questions?
Which notebook is right for you? Do you have any more questions about the similarities and differences between the MacBook and the Pixelbook? Put them in the comments and well sort you out.
○ MacBook review
○ MacBook buyers guide
○ MacBook news
○ MacBook forums
○ Buy at Apple

Master your iPhone in minutes
iMore offers spot-on advice and guidance from our team of experts, with decades of Apple device experience to lean on. Learn more with iMore!
Joseph Keller is the former Editor in Chief of iMore. An Apple user for almost 20 years, he spends his time learning the ins and outs of iOS and macOS, always finding ways of getting the most out of his iPhone, iPad, Apple Watch, and Mac.