MacID unlocks your Mac with your Touch ID: Free for 48 hours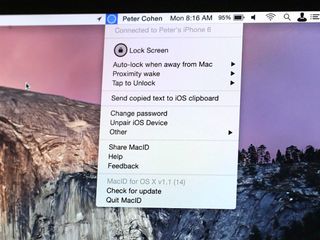 Beginning March 16th, the MacID iOS app is free, but only for 48 hours. It's normally $4. It's an app for your Touch ID-based iOS device, and it works in conjunction with a second app that you install on your Mac. MacID lets you lock your Mac with a swipe of the finger on your Touch ID-equipped iPhone or iPad.
The developer is reducing the price temporarily to celebrate the release of MacID 1.1, which includes the following improvements:
Don't forget to visit the MacID Web site after downloading the app to install the companion app on your Mac. The Mac app is properly signed to avoid security issues with OS X's Gatekeeper security, provided you've configured your Mac to "Allow Mac to download apps from Mac App Store and identified developers."
No way! This is too cool! Downloading now. Thanks Peter!

Haven't yet had an opportunity to check from my Mac, but is the Mac app downloadable from the MacApp Store or only from the developer's site? Nice as the app seems to be, due to security concerns, we have a policy restricting downloads from sites other than the Mac App Store and if only available from the developer's site, would require it be signed with a registered developer certificate (or whatever it is called by Apple.)

MacID for OS X isn't available on the Mac App Store as Apple require all submissions to be sandboxed (something that isn't really possible for MacID), however it is a signed app so if you keep your security settings to only allow apps downloaded from the Mac App Store and identified developers you won't have an issue.

Cool, but requires you to open the app on your iPhone to trigger the TouchID prompt. In the time it takes to do that, you probably would be done typing in your password.

Actually, it looks like you can "Authorize" it from the Lock Screen as well, so that helps. Anyway, cool little app for free now.

I'm working on a WatchKit app as we speak too, so you'll be able to authorise right from your wrist if you want which I imagine will be much faster and more fluid.

Nice. Keep up the good work.

I'd be happy to pay for an app like this, but what differentiates your app from the others out there? And is this sort of thing secure? Thanks!

MacID is currently the only unlocking app to use interactive notifications, which means you can unlock your Mac without unlocking your iOS device. Also as MacID keeps a constant connection it means it's faster, and can take advantage of this connection to implement proximity waking and auto-locking, and things like audio controls and clipboard sharing. MacID also can be paired with multiple Macs at the same time, and also makes use of iPad's full display with a lovely split-screen view. You can even get notified now when your Mac automatically locks. Add that to a WatchKit app at no extra cost and you've got a pretty cool app, I think (though I am probably quite biased)! In terms of security, your password is encrypted and then also stored in the Keychain, which is the safest place on your Mac. And because it's encrypted, even if someone physically went into your Keychain, double clicked on the stored password and selected "show password" it still wouldn't show up.

Just to confirm, the app must be open or at least running in the background to work correct? I've been playing with it this morning and am trying to fully understand how it works with varying results. Side note - I'm getting notifications from the app whenever OS X asks for my password (to download an app from the internet let's say) and not just to unlock the Mac itself. Is this normal?

Is it compatible with 10.10.3? because I have it downloaded it on my macbook click on it and nothing is happening

I have 10.10.3 build 14D105g installed on my iMac. Downloaded MacID earlier today and it is working perfectly.

Yes mate this is very good d

I don't see a way to unlock my mac without unlocking my iPhone. I need to unlock my phone first, then once it again it prompts for my Touch ID to unlock the mac. But I don't see an option to unlock from notification window.

Never mind, I see your other post about waiting for 10 seconds. It is working after I wait for 10 seconds....... really cool.

OK, is there a way to pay you for the app--either before or after I download it (because it's now free)?

I just downloaded it and it allows you to use prox unlock and lock. This is a great find!

Maybe I am missing something, but I tap my trackpad, the alert pops up on my iPhone, I swipe the alert, Touch ID to unlock the phone, Touch ID to log in to the Mac. Quick, but a lot of steps. Though I do like the "click trackpad, tap-tap-tap" option. That is fast. And the locking when I am away (with my phone) Sent from the iMore App

Sorry, thought I replied to this. See below!

If you swipe the notification the other way you don't even have to unlock your iOS device. Although it only shows up after your phone has been locked for about 10 seconds; iOS doesn't report that a device is locked until after about 10 seconds, and MacID checks if the device is locked before deciding whether to show the "Authorise" button. Notification buttons don't ask for Touch ID if the device is unlocked so this was seen as a security issue. Hope that makes sense!

Strange. I downloaded it and my card got charged. The button was labeled "Get", no clue why I got charged.

My bad, checked my purchases and it was free. I got a text message at the same time I downloaded it, but it was for a previous purchase. What a coincidence.

Is this compatible with Yosemite public beta and the iOS 8.3 invite beta? Sent from the iMore App

Yes it's compatible with OS X and iOS betas. Sent from the iMore App

The Touch ID way of working is a big of an inconvenience albeit pretty cool. But I will use the tap to unlock feature. That's very useful. Sent from the iMore App

Can't set up tap to unlock. It's not registering any taps while attempting the setup. Any ideas?

18Mar2015, 1328 Mountain Time...guess I missed the free window...grrr

This is pretty cool... With proximity sensing enabled, when you walk up close to a sleeping Mac, the authorization request to unlock will actually go right to your Watch!! No need to take the phone out of your pocket. I think the team is also looking at an official Watch app, but the current functionality with the authorization handoff is pretty sweet...
Get the best of iMore in in your inbox, every day!
Thank you for signing up to iMore. You will receive a verification email shortly.
There was a problem. Please refresh the page and try again.