Our favorite macOS Sierra features you may have missed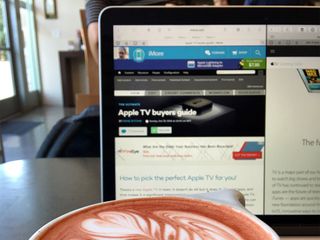 Apple's next iteration of Mac software is here, and we're so excited (we just can't hide it). While you wait for Sierra to download from the Mac App Store (opens in new tab), check out our list of favorite features you have to look forward to.
Siri
When you install macOS Sierra, you'll have a keyboard-activated voice assistant at your fingertips: Yes, Siri is coming to the Mac — and with some valuable improvements from its iOS iteration.
When you are in the middle of a project, you don't have to stop what you are doing to perform tasks. If you are writing a report and remember that you are supposed to meet with your boss next week, you can get Siri's attention and tell the virtual assistant to create a calendar event, complete with date, time, and meeting attendees.
Turn Today view into widget central
You can pin Siri searches to your Mac's Notification Center, including such things as sports scores, Twitter feeds, and Reddit threads. Pins appear in the Today view alongside your current widgets, like the weather and your calendars.
When you ask Siri to search for something, you can follow it up with a secondary search query and the virtual assistant will remember your first request and apply it to the second one. For example, you can ask Siri to search for files you opened last week and then follow it up with, just the ones with "report" in the title.
Drag and drop your search results
When you search for something, Siri shows you the results in a pop-up window. You can drag and drop those results from Siri's window into other applications, or even your desktop. For example, you could ask Siri to show you pictures of Benedict Cumberbatch and then drag a picture into the Mail app to send to your mom when she asks who he is (I can even drag and drop into Photoshop again – a perfect fit for Ren's ridiculous workflow).
Similar to iOS, you have some customization options for Siri. You can turn off the virtual assistant altogether if you don't want it on your Mac. You can also change the voice and completely disable it, if you so choose. When you disable voice feedback, you can still use Siri, but you won't hear responses anymore.
System
If it's system tweaks you want, macOS Sierra has a bevy of them.
You can use Apple Pay on the web
Apple is using the same Continuity structure as Auto Lock to make Apple Pay possible while on your Mac. When you are visiting a supported website and have something to purchase, you can click on the Pay with  button and you will receive a notification on your iPhone or Apple Watch asking you to verify the purchase. This feature only works with Apple Watch and iOS devices with Touch ID.
iCloud Drive puts your Mac desktop on your iPhone
Apple has updated iCloud Drive to provide access to your entire Mac desktop on any device. So, all of those files, folders, and screenshots can be opened and used on your iPhone, iPad, or another Mac computer by opening a folder in iCloud Drive.
Universal clipboard can swap images
That's right. In macOS Sierra, you can copy a passage of text on your desktop and then switch over to your iPhone to paste it, and vice versa. But even better: As shown on the WWDC stage, you can even copy and paste images. That means you can create an image in an app like Procreate, then paste that image right inside an app like Pages or Photoshop.
You can spring clean your Mac and optimize its storage
Customizable storage preferences are coming to macOS Sierra in the form of Optimized Storage. This feature makes it possible for you to store older content in iCloud when your startup disc gets full. It also lets you delete items in your trash older than 30 days, remove duplicate files, clear caches, and get rid of redundant Mail data.
macOS Sierra, meet Swift 3
Developers can take advantage of the latest API tools with the latest version of Swift. There are also a few cool new features being added to the Metal framework.
Your Mac now supports Wide Color APIs
Apple has implemented system-wide graphics frameworks support for extended-range pixel formats and wide-gamut color spaces, making it easy to support devices with a wide color display.
Apps
Redesigned apps, improvements to existing apps, and app removal: Sierra's bringing a lot to the apps table.
Apple Music makes more sense
With iOS 10, Apple completely redesigned the UI of its music service, making it bigger, bolder, and much easier to understand. That interface will come to macOS Sierra, too: It won't be (sadly) in its own Music app, but it has been dramatically streamlined to reduce clutter and make finding information far less complicated than in prior versions.
Markup, Apple's annotation plugin, expands from Mail to Photos, so you'll be able to add scribbles, callouts, text, signatures, and otherwise clarify — or vandalize — your images.
Goodbye, Game Center — at least in app form
Do you use Game Center on your Mac? If so, you'll be pleased to discover that you no longer have to sign in via a separate app when connecting your account; the Game Center app is no more. Instead, that information can be built directly into supported Mac games via to Apple's GameKit. (Lest you think your iPhone and iPad compatriots were being left out of this grand gaming revolution, the Game Center app is also being removed from iOS.)
Flash becomes a one-time, per-website option
For several releases now, Safari has shipped without Flash enabled — largely to save laptop battery life, maintain security, and to reduce the clutter of the user's browsing experience. Unfortunately, that meant that those who needed Flash (or plugins like Silverlight) for their jobs or video streaming often had to manually install the plugin or run Chrome.
In macOS Sierra, Safari aims to change all this: If you browse to a website happens to have Flash-only content, you'll be able to temporarily enable the plugin solely for that page. It will default back to disabled automatically when you venture to a different site, or when you close Safari. Better still, you'll be able to choose for Safari to regularly load plugins for certain websites, while keeping them disabled for the rest of the web. It's a better, safer browsing experience for you — without the hassle of needing a separate browser or manually enabling and disabling Flash.
Safari extensions — and content blockers! — are coming to the Mac App Store
Do you even use Safari extensions? You might, but didn't realize it: Extensions are browser widgets that sit in Safari's top bar. You can use extensions as the Pinterest Pin It widget, the Add to Amazon Wish List widget, and 1Password for the Web to add things to your Pinterest boards and Amazon wish lists, or fill in passwords — and now you'll be able to find them all in the Mac App Store.
Along with your typical Safari extensions, you'll be able to find one other category there: content blockers. Your favorite content blocking apps are going to be easier to find, download, and install because Apple will soon, as of Sierra, allow them into the Mac App Store.
iCloud supports non Mac App Store apps
iCloud is now available to apps both inside the Mac App Store and out, so you can have the convenience of Apple's online services no matter where you get your apps from. As long as your developer of choice has a registered Developer ID with Apple, that app should be able to take advantage of iCloud.
Your favorites?
We've got a ton of content coming on iMore about all things Sierra; in the meantime, let us know: What are your favorite hidden or small macOS Sierra features? Any we missed that you're excited about? Ping us in the comments!
Get the best of iMore in in your inbox, every day!
Lory is a renaissance woman, writing news, reviews, and how-to guides for iMore. She also fancies herself a bit of a rock star in her town and spends too much time reading comic books. If she's not typing away at her keyboard, you can probably find her at Disneyland or watching Star Wars (or both).
Grammar mistakes. Proof read. What's wrong with you people?

Folders always at the top in Finder, FINALLY!!!

Really? That's good to know as I've been using XtraFinder to get that functionality, but it no longer works with El Cap. Sent from the iMore App

I find it still works pretty well if you're willing to turn off SIP. And I lived without SIP for decades, but I find I can't live without XtraFinder right-sizing my columns (seriously, Apple, would it be so hard to do that automatically?).

I agree I have been hoping and looking for resizing of columns for over a decade. I have tried XtraFinder with bad results several times. My computer not shutting down an other issues with XtraFinder conflicting with something else I run.

What is the button or button combo used to access Siri via keyboard?

fn + space Sent from the iMore App

It's holding down ⌘+Space for me

There are actually several keyboards commands to choose from in the Siri preferences pane.

Have the enabled Preview with a functionality similar to Windows Picture Viewer? Where, when I open a folder and double-click on a photo to view it, I can arrow left or right to the next photo. Right now in OS X, I have to select every photo and load it into Preview, in order to navigate to the next photo.

Unfortunately Preview isn't designed like this, but what you can do is drag a folder into Preview and you will automatically get all the photos in that folder

I'm currently running El Capitan on all my machines. My main music production machine will have to stay on El Capitan, I will have to upgrade the hardware first. I would like to try Sierra on the office MBP, but I don't want to run into incompatibilities like there were between Yosemite and El Capitan (notes, photos, etc...) Does anyone have experience of running a mixed network of El Capitan and Sierra? How is the compatibility between those systems? Specifically when it comes to Notes, Photos, Calendar, Contacts, Pages, Numbers so pretty much the Apple ecosystem?
Thank you for signing up to iMore. You will receive a verification email shortly.
There was a problem. Please refresh the page and try again.