Magic Duels brings Magic: The Gathering action to the iPhone and iPad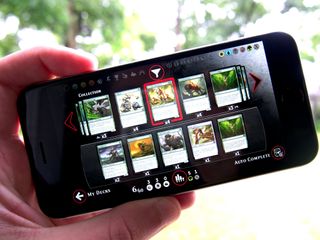 If you're a big Magic: The Gathering fan, you may be interested in the latest game from Wizards of the Coast for iPhone and iPad. Magic Duels brings the card battling fun of Magic: The Gathering right to your device, with regular card set updates, different game modes, and more.
Here's the breakdown of what you can expect from Magic Duels:
Regular updates from corresponding Magic set releases
Hundreds of new cards from the upcoming Origins set, including powerful Planeswalkers
Virtually endless solo gameplay against thousands of AI opponent decks
Expanded multiplayer options including Two-Headed Giant Mode
All-new Skill Quest tutorial system that teaches gameplay quickly and easily-just like learning from a friend
Deck Wizard offering step-by-step deck construction guidance for new players, and an advanced Deck Builder allowing experienced players to build from scratch
100% earnable content means players can play free!
For big Magic: The Gathering fans, this should definitely be worth checking out. If you're interested in seeing what Magic Duels has to offer, you can grab the game for free from the link below.
Hopefully it is good one. Sent from the iMore App

Those games are so expensive that you end up spending the price of an XBOne or PS4 on them at the end of the day. I'll pass. They nickel and dime you with IAPs otherwise your deck is worthless.

Well it might be but for example in hearthstone you can succeed without paying real euros. In-game gold can be sufficient if they have built the game economy in a smart way. Sent from the iMore App

You can always read other reviews of their other games to see how they structure them. Pretty much everyone agrees with me. And if they ever sell a "Complete Edition," make sure you take a pass on that, as well.

Anyone that says any game is Pay-to-Win anytime they have options to pay for say, in this instance, cards are the people who have not even bothered trying the game out. There are always ways to get far without spending a dime. Something called.... PATIENCE :) You do get free starter decks, a few. By the time you completed the main quest, you will be able to buy a few more starter packs (containing 6 cards). And you do start off with a decent amount of cards. The game is good so far, takes me back to the 90's when I actually played with the cards. There are a few random bugs. Like game just closing down. Controls not responding. Usually just takes closing the app, and restart it. Usually it will take you where you left off.

Only one unpleasant instance so far, just now. Win a match, barley (AI did not like me ROFLStomping it anymore), and at the end, it was having connection issues. I had to restart. Now I have to redo the game :(
Get the best of iMore in in your inbox, every day!
Thank you for signing up to iMore. You will receive a verification email shortly.
There was a problem. Please refresh the page and try again.