Make your minimalist dreams come true with this Peel wireless charger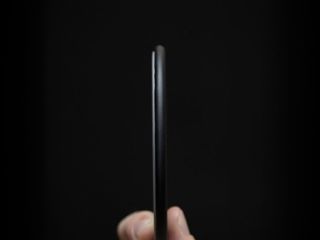 Today, device case manufacturer Peel (opens in new tab) launched the latest addition to its line of super thin smartphone accessories. Aptly called the The Super Thin Wireless Charger (opens in new tab), the device is both incredibly stylish and no-fuss, offering a minimalist charging solution ideal for individuals who prefer less aesthetic clutter.
The Super Thin Wireless Charger comes in white and black color options, and has a soft, scratch-free leather top. It is also, as the company says, "almost invisible" as far as thinness goes. Though Peel has yet to list the exact specifications of the device, the photos alone show that it's pretty comparable in thickness to the front cover of a hardback book — much thinner than most other wireless chargers out there. The pad also has what looks like a more rubbery material lining its underside, presumably to keep it from slipping and sliding around the surface of your desk or side table, though due to its markedly slim design its difficult to tell how its ability to stay put matches up to other wireless charging accessories on the market.
Functionally, the Super Thin Wireless Charger works with all Qi-enabled Apple and Android devices, powering them both up at their fastest wireless charging speeds (7.5W and 10W, respectively). No word yet on how successfully it charges devices through their cases, but there really should be no problem there if it's on par with its competitors even a little bit. Each charger also comes with an 6-foot-long, flat USB A cable, perfect for reaching outlets from a distance. Note however that there's no wall plug included in the purchase — you'll have to supply your own.
Essentially, if no wireless charger in the history of wireless chargers has been sleek enough for you, you may want to give Peel's contribution a try. It's priced at a pretty reasonable $49, and ships in 3-5 days from Peel's website.
See at Peel (opens in new tab)
Thoughts?
How do you feel about Peel's new "impossibly thin" wireless charger? Share in the comments!
Get the best of iMore in your inbox, every day!
Tory Foulk is a writer at Mobile Nations. She lives at the intersection of technology and sorcery and enjoys radio, bees, and houses in small towns. When she isn't working on articles, you'll likely find her listening to her favorite podcasts in a carefully curated blanket nest. You can follow her on Twitter at @tsfoulk.
Kinda looks like every other wireless charger out there. Not sure why I'd care if its slightly thinner than some other, way less expensive brands.

I still don't get the appeal (appeel) of these chargers, especially at home on at work. They always take up much more table/desk space, especially if you have more than one station, you can charge an iPad, or other Lightning devices. A Lightning cable, or two, seems like a much more functional, space saving solution.

The main two advantages are less cable mess, and if you're not constantly plugging in a cable to your phone, the port will last longer. But these two "advantages" aren't that great, so I actually agree with you. I see the appeal of wireless charging at a distance though, like this product: https://www.picharging.com