Media Picks of the Week: A Game of Thrones, Transformers (Generation 1), Justice League: Flashpoint and more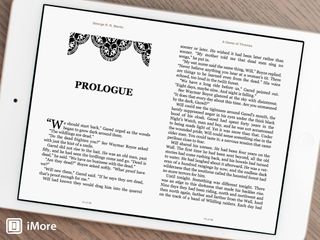 Every week, the editors and writers at iMore select some of our favorite, most useful, and most extraordinary apps. We're entertainment junkies too - we love movies, TV shows, music, comic books and more. Here are our picks for media that has caught our eye this week.
A Game of Thrones - Joseph Keller
A Game of Thrones is the first book in George R. R. Martin's A Song of Ice and Fire series, which deals with political machinations, warfare, and magic in the fictional world of Westeros. Following a multitude of perspectives in disparate locations across the world, A Game of Thrones presents a world where the politically savvy and bloodthirsty thrive, while those few with a sense of honor struggle not only to remain relevant, but to survive.
If you like your fantasy worlds to be incredibly detailed, then this book, and the rest of the series as a matter of fact, are for you. Martin includes a wealth of background information about the world of Westeros, both in the main text of the book itself, as well as the appendix. The book has are maps, lineages of the various houses, and much more just for the world building. The plot is no different, with Martin writing in great detail about the experiences of his chosen perspective characters. Whether you've thought about giving this series a go in the past, or if you've watched the show and now want read the source material, A Game of Thrones is a great start to a fascinating and wonderful series.
Torches by Foster the People - Ally Kazmucha
There are very few albums that I can listen to over and over and never get tired of them. The Torches album by Foster the People is one of them. I first purchased it when it came out about 2 years ago and it's been in heavy rotation in my iTunes library ever since.
While I use iTunes Match for most of my music, some I always have downloaded in case I ever run into areas with no service. This has always been one of those albums that gets an instant download to every device I own. It's upbeat and every single track on it is great. Two years later and I'm still not tired of it.
Transformers (Generation 1 - Season 1) - Chris Parsons
Growing up one of my favorite cartoons was and still is Transformers. I'd spend hours in front of the TV watching episodes that had been taped to a VHS for me and now that I'm older, I like to sit back and watch the whole run again. I honestly hate the cartoons on TV these days and with my son now being 9, I think it's awesome that a lot of the stuff I had as a kid is getting re-released digitally so he can enjoy it as well. Thankfully, a lot of that content is showing up in iTunes and Transformer G1 Season 1 is available now for only $20. If you're an 80's cartoon fan, you need this in your life.
Breaking Bad: Alchemy - Michelle Haag
Breaking Bad can't come back on soon enough for fans of the show, me included! The final episodes will start airing August 11th, and in the meantime I've been brushing up on the past seasons in preparation for what we all know is going to be one wild ride through to the finale. By far the coolest thing I have found to feed the addiction is the Breaking Bad: Alchemy multi-touch book.
Containing over 120 pages of original content and more than 350 interactive elements, Breaking Bad: Alchemy highlights the unique elements that make Breaking Bad one of the most magnetic series in TV history. Filled with behind-the-scenes secrets, stories spanning every season, including a complete series multi-touch timeline, exclusive interviews with creator Vince Gilligan and an interactive death timeline of those who met their demise, this one-of-a-kind book offers fans and newcomers a brand new way to experience the evolution of the show from the pilot and will update all the way through to the final episode.
If you're a fan, you'll really appreciate all the bonus content this book adds to your viewing experience. Also worth noting, there is a free sample available if you prefer to take a peek before committing.
Dynamo - Magician Impossible Season 3 - Richard Devine
Dynamo, if you haven't heard of him, is possibly the greatest magician you could see anywhere, right now. Hailing from the UK, his seemingly impossible tricks and illusions continue to grow more and more outrageous, none more so than in this latest season. Currently broadcasting on domestic television here in the UK, the season hasn't ended yet, but thanks to iTunes you can grab yourselves a season pass right now and the final episode will download once it's added to the catalog.
Season 3 sees Dynamo visit New York City, Ibiza and South Africa so far, taking his magic to the streets, the beach, everywhere pulling off some pretty impressive feats of magic. It doesn't matter how he does it, it's just incredible to watch. If you've never discovered Dynamo before, I can't recommend his shows highly enough. Sadly, because this is a TV show, and it's produced here in the UK, there may be regional restrictions imposed at the moment. But if you can get it, ever, then do. It's impressive stuff.
Justice League: Flashpoint Paradox - Rene Ritchie
Justice League: Flashpoint Paradox is the animated adaption of DC Comic's Flashpoint series, the cross-over, universe changing event that resulted in the current New 52 re-launch. DC's had a ton of retcons/reboots over the years, going back to Crisis on Infinite Earths and, arguably, before that to when the Golden Age super heroes were replaced with new versions for the Silver Age. Some have been more successful than others. None have been as dark or violent as Flashpoint.
Part of me laments that Flashpoint is PG13 and so PG13 I can't show it to my 4 and 7 year old godsons who adore the previous Justice League and Young Justice series. The other part enjoys that animation in North America is finally catching up to where it's been in Japan for decades - just another form of entertainment capable of being targeted at any age group.
And when I say dark and violent here, I mean it. Darker than Under the Red Hood. Darker even than The Dark Knight Returns. This is wholesale slaughter, bullets through the head, kids getting killed dark. So make sure your expectations are set, and your audience appropriate, before hitting play.
The animation is different from previous DC Animated Universe fare, reminding me more of MTV's old Aeon Flux series. It works on a whole, if some of the moments and models look goofy (weird, not funny) at times.
The adaption itself is a good one, and like Under the Red Hood, I think better by virtue of simplicity and clarity than the source material it draws upon. Flashpoint, as the name implies, centers around the Flash. He wakes up in a word where he no longer has power. Where Batman wields guns, Superman is nowhere to be found, heroes are the worst of villains and villains are trying desperately to be heroes. Something was changed, and that change threatens to destroy everything around it. The Flash - Barry Allen - has to figure out what, who, and how to fix it. He has to, in grand comics tradition, save the world. Even if what he has to do is anything but traditional in the end.
I've loved Elseworld ever since I read Gotham by Gaslight, and Flashpoint mixes just that type of alternate universe tale into something that re-created the "real" DC universe. In that sense, it's the best of both worlds, and quite the capper to the original, classic "Flash of Two Worlds" that started the idea of the DC Multiverse to begin with.
Give it a watch!
Oblivion - Peter Cohen
2013 has been a tough year for blockbuster movies; very few of them have managed to live up to box office expectations. The reasons for the underperformance are varied - audience fatigue at major "tentpole" movie events happening each week; the price of going to see movies, especially if they're in 3D; marketing missteps by the studios; and plain old fashioned crappy scripts and wooden acting ruining a few too.
Tom Cruise's latest sci-fi action flick Oblivion was one of those films that didn't exactly set the (domestic) box office on fire, but after viewing it, I can't figure out why - the special effects were great, the acting was good, it was well-paced and the plot was interesting. The movie, based on an unpublished graphical novel, describes a future Earth ravaged by alien invaders. Cruise's character, a drone repairman haunted by dreams of a strange woman and a time before the war, soon stumbles upon a horrible secret - things are not as they appear to be. The movie features some other heavy hitters including Melissa Leo and Morgan Freeman. It was directed by the guy who wrote the graphic novel and the screenplay, Joseph Kosinski, whose previous credits include Tron: Legacy.
Anyway, if you missed this one in the theaters, here's you're chance to own a legitimately good SF action movie. And you can get it a week before it comes out on DVD and Blu-Ray.
Find any awesome movies, books, TV shows or music in iTunes or elswhere this week? Have an opinion on something on this list? Sound off in the comments.
Master your iPhone in minutes
iMore offers spot-on advice and guidance from our team of experts, with decades of Apple device experience to lean on. Learn more with iMore!