Microsoft confirms it has acquired 6Wunderkinder and its Wunderlist app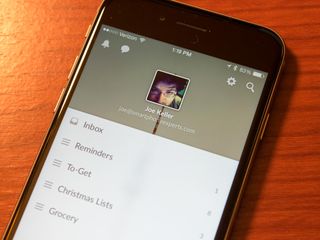 Microsoft has finally confirmed that it has acquired the German-based company 6Wunderkinder and its popular mobile "to-do list" app Wunderlist. While the specific financial terms of the deal were not disclosed, a previous report from the Wall Street Journal claims that Microsoft paid between $100 to $200 million for 6Wunderkinder.
In a blog post, Eran Megiddo. Microsoft's General Manager for OneNote, stated:
Christian Reber, the founder and CEO of 6Wunderkinder, confirmed that he will continue to lead the Wunderlist development team in its Berlin home office. He added:
Source: Microsoft (opens in new tab), Wunderlist
Get more iMore in your inbox!
Our news, reviews, opinions, and easy to follow guides can turn any iPhone owner into an Apple aficionado
I have been writing professionally about technology and gaming news for 14 years.
I do not know whether to run screaming or just drink the kool-aid. Hope MS does not ruin another good product like their previous history.

Which previous history are you referring to? Recent history or older history? In the past year (recent history) their product acquisitions have turned out very nicely so far. This seems to be a different Microsoft than years past.

I hope they integrate it into their Outlook app. I really hope they don't shut it down before that though.

Wunderlist always seemed like a nice service from a distance, but the way it was given away without any strings suggested to me that it was built solely to be sold to a larger company one day. I always figured Google would gobble it up and melt it down like it has so many other services, so I stuck with a paid app I trusted to stick around. Better that Microsoft grabbed it instead, given the recent history of each company's behavior with acquisitions (how crazy is the world we live in where this is the case?). I hope, for Wunderlist's users' sake, that it doesn't mess with a good thing simply for the sake of doing so.

Press release seems to indicate that they have no intentions of changing their current model.

Reading the MS statement with the references to OneNote, Outlook, Skyoe, Acompli, and Sunrise, it seems likely that it will be used as a means to bring task management to mobile as tied into one or some of the current offerings by MS. Considering how well they've done with this current strategy since Satya Nadall has taken over, it may prove a worthy step by the company. I'm an iOS only user, so it won't matter to me at this point, but MS has made huge strides from where they were only a few years ago.

It seems likely that they will integrate it into other MS services, probably discontinuing it as a stand-alone product.

I doubt they remove it as a standalone.

I'd agree it gets discontinued at some point too. Likely rolled into either Outlook or with a calendar, since they've bought the Sunrise Calendar app too. It would make sense they tie it into the mobile Office suite some how. Maybe thru OneNote?
MS certainly has options here, so it's hard to say what they'll do, but it will be interesting to see as time goes on.

I like what they have done with Sunrise thus far, so much so that I replaced my current calendar apps (Switch between MiCal and Fantastical) with Sunrise. So far so good. I recently have been toying with switching my task management to either Wunderlist or Todoist. I'll likely run a combination of both until Microsoft shows where they plan to take Wunderlist. If they decide to integrate into Outlook I hope they also maintain a standalone task management app. My company blocks me from using any email app other than Apple Mail on my iPhone (I work for a bank they are very cautious about email security). Would hate to need 1 app for my work email and another for my personal. I haven't found it necessary to sign up for Wunderlist's premium service, but it would be a nice addition if MS gave Office 365 users access to the premium service. Overall I am pleased with MS' expansion of the iOS apps. It is highly unlikely that I would move to a Windows machine for my personal computer however. I like having the best of both worlds and only Apple products allow me to do that. Sent from the iMore App

This is sad news. Now I have to find a new to-do list app.

Why? Posted via the iMore App for Android

I'm a big fan of Wunderlist, would have been worried before but having used Outlook on iOS I'm ok with it and hope it means a great future for the app Sent from the iMore App

I use wunderlist and its a great app. Now that Microsoft has bought it I think its gonna die just like Skype. Oh well... time to start looking around for a similar app...

When was Skype dead? If anything it's improved since Microsoft bought it, group calling is now free. It's still great for platform-agnostic video calling Sent from the iMore App

Not sure how I feel about this...