Microsoft updates OneNote for iOS with OCR and iPad handwriting support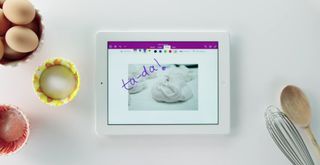 Microsoft has released an update for the company's OneNote app for iPhone and iPad. The release adds OCR support for images, enabling you to search for text contained within images. But should you be rocking an iPad you'll have an extra feature to take advantage of. Get the pen ready as handwriting is now supported.
Using a compatible pen for input, it's possible to turn the iPad into a creative canvas for drawings and natural note taking using OneNote. Simply tap the new draw tab on the ribbon and select pen, marker, or highlighter. From there you're able to write and doodle to your heart's content.
The OCR is also a real handy feature. What's more is you can even copy said text directly from the image, extracting it as editable text for another note. It's worth noting that Microsoft states the OCR feature works with newly added images, as opposed to existing ones. Images already added to OneNote are expected to be supported soon.
I'll try the handwriting to see how it works for me. Microsoft is doing its job and fast. Sent from the iMore App

I'm loving OneNote more everyday. I have been an Evernote user for years and even though I don't use MS Office, I have paid OneDrive storage and the simplicity of OneNote is getting better and better.

I wish they offer voice recording features too. I am premium Evernote user for just this feature. Sent from the iMore App

That would be great I bet. I still use the basic version so I've never missed that but I am all about voice input.
Thank you for signing up to iMore. You will receive a verification email shortly.
There was a problem. Please refresh the page and try again.