Microsoft's Age of Empires: Castle Siege available worldwide for iPhone and iPad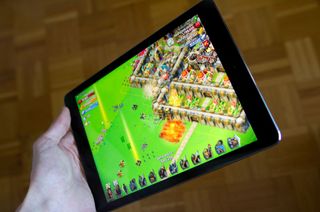 Microsoft has now launched its free-to-play historical strategy game Age of Empires: Castle Siege worldwide for the iPhone and iPad. The game was previously available in a soft launch in Canada earlier this year.
The iOS version will allow iPhone and iPad players of the game to play against those who have the previously released Windows 8.1 and Windows Phone versions. Here's a quick summary of the game, which was developed by Smoking Gun Interactive:
I have been writing professionally about technology and gaming news for 14 years.
Is this yet another Clash of Clans clone? I actively avoid games like this precisely because I'm hooked on CoC. I don't need another game addiction! Sent from the iMore App

It is different you can guide the attacks instead rely on the IA .
I like better

They should focus instead on making a real age of empires IV. I'm sure there would be a quite large demand for it. Sent from the iMore App

Yeah unfortunately this game is just one of very many of it's type. I long for the day of a true age of empires game! Sent from the iMore App

Downloaded It... Played it during my lunch for 30 min.... Deleted it. Yawwwn. I miss the original age of empires. I have a Mac so it's virtually impossible to find it for a reasonable price... Someone online has 3 of them for $150! Hahaha idiot Sent from the iMore App

AOK was my favorite pc game of all time! Because I now have a Mac, I did without for a long time....until I discovered 0AD. It's an open-source rts that started as an AOK mod. It's in alpha still, but it runs really smoothly on my old MacBook.

So, basically MS goes to copy mode, and that too from COC, which already has many clones out there again too late, instead they could have copied or ported old AOE 2, which is still a treat to play.
Get the best of iMore in in your inbox, every day!
Thank you for signing up to iMore. You will receive a verification email shortly.
There was a problem. Please refresh the page and try again.