Minisquadron Side Scrolling Shooter for iPhone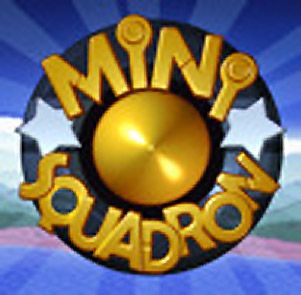 Minisquadron, a 2d airplane shooter and my new passion for gaming 2.99 [itunes link (opens in new tab)].
If you ever enjoyed games like 1942 then you will love this game. Freaking sharks and freaking laser beams ! Yes the game has it all. If you have ever wondered what it feels like to be shot down by a giant panda airplane, well then this game is a must (btw, it's pretty humiliating ;) ).
(opens in new tab)
In minisquadon you fly around and try to shoot down enemy planes, to complete a level. The control of the game is smooth and intuitive. With one area on the right for shooting and another area on the left for flying the plane.
(opens in new tab)
As you complete the levels you also unlock enemy planes that then join your squadron as planes you are able to play.
(opens in new tab)
If you get shot down, the enemy plane who shot you down gets a shout out. You also get shot outs when you have killed a lot of enemies or if you have unlocked a new plane.
(opens in new tab)
The game has over 8 levels which increase in difficulty and tons of replay value due to the fun levels and unlocking of new planes. You can unlock a variety of different planes with various arsenal, some of which are ufos, pitch forks and a shark.
(opens in new tab)
If you have not yet tried it, this will definitely be one of your favourite games.
Get the best of iMore in in your inbox, every day!
Senior Editor at iMore and a practicing therapist specializing in stress and anxiety. She speaks everywhere from conferences to corporations, co-host of Vector and Isometric podcasts, follow her on Twitter @Georgia_Dow and check out her series at anxiety-videos.com.
I love this game! I remember when I first got the mega laser randomly, instantly hooked!

Great game! Played it quite a bit on the trip to hawaii, not hard to complete all the levels, but quite difficult to unlock all the planes!

Got it when it was free and was instantly hooked! Great game.

great game! although once completed and all planes unlocked can be a bit repetitive and boring. they should make more planes with different weapons and new levels.

Great job Ben, Ok can you give the rest of us some tips on unlocking the planes ?

This is one of my favorite iPhone addictions. Georgia, as for unlocking planes... it's all point/level based (ie score x-amount of points of y-wave of z-level). If you move to the front most menu and look at your squadron click on any of the locked planes and you'll get the details on how to unlock each one.
And to get big scores don't get hit. Every plane you destroy without getting hit increases your multiplier for big points.

Thanks !
Much appreciated Ken.

I love this game! I got it when it was free, and I only have 4 planes left to unlock!

I too was able to download this when it was still free. It is my new favorite game!

Thanks very much for this great post;this is the kind of thing that retains me going by way of these day. I've been trying round for this web site after being referred to them from a buddy and was happy when I discovered it after looking for some time. Being a avid blogger, I'm blissful to see others taking initivative and contributing to the community. Simply wanted to comment to point out my appreciation to your article as it's very appleaing, and many writers do not get authorization they deserve. I'm certain I'll drop by again and will suggest to my friends.
Thank you for signing up to iMore. You will receive a verification email shortly.
There was a problem. Please refresh the page and try again.