How to screenshot Snapchat without being detected!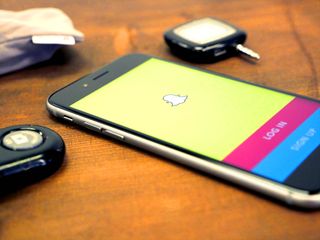 (Image credit: iMore)
When Snapchat first started, one of its biggest selling features was that no matter what snaps you sent out — scandalous, saucy, sexy, silly, stupid, or otherwise — recipients would not be able to screenshot or store your snap without your knowledge.
Quite literally since the first day the app launched, there have been people trying to get around Snapchat's anti-screenshot feature any way they can, and they're absolutely not alone. It seems like almost everyone is asking the same question: How the hell can I screenshot on Snapchat without being detected (and then looking like a total creep)?
Here are a few ways that you may be able to get away with questionable-quality screenshots in Snapchat without being detected (note the may in that sentence) and one sure-fire way to screenshot in super-secret.
Just use another phone
If you're really desperate to capture and preserve someone else's snap, pick up your tablet or your friend's phone to capture the snap-tastic footage.
Don't bother taking pictures, but, rather, record a video of the snap. Be sure to start recording before you tap on the snap to open it so you catch the whole thing.
When you "screenshot" Snapchats this way, your quality isn't going to be great. It all depends on whether you can keep your hands steady enough to capture decent footage, and the quality of the phone's camera you're using to record the snap.
Delay the screenshot notification
Simply load up Snapchat, go to the snap you want to open and make sure it loads completely (you can tell a snap is loading if the icon beside a name isn't a solid square, but more like a little swirl). Turn off your WiFi, your Bluetooth, your cellular data and everything else that keeps your phone connected, and then turn on Airplane Mode. Then, go back to that snap, tap on it, and take your screenshots.
The next part is cucial if you don't want to be caught screenshotting: immediately after taking your screenshots, you want to reboot your iPhone. Here's how:
Quickly click and release the Volume Up button.
Quickly click and release the Volume Down button.
Press and hold the Side button (sleep/wake, on/off).
Keep holding down the Side button, even after the Shut Down screen shows up.
The Snapchat you took screenshots of should have reloaded back to normal as if you had never opened it in the first place.
If you don't reboot your iPhone and just turn it off instead, this technique just delays the screenshot notification that the other person would receive. The person who's been screenshotted shouldn't receive a pop-up notification that someone's screenshotted their snap, and shouldn't see Snapchat's screenshot indicator (a double-arrow icon) for a few minutes.
To be fair, if the person you're screenshotting is super unobservant, then you could probably get away with screenshotting their snaps! But beware – they may figure out later down the line what you've done.
How do you #SecretSnapchatScreenshot?
Is there a technique you've used for secret Snapchat screenshots that works like a charm? Let us know your pro tips for creepin' and we'll be sure to try them out!
Updated May 2020: These are still the best ways to screenshot snaps without being detected.. Have any suggestions? Comment down below!
Cella writes for iMore on social and photography. She's a true crime enthusiast, bestselling horror author, lipstick collector, buzzkill, and Sicilian. Follow her on Twitter and Instagram: @hellorousseau
How does the important "press and hold the home button" translate to phones with no home button?

The easiest way (if you have a Mac) is to connect it to your Mac, and use QuickTime to view the phone screen, then just take a screenshot on your Mac. But even if you don't have a Mac there's all sorts of ways of mirroring to other devices, where you can take the screenshot instead
Thank you for signing up to iMore. You will receive a verification email shortly.
There was a problem. Please refresh the page and try again.