Monster DNA Pro headphones go wireless with Bluetooth at CES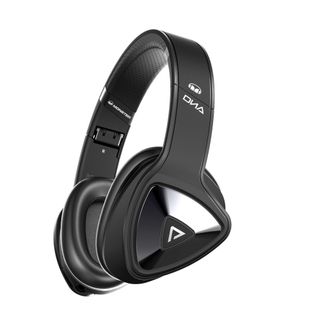 Last year audio peripheral maker Monster rolled out its new DNA headphone line, meant to go up against the products it made famous through its failed partnership with rapper Dr. Dre. This year the company's back with DNA Pro Wireless, Bluetooth over-the-ear headphones that will set you back $449.95 when they emerge in the second quarter of 2014.
DNA Pro Wireless sports active noise cancellation and has a buttonless touch-sensing user interface. If you prefer to have a direct wired connection, you can also use them as USB digital headphones (while simultaneously charging the internal batteries). Monster says the DNA Pro Wireless has embedded Apple Audio Codec (AAC) decoding.
What's more, when you fold up the headphones you'll automatically shut them off, so you don't have to fumble for an off switch. Unfold them and they'll power up and Bluetooth will activate; when you put them over your ears, a built-in sensor automatically activates the active noise cancellation.
Are you ready to shell out $450 for a set of active noise canceling over the ear headphones? Or is that too much to bear? Tell me what you think in the comments.
Check out all our coverage from this week's CES on our #CESlive Superpage!
Get the best of iMore in your inbox, every day!
Great to see more headphones are going wireless. It's time to do away with the wires. Sent from the iMore App

$ 450? I'm sure this is a great product but I'd rather buy other stuff with that money.

I've had beats by dre studios, tried on and listened to all the other beats models . Own a pair of 50 cents sms pros also. They all suck . Dre makes the best looking headphones but the quality of the sound mixed with being very uncomfortable and giving me a headache and hurting my ears from squeezing made me return them the next day. I purchased Bose quiet comfort 15's and let me tell you they the best headphones I've ever experienced . Loud, extremely clear , very good crisp bass, extremely comfortable and the noise cancellation is mind blowing. Also extremely durable and flexible . From now on it's Bose or nothing for me. Not to mention the battery life is stellar . Your best bet hands down Sent from the iMore App

Save your money and get some Westone 4 earphones--prepare to be blown away and not look like an idiot with full size headphones on your head in public.

You can buy excellent studio headphones for half the price. That is my go to for mixing music. If I just listen, and want a nice bass response, and great sound, there are so many on the market for a whole lot less, Seen too many bad reviews on Dr Dre headphones, and Monster tends to overprice all their products.

That's $80 more than my wireless Studio's and $50 more than my Quiet Comfort 15, both of which are noise canceling...that's crazy!!! FWIW...you can't purchase the cheap Beats (less than $250) and expect them to sound like the top of the line ones. My $380 ones sound just as good as my $400 Bose ones. I would never compare my Apple earbuds to my Bose earbuds. It's like comparing Dots to Nordstrom...you get the same types of items but very different quality. And yes I like shopping and technology...don't judge me!!

I actually just got an email from Monster about those headphones saying:
Hello, There is a tentative release date of July/August 2014. Monsterous Regards,
Monster Customer Service. But that's about 3rd Quarter. So what's the deal?