Moshi Ionbank 10k battery pack review: Good looks and plenty of power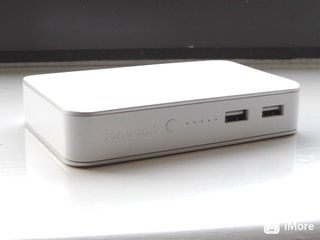 Moshi makes a great range of accessories for Apple devices, and this latest addition to the stable is no less impressive. In simple terms, the Ionbank is a honking great external battery pack. But being a battery pack doesn't mean it needs to look mundane and boring, and it definitely packs a look with the power within.
The Ionbank sure looks like it belongs in your collection of Apple equipment. Top and bottom we're treated to aluminum, separated by a clean looking white band that circulates around the middle of the unit. The design is simple, two USB ports, a set of tiny LEDs to communicate the current state of battery charge, and a button to light them up. And that's it. Also included in the box is a handy travel pouch to save it getting scuffed up in your bag.
The charging cable for the Ionbank is hidden beneath the bottom panel which slides back to reveal an integrated USB charging cable. While it's nice to have, here we encounter the first, and perhaps most annoying issue with the Ionbank. The cable is short, as in, ridiculously short. Using a wide variety of USB power adapters I happen to have lying around, the only real way to charge this thing is by standing it up on end, on the floor immediately below the plug socket. Annoying and inconvenient but not a deal breaker.
And that's about the only real negative about the Ionbank as a product. The 10000mAh battery inside is ridiculously good for something as compact as this – the dimensions are just 4.84" x 3.15" x 0.98". The dual-USB ports offer a combined output of 18 watts, and are plenty capable of charging an iPhone and an iPad at the same time with no trouble. Or for that matter two iPads. It's pretty quick at charging an iPhone, and because it doesn't come integrated with any Lightning cable it's perfect for charging other devices you may have in your bag at any one time.
The Ionbank is a quality product, make no mistake. I've used many battery packs that claim to offer a large capacity that in truth run down much quicker than you'd expect them too. As such I'm personally happier paying a little more to get one from a company that has a reputation for quality products. That quality does come at a price and for the Ionbank you'll be looking at spending $110. That is a lot, but it also delivers what it promises.
The good
Pretty fantastic battery capacity
Decent power output
Looks like a premium device
Compact size despite packing a pretty huge battery
The bad
Integrated charging cable is just too short
Pricey
The bottom line
If you're happy spending the money to get a quality product that is going to deliver, then the Moshi Ionbank is well worth a look. It's small enough to throw in your bag and powerful enough to keep you going wherever you find yourself short on juice. A great addition to your gear. For more photos, keep on scrolling a little further.
Get the best of iMore in in your inbox, every day!
This thing looks awesome! But it is super expensive. I don't think it would be worth $110 for me. But it might be for someone who travels a lot. Sent from the iMore App

Nice review, Richard.
Even though the charging cord is as short as it is, I really love the fact that it is built into the unit and less likely to be lost or tangled up with other wires, like my current power block solution. Having said that, I can understand why it is not any longer than it is.
Is the price really that bad? I think I paid that much for my current power block and it is nowhere near the quality of the one that you have just reviewed. Doh! Sent from the iMore App

These would be great if I were a woman and had a purse with me at all times. I wish the man purse caught on... Sent from the iMore App

Great review as always. I like the clean and simple look. Plus, the portable size considering the power it can store inside. I understand that there are advantages to having an integrated USB cable (like to avoid misplacing the cable) but I would have preferred a longer and removable one so it's easier to replace it should it get damaged or something.
Another thing, I wish you could've also made some examples like how many charges of iPhone/iPad we can get from a fully charged Ionbank before we need to plug it in again just to give us a better idea of what a 10000 mAh battery is capable of. Sent from the iMore App

An iPhone battery is 1570mAh, so call it 6 charges? I'm using mine with Android and Windows Phone devices too with various battery sizes so any data from my own use wouldn't be accurate to someone who isn't such a phone hoarder :)

I see. Thanks for the reply. I figured as much that it would just really be dividing the phone's battery size to the Ionbank's capacity.
Ok now, you're just making me envious. Sent from the iMore App

$110 is a bit steep for an external battery. Although the pack is nicely designed and has a lot of power to recharge an iPhone or ipad the price tag does not seem justifiable. Sent from the iMore App

Sorry, but a unit stronger at 30,000 m a h can be had on ebay for 28.99
do a search on iPhone battery backup 30000mah. Why spend 110.00 ripoff.

I got this one, 15Ah: http://www.ianker.com/product/79AN15K-BA
Nicely curved edges and a pouch that doesn't have to be removed when charging my gear. It does have to be removed when charging the battery itself though. I charge it with my 12W iPad charger. The price is € 36,- which I'm happy with (ordered from NL in DE).

Enercell 90W Portable AC Power Inverter is the way to go. However this does look nice Sent from the iMore App

Is it white or aluminum? Looks nice and quite functional. But that's a brick! Sent from the iMore App
Thank you for signing up to iMore. You will receive a verification email shortly.
There was a problem. Please refresh the page and try again.