Most useful augmented reality apps for your iPhone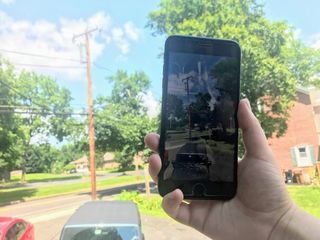 (Image credit: iMore)
From measuring apps to camera add-ons, you might find yourself a little overwhelmed when you go into the App Store and see how many apps have Augmented Reality (AR) available. Obviously, you know which ones are the most fun, but I'm here to show you the ones that are the most useful. These are diamonds in the rough that get lost in the countless, "Make a dinosaur come to life!" and "Put stickers in your world!" apps. I'll start off by saying that every measuring app, yes, every single one are lies.
Ikea Place
Most people keep crossing this app off of their radar thinking it's just another app to see how furniture or X item is going to look in their house. While that's half true, the Ikea Place app also has another feature that proves to be incredibly useful. That would be the ability to search the marketplace for an item that's standing in front of you. That's right. Did you just look at the price tag of that perfect bedroom chair you've been wanting and it caused your heart to jump out of your chest? Well, with the Ikea app all you have to do is take a picture! The app will search through and show you all of the closest matching products to the item in question. I searched for my favorite red chair that's going to need replacing soon, and found one just like it!
When you're done comparing prices you can head on home. From there, all you have to do is launch the product, select the AR button, and place it in your room where you wanted it. Who knows, after seeing the whole set up you might even change your mind about wanting it in the first place. This app is free on the App Store, so get shopping!
Ink Hunter
I am probably one of the most indecisive people I know, but I also love getting tattoos. Ink Hunter might honestly be my knight in shining armor, and it's free! All you have to do is install the app, draw a smiley face on the flesh you want to test a tattoo on, and then hit the market for some sweet designs.
You don't have to just test out the tattoos that are available on the app, you can try out some from your picture library as well. I've been wanting to get a Poké Ball for a while now and it was very nice to see how it would actually look on my skin!
Star Walk 2
So you want to teach your kids about all the constellations. Well, this app is just as fun as it is educational! Not just that, but there's even an ability to set the location of where you see the constellations from "currently" by showing you the stars above you right now, or "manually" to show you the stars wherever you want to. If you've got a star-crossed lover, family member or long-distance friend, this could be an amazing conversation starter for your next phone call. Just boot up Star Walk 2 on your iPhone, regardless of day or night, and see the stars through someone else's eyes.
This app will even notify you for important astronomy events like solar and lunar eclipses! Even if you find you don't use the app too often, it'll be good to keep as a reminder to go check out the awesome things happening in our universe! Star Walk 2 is a free app, but if you pay the $5.99 you don't just lose the ads. You also gain the ability to see planets, Deep Sky Objects, Satellites, Constellations, and an extended Solar System!
3DBrush
Who doesn't love a good drawing app? "But, Essa. I thought you said most useful apps. How is coloring useful?" You know, I'm really glad you asked! Using a 3D brush in AR helps you do a number of awesome things. You could draw out an adventure for your kids to experience, drawing a message out to your parents, or even use the app to mark the spots on the wall you need to add a nail to earlier.
3DBrush apps are the beginning of something remarkably useful. Think customized video messages to loved ones far away, or the ability to add things to our world we might not otherwise see. A flower in the middle of the desert or having the stars at our feet are just one AR app away, and it's free on the App Store.
What are your favorites?
Tell me which AR apps are your favorites and why! Is it using your emojis in Snapchat, or did you find a new favorite app with the ones I've listed above? For me personally, my heart was sold to the stars and constellations app. It makes me so happy to be able to see the stars and learn about the stories behind them as well! Tell me what you think in the comment section below, or shoot me a Tweet @OriginalSluggo.
Get more iMore in your inbox!
Our news, reviews, opinions, and easy to follow guides can turn any iPhone owner into an Apple aficionado
Essa Kidwell is an expert in all things VR and mobile devices who can always be found with an Oculus Go, a Pixel 2, and an iPhone 7+. They've been taking things apart just to put them back together for quite some time. If you've got a troubleshooting issue with any of your tech, they're the one you want to go to! Find them on Twitter @OriginalSluggo or Instagram @CosmeticChronus.