MoviePass: Everything you need to know!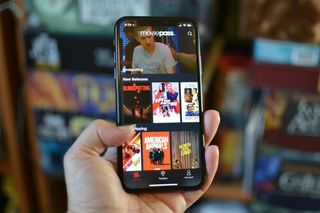 You've been hearing a lot of talk around the proverbial watercooler about this "MoviePass" thing. It sounds to good to be true, and maybe it is. It's still in its infancy stages. Here, you'll find out everything there is to know about MoviePass so far, plus get updates on news that happens, as it happens.
What's new with MoviePass?
August 15, 2018: As MoviePass rolls out new 3-movie plan, things get a little ... weird
As of today, MoviePass is officially transitioning to its new business model that'll hopefully allow it to keep chugging along for the foreseeable future.
For $9.95/month, subscribers can see up to 3 movies each month. If you want to see additional films, you get up to a $5 discount on tickets that are purchased through the app.
Subscribers are able to see "blockbuster and independent films" and can choose between "up to 6 films daily." That last note suggests that MoviePass will continue to limit showtimes as it sees fit, so here's to hoping the selection process is better than what users have been putting up with for the past few days.
On the same day that MoviePass rolls out these changes, shareholders have filed a lawsuit against Helios Matheson Analytics, the parent company of MoviePass.
According to Engadget, the lawsuit claims
If you've recently canceled your MoviePass subscription but are still within your current period, Vox has reported that, if you open the MoviePass app, you may see a pop-up notification that will offer you the chance to opt back in to the new subscription model of $9.95/month for three movies.
The notification covers the entire screen and only clearly provides a button to accept. By accepting these changes, your subscription will be reinstated and you'll be charged $9.95 again.
To avoid accidentally resubscribing to MoviePass, don't tap I Accept, but instead, tap the little X in the upper right corner of the pop up to close the notification. This will allow you to continue to use the app without having to reinstate your subscription.
August 5, 2018: MoviePass is changing up its monthly price ... again
Another day, another change to MoviePass. Today, the company announced in a press release that it's abandoning its previously-announced price hike, reverting back to its original $9.95 subscription fee. However, it's also abandoning unlimited monthly movies, and will instead limit customers to three movies per month going forward in an attempt to create "a long-term and sustainable business model."
According to the company, this new subscription plan is of the masses, as most users only attend three or fewer movies a month already:
Additionally, the reformulated plan "will include many major studio first-run films," seemingly scrapping last week's major emphasis on exploring and discovering more indie films.
The new business model will go into effect beginning August 15, 2018. If you're a monthly subscriber, you'll be given the opportunity to opt in to the new plan when you'd normally re-up your subscription. If you've paid for an annual subscription, you won't be affected by the new plan until your yearly renewal date. And, of course, if this new plan doesn't gel with you, you can always cancel your subscription at any time.
July 31, 2018: MoviePass is upping the monthly price of a standard plan to $14.95
Yes, you read correctly: just a day after MoviePass announced it is no longer offering tickets for certain major film releases, the company issued a second statement announcing that a standard subscription to the service will now cost $14.95 per month. That's five dollars more than the previous price, which was $9.95.
Here are the changes outlined in MoviePass' release:
The company also insinuated that these measures would help business better adhere to the "integrity of the MoviePass mission" — that is, to help customers explore and discover smaller independent films that they would have otherwise skipped. Unfortunately, the new changes also mean that users will not be able to see films like "Mission: Impossible - Fallout" and "The Meg."
As mentioned in MoviePass' statement, the price hike is slated to increase sometime within the next 30 days.
July 30, 2018: MoviePass to completely stop offering tickets for certain major film releases
On the heels of MoviePass having a major outage caused by major money losses, the company has also decided to restrict subscribers' ability to watch certain movies at particular theaters at all. In an all-hands meeting, MoviePass CEO Mitch Lowe told his staff that the company would take the upcoming releases "Christopher Robin" and "The Meg" off the list of movies subscribers can see. He also implied that this type of restriction would continue indefinitely. Business Insider spoke with a person in attendance at this meeting that remained anonymous.
Just like the note says, I can't see movies like Mission Impossible: Fallout at all through MoviePass. It doesn't even appear in the app. Whether major movies will eventually open up to subscribers, and if this will affect even more movies going forward is unknown. It is, however, unfortunate that MoviePass continues to flounder while it's paying subscribers suffer for its failings.
I'd rather pay $10 per month for one movie than $10 per month to only get to see movies no one wants to see (and I can't even rewatch them!).
July 27, 2018: MoviePass sees service outage after it runs out of money
MoviePass customers got a bit of a shock on the night of Thursday, July 26 when many found that they couldn't get movie tickets through the service. This was due to a service outage caused by MoviePass literally running out of money to pay for movie tickets. The company wasn't able to pay its various processors, who then stopped processing payments for MoviePass. From CNN:
While service appears to have been restored, this certainly won't do much to inspire confidence in MoviePass moving forward.
July 12, 2018: MoviePass confirms IMAX and Real 3D movie support coming by Labor Day
In an interview with Business Insider, MoviePass CEO Mitch Lowe confirmed that its new support for premium movies, like IMAX, Real 3D, and DX, will be available in the app by Labor Day. Premium movie tickets, which are currently restricted, can be purchased with an add-on fee of $2 to $5 per ticket.
MoviePass's Peak Pricing changes will also be in full effect by the end of July. Lowe doesn't seem to think this surge pricing will have any real effect on most MoviePass subscribers.
By the end of July, we'll probably know whether subscribers care.
July 5, 2018: MoviePass reveals details about how surge pricing will work
MoviePass is rolling out information about its upcoming fee increase for "Peak Pricing" for certain movies. The company notes in its support document:
When a movie is particularly popular during a certain time of day or on a certain date, it will be considered Peak Pricing. You'll know if a movie is tagged with Peak Pricing by the red lightning bolt icon next to a showtime.
If a movie is not quite at the Peak Pricing threshold, but its popularity is growing, you'll see a gray lightning bolt icon.
If you decide you want to see a Peak Pricing movie anyway, you can tap on the show time to see what the additional fee will be.
MoviePass notes that there is no specific pricing scale for Peak Pricing and that the surcharge will be based on the movie or showtime's popularity.
Peak Pricing began today and will roll out gradually nationwide over the next few weeks.
June 21, 2018: MoviePass to introduce 'surge pricing' additional costs this summer
In this trial-and-error-stage of MoviePass, the company is constantly pushing out changes — some big, some small, and some that they backpedal on. This time, there's going to be a big change in a small way: surge pricing. According to an interview with Business Insider, MoviePass CEO Mitch Lowe announced it will tack on a few extra dollars to your monthly subscription when you see a movie it considers "high demand."
The change is scheduled to take place this July and will be poised to charge you a starting price of $2 for some popular movies. Lowe explained to Business Insider:
If it sounds like a money grab, it might be, but Lowe said it's to help the theaters.
Though this is the biggest news, MoviePas will also get two new features sometime in the late summer. You'll be able to add a ticket within MoviePass for a friend. This will add a regular priced ticket charge to your monthly bill, but makes it possible for you to buy tickets for more than one person at the same time (instead of separate transactions).
MoviePass is also bringing back the ability to see Real 3D and IMAX movies with the additional fee. This was previously available with a MoviePas subscription. You could upgrade your ticket and pay the extra cost directly at the theater box office. It was later removed so you couldn't even buy a Real 3D ticket using MoviePass. It's nice to see they're bringing this back.
What is MoviePass
MoviePass is a subscription-based service that allows it's subscribers to see a film at practically any movie theater, literally any day of the year, once per day. For one monthly fee, going to the movies has a new fervor.
Currently, most major theaters support MoviePass. That includes your local independent theater and the drive-in, too. If you're worried that MoviePass hurts small theaters, don't. MoviePass pays theaters the full price for the ticket you buy. More on how MoviePass makes money is noted below.
You can watch a movie, 365 days per year, if you manage to find that many different movies to watch. There are no block out dates for going to the movies, though MoviePass did experiment with blocking release date showings for a very short period of time (something they back-tracked on and later claimed was just an experiment). You can, however, only watch a movie once with your MoviePass. If you loved that last Marvel movie and want to see it again, you'll have to pay out-of-pocket the next time.
You must use the MoviePass app on your iPhone or Android device and for most theaters, you must have the physical debit card that is provided to you when you sign up.
How much does it cost?
MoviePass costs $19.95 per month for the standard subscription. MoviePass also works with companies to offer free or discounted subscriptions as promotional incentives. For example, MoviePass recently announced two one-year subscriptions when you purchase a Galaxy S9 or S9+. Before you sign up, you should see if MoviePass is running any sort of promotion you can take advantage of.
What do I get with a standard subscription?
The standard $19.95 subscription is good for a single person and allows you to see a movie every single day, 365 days of the year, at any supported theater. If there were 365 movies released in theaters in a year, you could literally see every single one of them.
The restrictions are: you can only see standard 2D movies (this changes in the fall) and you can only see a movie once. You can also only use MoviePass at a supported theater.
MoviePass is supported at major theater chains like Cinemark, United Artist, AMC, and Regal. It is also supported at many independent theaters. In fact, MoviePass works great for independent theaters because more people will potentially see lesser-known movies at these smaller theaters with their $10 monthly subscription and theaters don't take a loss in ticket sales because MoviePass pays the full price of the ticket.
How does it work?
Once you're signed up with MoviePass, you'll be sent a debit card. This is how you'll pay for your ticket.
You'll also need the app on your phone. It's available on iOS and Android. You can't use MoviePass without the app. If you're still sporting a non-smart phone, you're just out of luck.
When you're ready (you've signed up, you have your debit card, and you've downloaded the app on your phone), you can head over to a supported theater to "check in."
You have to be within 100 yards of the theater in order to check in. You can't purchase tickets through MoviePass while sitting on your couch at home.
With one exception.
MoviePass works in collaboration with a limited group of theaters to offer e-ticketing through its program. In my area, Studio Movie Grill is the only theater that offers e-ticketing with MoviePass, but it means I can select and reserve a seat ahead of time, at any time on the same day. You don't have to be anywhere near the theater to purchase one of these e-tickets. You may not have a supported e-ticketing theater in your area, but if you do, you'll see an icon next to the theater that looks like a movie ticket stub.
After you've "checked in," you'll see a notification in the MoviePass app that the check in was successful. Then, you can either go to an automated kiosk (if the theater has any), or the box office attendant. You must complete the transaction within 30 minutes of checking in or you'll lose the transaction and won't be able to try again with a different movie that day.
The rest of the process is just like buying a movie ticket. The only difference is that you'll give them your MoviePas debit card instead of your personal payment card.
How do I sign up?
You can either sign up for MoviePass online or from within the MoviePass app.
Click or tap on Get Started to create an account. You'll need to provide your name, email address, birth date (so you can prove you're over 18), shipping address (so they can ship you the card), and credit card information (so they can charge you the monthly subscription).
Once you've filled out the form, you'll receive a notification that your application has been received.
The hard part is waiting for your debit card to arrive. MoviePass has improved its wait times significantly, but it still takes time to process. Typically it takes 7 - 10 days, but if the system gets busy for any reason, it could take longer. It took two months for me to receive mine, but I signed up when the current pricing structure first launched.
It sounds too good to be true, what's the catch?
Well, it depends on how you feel about companies collecting and using your non-personal information. After all, Helios and Matheson Analytics owns MoviePass. It's not entirely unlike the level of privacy you give up by using Google's services.
MoviePass' Privacy Policy states,
and,
All that being said, MoviePass isn't really that different than other services, like Google, Twitter, and Facebook.
MoviePass doesn't:
Track your location when you are not using the MoviePass® app (background location tracking);
Sell personally identifiable information; or
Share personally identifiable information to another company for their independent use or marketing, besides performing the agreed upon service to MoviePass®.
MoviePass® also reserves the right to disclose personal information when we reasonably believe disclosure is required by law, if we reasonably believe disclosure is necessary to protect, establish or exercise legal rights, or in situations involving potential threats to physical safety. In the event that MoviePass® is acquired by or merged with a third party, we reserve the right to transfer personal information to the acquiring third party or the resulting merged entity, provided that such third party continues to honor our Privacy Policy.
If you don't feel comfortable with how MoviePass collects and uses your data, I highly recommend reading the entire Privacy Policy before deciding whether to subscribe.
Any more questions?
Do you have any more questions about MoviePass and how it works? Put them in the comments and I'll help you out.
Master your iPhone in minutes
iMore offers spot-on advice and guidance from our team of experts, with decades of Apple device experience to lean on. Learn more with iMore!
Lory is a renaissance woman, writing news, reviews, and how-to guides for iMore. She also fancies herself a bit of a rock star in her town and spends too much time reading comic books. If she's not typing away at her keyboard, you can probably find her at Disneyland or watching Star Wars (or both).