MoviePass now prevents you from seeing the same movie more than once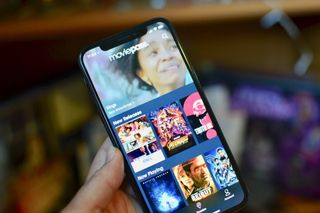 MoviePass – the lustrous subscription service that enables you to see up to one movie per day for just $9.95/month – just got a lot less appealing.
Following a change to the Terms of Service that just came in today, MoviePass subscribers are no longer able to see a certain movie more than once.
As of 12:49 PM EST, April 27, 2018, MoviePass's official support site says –
This change affects new and existing subscribers, including those that pay on an annual basis. The Android update for MoviePass to version 3.0.13 includes this new change. MoviePass is requiring users to update or their service will be suspended (NOTE: At the time of this writing, the iPhone update is not yet available in the App Store).
Opening the MoviePass app now presents you with a "friendly update" letting you know about the new rules, and any movies you've already seen using the service are now grayed out with a message that says "You've already seen this movie."
As someone who paid $89.96 during the $6.95/month promo in late March, this news is disappointing, to say the least. MoviePass does state in its TOS that it "reserves the right to change or modify the Service or subscriptions at any time", and for new or potential customers, this will simply be something they'll need to take into consideration before signing up.
However, for customers that pay for their membership upfront for all 12-months, it's a bit shocking that MoviePass is forcing them to abide by the same rules. That'd be like paying for an entire year of Netflix and then a few months later being told you can only watch one show per day. It'll likely help MoviePass to stop bleeding money as quickly as it is, but it's a terrible look for customer loyalty.
If you're a MoviePass subscriber or have been thinking about trying out the service, what's your take on this?
When Joe isn't acting as the News Editor for Android Central, he can be found helping out with articles here and there at iMore. He was last spotted at Starbucks surrounded by peppermint mochas. Have a tip? Send an email to joe.maring@mobilenations.com!
I believe this will just make the bleeding worse for MoviePass, as I can see several customers cancelling their plans. Also, another change that bothers me, though most likely won't care, is that they now limit your account to a single device.

I didn't realize you could use more than one device. Did you use different devices with the same account regularly?

I won't say I did it regularly but I have both an S9+ and an iPhone X and use both (think work phone and personal phone). And, as it turns out, I now can't sign on to MoviePass with my iPhone -- though that is the phone I've always actually used to check into movies. Nor can I find an option to "deauthorize" the S9+ so I can use the iPhone. I'm not sure why they are limiting it to a single phone. I'm guessing it has to do with trying to ensure people aren't sharing the account (though only being able to see a movie once should help fix this), but limiting it to a single phone seems like it will cause more issues than it will solve. For example, what is going to happen to people who upgrade phones, or who lose their phone, when they can't sign onto the app and don't have access to the old phone (short of more calls to customer service)?

This was a limitation of the service when I subscribed a few years ago (before the $10/month price). I've been operating under the assumption that it was still a limitation and am surprised that it wasn't.

Another reason i need to cancel smh

I figured it was too good to last. The new 4 a month limit is fine, the seeing a given movie only once kills the deal for me.

I've had Moviepass for years, the seeing the same movie once limit has been there since the beginning. This is not new.

You are likely part of an older plan that didn't allow it. More current MoviePass plans (at least from November 2017 on) allowed subscribers to go to the same movie more than once. I used MoviePass to see the same movie at the same theater a few times.

Never joined and now I never will.

If moviepass launched with this version it would have been accepted just fine. Poor business choices will hurt your reputation when your dealing with fickle fan bases.

I think it is even more of an issue since they changed it for current customers in the middle of their paid subscriptions. Many people recently have been buying annual subscriptions -- and they changed the terms for those customers as well. I signed up in January with the idea that I could see the same movie multiple times and, not even halfway through my subscription this has been changed on me.

Seems if you are not a subscriber, this change would be a turn off to potential customers. You want to keep current customers, and make it appealing to new users.

This is disheartening as I had planned to see Infinity War a couple of times. Still, I've had the service for about three months now and have averaged seeing about 3 movies a month. I figured if people used it to see one movie more than once they were going to find a way to do something about it. Limiting users to 4 movies a month but I'm still reminded that every time I see more than one movie a month I've paid for the service and I've had no problems seeing more than one a month so far.
Get the best of iMore in in your inbox, every day!
Thank you for signing up to iMore. You will receive a verification email shortly.
There was a problem. Please refresh the page and try again.