Mujjo Wooden case for MacBook: Is it... Is this thing stylish?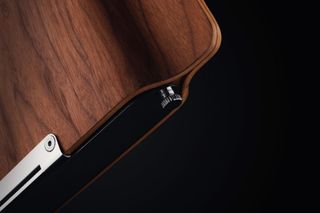 It seems that everyone lately is obsessed with adding wood highlights to their tech (opens in new tab), their house, their water bottles (opens in new tab), their sunglasses: you name it, there's wood on it.
While this trend is particularly ~~funky fresh~~, sometimes brands can push the envelope just a wee bit too far, resulting in some products that make you go, "... Huh. Neat?"
Enter the Mujjo Wooden Case for MacBook (opens in new tab); a limited edition, high-priced case that retails for €289.17 (roughly $322.19 US) and is… Interesting, to say the least. I mean, it kind of looks like one of those laptop tray tables that you buy at Costco for your aunt during Christmas, mixed with the super sexy appeal of of a 1920s construction worker's tin lunchbox, mixed with a chunk of your dad's leather belt strap, but hey, who are we to judge?
As someone who's a huge fan of wood accents (I'm currently writing this on a MacBook Pro with a wood decal (opens in new tab)) I decided to ask Twitter what they thought of the case:
While the case itself is unique, it does have a sort of cool, modern, futuristic appeal to it. Sure, the pricetag is a bit off-putting, but the entire piece can almost be considered a work of art.
These 50 limited edition cases are all hand made in Greece and go through several stages of sanding and preparation before being given the stamp of approval. The case itself is even quite protective, the inside being lined to help save your MacBook in the event of a fall.
At the end of the day, it all comes down to personal taste… But I cannot honestly say if this Mujjo case is the most stylish, modern MacBook case I've ever seen, or the dumbest.
It's hard to decide!
What do you think? Let us know your thoughts on this $322.19 case in the comments below!
Get the best of iMore in your inbox, every day!
Cella writes for iMore on social and photography. She's a true crime enthusiast, bestselling horror author, lipstick collector, buzzkill, and Sicilian. Follow her on Twitter and Instagram: @hellorousseau
Not for me. But with only 50 units, I'm sure they'll ship them... right?

Well, if you did rock one of these, you can say you're unique for owning one. At the same time, people may think "What the what?", and not in a good way.

Cool looking, but super dumb at the same time.

Not lame, but it's trying too hard. It's all about Effortless Cool factor.

Because the number one thing I want for my ultralight laptop is a case made out of solid wood. (O_o)

It's pretty bad, but nowhere near as bad as those grotesque Twelvesouth rubber "books" with faux bindings that were so popular back when the iPods first debuted. (Or your veneer sticker — I mean decal.) 1. Materials should be real. If it looks like wood or leather, it should be wood or leather.
2. It should wear in nicely.
3. It should make sense. Their leather and felt sleeves succeed on all three marks. The wood arguably hits 1 & 2 but falls flat on #3. The result is a sort of 21st century Sharper Image junkpile.

Actually, it's had for me to understand this case based on the pictures. Still, i'm not a fan - but I don't think it merited you trashing their business by leading such a harsh criticism to an audience like this to see it as "dumb".

I don't really care how it looks. The price is obscene enough.

Lame. Can you imagine taking it through security?