Music Video meets iPhone: Charlotte Cardin's California video embraces a vertical view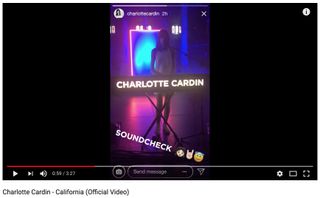 It's no surprise that as the iPhone gets more and more engrained in our everyday lives that artists of all calibers would be using it as a tool in one way or another.
Whether it's Steven Soderbergh's horror movie 'Unsane' being filmed entirely on iPhones, or photographers using their iPhones to shoot and edit photographic masterpieces, the iPhone is becoming much more than a tool; it's a tool for making art.
Enter California, a music video by Canadian singer/songwriter Charlotte Cardin: and it's filmed and recorded entirely through FaceTime, IG Stories, iPhone video, and Snapchat to tell the song's story.
The video is around 3:30 seconds long, so if you have a little time during your day to stop and watch, I guarantee you'll crack a smile.
What do you think?
Do you think that the iPhone should be used more and more in regards to filming and shooting music videos, movies, and photography? Do you think 'nah, maybe when it gets better' or maybe just a solid 'nah' all together?
(And will you be checking out any more of Charlotte Cardin's music in the future?)
Let us know what your thoughts are in the comments down below, and if you can suggest any other cool iPhone-related artist endeavours, let us know in the comments down below!
Get the best of iMore in your inbox, every day!
Cella writes for iMore on social and photography. She's a true crime enthusiast, bestselling horror author, lipstick collector, buzzkill, and Sicilian. Follow her on Twitter and Instagram: @hellorousseau