Steven Soderbergh's Unsane was filmed entirely on iPhones — and it looks terrifyingly fantastic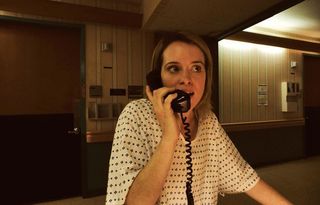 When you think of Hollywood and the silver screen, you probably think of the millions of dollars it takes to make a movie and how gosh darn expensive the equipment is going into filming.
Forget lighting and editing and actors and on-set talent: cameras alone (opens in new tab) with different lenses and attachments can cost over a million dollars, and renting them out for personal use can cost at least a couple grand a week.
Now, director Steven Soderbergh, who has won an Academy Award for Best Director, a Primetime Emmy Award for Outstanding Directing for a Limited Series, and a Critics' Choice Movie Award for Best Director, has used his iPhone to shoot his latest horror-thriller, Unsane: and it's just premiered in Berlin.
Unsane tells the story of a young woman who is relentlessly harassed and targeted by an aggressive stalker that texts her constantly and seems to never leave her alone. She eventually ends up trapped in a psych ward, and as the world around her denies her sanity, she can only try to figure out if this nightmare is all in her head or if the stalker is actually one of the doctors that have been treating her.
The trailer seems chilling, terrifying, and super, super disturbing (I love me a good psychological thriller!), but the biggest draw to Unsane wasn't the content; it was how it was filmed.
Soderbergh went on to say that people often forget about the quality of the iPhone, noting that he had tried shooting with more expensive gear in the past, and that the iPhone might actually be something he would want to shoot with again and again.
Will you be seeing Unsane?
In a world of expensive tech and even more expensive filmmaking, Unsane seems to be a bit of a shining light… but do you think the film is all it's cracked up to be?
I'm personally excited for the movie, but I know that might not be the case for everyone, so what do you think?
Let me know what your thoughts are in the comments below!
Get the best of iMore in in your inbox, every day!
Cella writes for iMore on social and photography. She's a true crime enthusiast, bestselling horror author, lipstick collector, buzzkill, and Sicilian. Follow her on Twitter and Instagram: @hellorousseau
looks like it was shot on an iPhone! Revolutionary...again.

I think I read it was shot on iPhone 5s at that, so it's not even like it was shot on cutting-edge phone technology. It seems clear that the choice to shoot on iPhone was for effect, not for particularly good (or even decent) image quality.

New year new trolls. Actually, you were here before, so you haven't really learnt anything

The movie itself seems super fun. Perhaps it's YouTube, but it does look a bit low fi, especially darker scenes. But perhaps iPhone footage will make it seem more "relatable?"

Looks like a good movie. And its a neat idea what they did with filming on a iPhone. However, I feel if you are going to film on an iPhone, why not at least make the movie from the prospective of the phone. Kind of add some realism to it.

The reviews coming out of Unsane's debut screening in Berlin on Twitter have been really great. Fascinating to hear Soderbergh and the cast talk about how freeing the shooting experience was using an iPhone. I just wonder now what app they used to film it? He definitely used an iPhone 7+ and my guess is FiLMiC Pro - as this was used by Sean Baker for Tangerine, as well as Michel Gondry for 'Detour' and Peter Chan for 'Three Minutes'... but Soderbergh has talked about specifics this yet. I hope there is some more info on this production soon.
Thank you for signing up to iMore. You will receive a verification email shortly.
There was a problem. Please refresh the page and try again.