My must-have tech accessories when traveling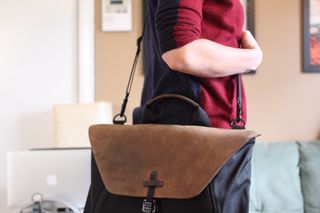 Confession time: I used to be (and still often am) a terrible packer. Despite a lifetime of cross-country flights, I always found myself either bringing too much or too little, bumbling around with too many bags or forgetting something crucial by packing too light.
In the last few years, I've had to get a lot better at this; I took 29 plane and driving trips for work and roller derby in 2016, and while it was utterly exhausting at times, it also gave me great perspective on what in my bag was necessary — and what could probably have been left at home.
So when I packed for my annual two-week holiday trip to California this year, I chose wisely. Here's what I'm not going without during the holidays — may it help you with your own holiday packing struggles.
THE BAGS
Travelpro Luggage
Last year, after having a piece of luggage fall apart on me in the airport, I begged my mother for a set of good luggage for Christmas, and she delivered. 11 months later, I now have no idea how I survived without a set of Travelpro bags before 2016 — I certainly wouldn't have made it through myriad plane trips without them.
There's a lot of good to be said about the Travelpro brand: They're durable, have bountiful pockets, and the Spinner series is heaven for anyone who's ever had to tote heavy bags from one end of an airport to another. (Seriously. I used to privately mock the folks who used quad-wheel bags — "Too good to drag them across the floor like the rest of us?!" — but it only took one trip to become an instant convert.)
There are other brands of luggage out there that you can spend more on, or you might prefer, but after a year of heavy travel, I'm a Travelpro advocate.
Amazon Packing Cubes
There are a ton of branded packing cubes out there, but I picked up Amazon's set early last year and have been very thankful for them throughout.
Like the aforementioned quad-wheel bags, I was initially skeptical of packing cubes, but they really do help organize and flatten an otherwise chaotic suitcase.
Best of all, the biggest packing cube works great as an impromptu laundry hamper.
Waterfield Staad
For most trips, my designated carry-on bag is the trusty Osprey Pixel Daypack — I'm pretty sure it's secretly a Bag of Holding, given how much stuff I can cram into it. But it's less of a practical bag for day-to-day work; given that I'm spending two weeks in California, I wanted to bring along a good café bag without sacrificing too much storage space.
Enter the Waterfield Staad: I used this bag for carrying my Emerson teaching gear this year, and it's been a champ for all that and more. Not only does the ballistic black nylon and chocolate leather flap make for a great-looking bag, but it's the kind of bag you can stuff with a MacBook Pro, iPad Pro, miscellaneous cords, portable chargers, and an iPhone 7 Plus — all without it looking overly bulky or awkward, the way some shoulder bags can get when stuffed full.
Collapsible Beach Bag
I got this gigantic mesh beach bag from Target during my last visit to Florida, but pretty much any big tote or collapsible bag will do. I stole the idea from some of the frequent travelers on past flights who bring a big tote for coats, headphones, small blankets, and other miscellany you want readily accessible during a flight but don't want to bulk up your primary carry-on. Best of all, if you decide you don't need the bag, it packs flat in your luggage without taking up too much space.
I use the bag to carry my winter coats — a must for traveling in New England, but less so for southern California — as well as my Bont roller skates and a change of clothes in case of holiday delays. (I have a lifetime aversion to checking my skates — like jewelry or my wallet, they're among the few items I take on trips that aren't easily replaceable.)
THE TECH
iPhone 7 Plus and iPhone 7
Okay, preface: Most people don't travel with two phones, and if I had to choose one, it'd be the 7 Plus (Portrait mode, yo!). But as a technology writer, it's beneficial to have two iOS devices to test on — as well as one to take product photography of the other during my post-holidays work (a unique problem among most holiday travelers, I'm sure).
Since Portrait Mode's release, I've used the 7 Plus for both my photography work at iMore and for family gatherings; this is the first holiday I'm traveling without a DSLR, but surprisingly, I'm not nervous about it.
13-inch MacBook Pro and 9.7-inch iPad Pro
I wrote about this dream team way back in January, and I am thrilled to have it at last be reality: The 13-inch Pro and the iPad make a wonderful companion travel pair. I can multitask and cut video on the MacBook Pro, draw and write on the iPad Pro (with the Logitech Create and Apple Pencil, natch) and combine the two with second-screen software like Astropad or Duet Display to get a portable dual-monitor experience while on the road. Together, my bag weighs around what it did when I carried a 15-inch MacBook Pro around — not the lightest carrying experience in the world for the airport, but more than enough to get the job done.
38mm Steel Apple Watch
I've accidentally left the Apple Watch home during trips before, and it's been a miserable experience. Not because I couldn't do without the Apple Watch, but I've gotten so used to having it around that I felt rather lost without the little smartwatch.
Sure, I could do tasks like water and workout tracking, checking the time, paying with Apple Pay, sending texts, and checking the weather without an Apple Watch. But it's more convenient, and when you're traveling for the holidays, convenience is king.
Bose QC35
This probably comes as no surprise to those who have followed my Bluetooth headphone reviews this year, but the Bose QC35s are still a must-pack in my travel bag. There are headphones with fancier features and headphones with better sound, but I've yet to find a pair that matches the QC35 in price, comfort, battery life, and noise-cancellation — and when you're traveling for potentially hours on end, those last three become especially important.
Apogee MiC
My favorite travel mic of the year continues its streak — and its rightful place in my bag. I love the flexibility of my job and my ability to work anywhere, but my pre-amp XLR microphone and boom arm are less travel-friendly. To record a podcast, I need a good flexible microphone — and this delivers.
OTHER ACCESSORIES
Twelve South Journal
Last year, I had my wallet stolen over the holidays. While it likely made some LA pickpocket's Christmas, it wasn't so much fun on my side; this holiday, I'm consolidating by combining my phone and wallet in Twelve South's Journal case for iPhone 7 Plus. While it has the same basic folio shape as the company's BookBook case line, the Journal offers a classier, simple brown or black leather look, all while providing a hardshell case for your iPhone, slots for four credit cards, and a pocket for cash.
I've only been testing the Journal for a few days, so this trip will truly put it through the holiday test — but so far, I've really enjoyed the simplicity of having one item to remember when going about the house. (The Journal's landscape view also isn't half-bad for nighttime Netflix streaming, either.)
Anker USB-C Powerstation Wall Charger
Whether traveling to a hotel or my family's house, wall outlets are almost always at a premium — but for me, they're no longer a stress. I picked up the Anker charger early this year after a recommendation from the Wirecutter's Dan Frakes, and it's made charging while traveling an anxiety of the past.
One wall plug supplies you with four USB charging ports and one USB-C port — enough to charge my MacBook Pro, Apple Watch, iPad, and iPhone overnight. (There's also an even bigger one for traveling families, if you need even more ports.)
Mophie XXL PowerStation and Native Union Lightning-to-USB cord
After several years with a trusty Anker 7000mAh backup battery, I traded it in this vacation for a 20,000mAh Mophie model (mostly Rene Ritchie's fault). While a little heftier than my trusty Anker, the Mophie still fits in a purse and can charge the heck out of my iPhone or iPad, even if every outlet in my local café is occupied (which, knowing LA, is pretty likely).
I also sprung for a Native Union USB-to-Lightning cord to go with the charger; while I didn't necessarily need another Lightning cable, the braided USB cord is extra-durable and comes with a leather cable strap — a perfect corded travel accessory that can live with the Mophie rather than do double-duty elsewhere while on the go.
Twelve South Time Porter
Another Twelve South acquisition, the Time Porter is the primary reason traveling with my Apple Watch is all joy, no pain: It's both a case for extra Apple Watch bands and a portable charging stand. Since getting the Time Porter, I've never failed to keep my Apple Watch fully juiced — I keep it and the Anker in a small cloth "go" bag, which I can toss in a suitcase and be ready to go in moments.
Dongles and cords
Not a ton of dongles, thankfully, but between the new MacBook Pro and the iPad Pro, are you really surprised? For this trip, I have a USB-C to USB-A converter, a USB-C to HDMI, a Lightning to HDMI, and a USB-C Camera Connector — because even though I didn't bring my DSLR, I still might want to grab photos off my sister's camera.
Your must-have travel gear?
This is my list, written to you on the train to the airport. What about you, iMore? Anything you consider a must-have when traveling home for the holidays? Let me know in the comments!
Master your iPhone in minutes
iMore offers spot-on advice and guidance from our team of experts, with decades of Apple device experience to lean on. Learn more with iMore!
Serenity was formerly the Managing Editor at iMore, and now works for Apple. She's been talking, writing about, and tinkering with Apple products since she was old enough to double-click. In her spare time, she sketches, sings, and in her secret superhero life, plays roller derby. Follow her on Twitter @settern.