NAMCO Arcade now available for iPhone and iPad: Free-to-Play classic arcade titles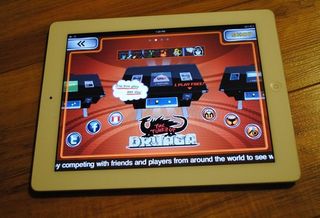 Namco Bandai have released Namco Arcade to the iTunes App Store for iOS devices with a free-to-play model in effect. If you're a fan of retro gaming, this is certainly one you won't want to miss as Namco has re-created many 1980's classics and wrapped them all into one app. NAMCO Arcade includes the four titles XEVIOUS, The Tower of Druaga, Motos and Phozon, and more titles are panned for future release.
The pricing structure for the included games is interesting, each day you get one free game to play and if you wish to continue - or play a different game, you can purchase play coins right within the app. Prices for the coins that allow you to play any game start at $.99 for 10 with the outright game purchases pricing starting at $1.99 and going up as high as $4.99.
In addition to the cool games available, Namco has also added Game Center integration and uploadable user data so that you may share your scores across the globe with other playing the games. Just in case you feel like bragging about your high scores. Namco Arcade is available in the iTunes App store now for free.
Get the best of iMore in in your inbox, every day!
Editor-at-Large at Mobile Nations, gadget junkie, energy drinker, ranter.
I'm not sure why you're promoting this blatantly customer-hating product.

It's all about the mighty dollar.

I fail to see how this is customer hating. You get to try each game, one play per day (for as long as you want). You can buy coins to play them some more or buy them outright. This seems like it covers every possible way; Try before you buy, rental, and purchase. The only thing it doesn't cover is free to play as much as you want, but then I'm sure people will cover that by stealing.

You understand video games are not welfare right? Companies sell things right?
Thank you for signing up to iMore. You will receive a verification email shortly.
There was a problem. Please refresh the page and try again.