Netflix: Everything you need to know!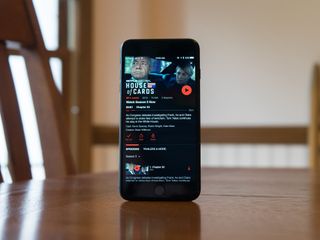 (Image credit: iMore)
Netflix is an extremely popular streaming service that lets you watch a vast library of movies and TV shows for a single monthly price. It's become almost synonymous with binge-watching, and you can use the service on practically any device that has a screen, including phones, tablets, and set-top boxes.
Here's everything you need to know to get started with Netflix.
What's new with Netflix?
Check back here for the latest updates in Netflix news.
November 14, 2018 — Netflix is testing a mobile-only plan that costs $4/month
If you've ever thought that Netflix cost too much, you may be in luck. According to a Netflix rep that confirmed the news to TechCrunch, the company is testing a new mobile-only plan in Malaysia and "a few other countries" that costs around $4/month.
This essentially makes Netflix 50% cheaper compared to the base $8 plan, the biggest difference, of course, being that you can only watch the service on a smartphone or tablet.
It's currently unclear if this mobile-only plan will see a wider expansion, but it's definitely an interesting idea and one that could prove quite beneficial to Netflix in markets where people primarily rely on smartphones as their means of accessing the internet.
July 5, 2018 - Netflix is testing new pricing tiers, may introduce 4K HDR video
Netflix is said to be testing out a $16.99 "Ultra" subscription tier that would offer the same four simultaneous 4K streams as the company's Premium plan.
If implemented, the company may choose to differentiate between "Premium" and "Ultra" by reducing the Premium tier to two simultaneous 4K streams, while allowing four simultaneous 4K HDR streams on the Ultra tier.
According to CNET, which spoke with a Netflix rep, the company confirmed it was testing different tiers and different plan offerings but said these changes may never be implemented.
May 31, 2017 - Netflix is apparently testing a few new features for its iOS app
According to a few sources, Netflix is either testing or fully implementing a few new interface control features. First reported by MacRumors and first spotted by Redditor mm2nam, the new features consist of an unobtrusive volume indicator as well as the ability to use a double tap gesture to skip forward or rewind. And, if you tap on the screen once, buttons will appear that will also allow you to skip backward and forward. This, as mm2nam points out, is similar to YouTube's iOS app, which also uses double tapping to control video — on the right to fast forward 10 seconds, on the left to rewind 10 seconds — as well as a similar volume indicator.
Though it's unclear at this point whether this is an actual update that will roll out to all users or a test that only a handful of users have access to, it's a move that makes sense considering many other video streaming apps already have these controls in place to make controlling videos more intuitive. That being said, many uses commented on mm2nam's initial Reddit thread claiming that they don't yet have the feature on their updated version of Netflix. So basically, we'll just have to wait and see if it sticks.
April 19, 2017 - Netflix is finally rolling out mobile previews
Netflix and chill-ers, I've got good news: Netflix's Director of Product Innovation Cameron Johnson announced today in a blog post that previews for TV shows and films are officially rolling out on the company's mobile app. What's more, you don't even need to rotate your phone in order to view them.
With the update, Netflix subscribers will be able to view a 30-second preview of any content they're interested in as a vertical video from the app's home screen. That means if you, like me, prefer not to flip your phone to view video content every five seconds, you won't need to in order to get a sneak peek at a new show before you start marathoning it.
According to the post, previews will appear as little circular icons underneath the home screen's ever-changing large banner that advertises new shows. If you're worried about their ease of use, they're actually fairly straightforward — they resemble and function a bit like Instagram stories. To view them, all you need to do is tap on the icons and the preview will begin. After that, if you want to see more, you can swipe left to scroll through all the previews available. Once you find one you're pretty sure you'll dig, all you have to do is tap play to begin viewing it immediately, or, if you want to save it for later, you can tap the little plus sign to add it to your watch list. Netflix will apparently make up to 75 previews available at a time, and they'll be personalized to your specific tastes, like your "Recommended for You" section.
Netflix has already been offering previews in a slightly different format on its TV UI for awhile now, but this is the first time that the company has added this sort of feature to mobile. Ideally, it'll help you to more easily stumble upon your next favorite show!
October 5, 2017 - Netflix just got a little bit more expensive
First reported by Mashable and confirmed by Business Insider, streaming video service Netflix is raising prices for users in the US. The price hike will begin today for new subscribers, while those who currently have accounts will be officially notified of the change starting on October 19 and will be given 30 days notice before their monthly bill is increased. All subscribers will be paying the new prices by the end of this year.
Thankfully, Netflix's basic $7.99 plan will remain untouched. However, the price of Netflix's most popular "standard" plan that includes HD and two simultaneous streams will be upped from $9.99 per month to $10.99 per month, and the company's premium service, which includes 4K resolution and four simultaneous streams, will be upped from $11.99 to $13.99 monthly.
In a recently released statment regarding the price hike, Netflix had the following to say:
Though these price increases may upset some, it's worth noting that much of this money will likely be going to acquiring more content and creating and continuing more original series, documentaries and movies. In addition, Netflix's premium plan is still cheaper than HBO (priced at $15 per month) and its standard plan is a dollar less than Hulu's commercial-free plan ($11.99 per month).
September 22, 2017 - Netflix adds 4K HDR support to iPhone 8, iPhone X, iPad Pro
Netflix announced today that it has updated its iOS app to support Dolby Vision HDR (high dynamic range) video on HDR-compatible devices. That includes iPhone 8, iPhone 8 Plus, iPhone X, and the 10.5" and 12.9" iPad Pros. So if you've purchased a new iPhone and want to make the most of that beautiful screen, first you have to sign up for a Netflix premium plan ($11.99), which gives you access to all HD and Ultra UD content as well as the capability to stream and download on four different devices at once. Then all you have to do is search "HDR" in the Netflix search bar. At the moment there isn't a ton of HDR content available, but more is expected to be added in the future.
If you don't already have the Netflix app on your device, you can download it here.
What is Netflix?
Netflix is an online service that lets you stream thousands of movies and TV shows over the internet. Netflix has apps for pretty much every device under the sun like iPhones, iPads, Apple TVs, cable boxes, refrigerators (probably) and more.
Do I rent the movie or show I want to watch?
No. Netflix is a subscription service, offering access to its entire content library for a single monthly price.
What kind of TV and movies can I find on Netflix?
Netflix has everything from newer movies and recent seasons of popular shows to a wide selection of old favorites. For instance, the company has an agreement with Disney to be one of the first outlets on which you can find the latest Marvel and Disney movies after they've been released on home video. They've also got a deal with The CW to get seasons of that network's shows onto the service soon after they conclude.
Beyond content from deals, Netflix has its own original movies and shows, much in the same vein as HBO or Showtime. These include House of Cards, Orange is the New Black, Master of None, and much more.
Does Netflix offer new episodes of a show's current season while it's still airing?
Netflix has stayed away from adding single episodes of TV shows, preferring instead to wait until a show's season has concluded before trying to get it onto the service, at least in the U.S. With it's own shows, the company has experimented with releasing a limited number of episodes a couple of time, but Netflix has become known as the place to binge-watch programs, and it has really leaned into that idea.
So it's like Apple Music or Spotify, but for movies and TV shows?
Yes and no. While the Netflix streaming library is extensive, it's not as exhaustive as those of the big streaming music services. Additionally, due to the agreements that Netflix makes with the content owners like studios and TV networks, the service's library is more of a revolving door than that of a music service, with many shows and movies not only being added to Netflix, but also leaving.
Why don't movies and shows stay on Netflix permanently?
Ah, that's the dream, isn't it? A perpetually-growing Netflix library that never gets smaller. Alas, the deals that Netflix makes with the content owners (i.e., studios and networks) prevent the company from keeping everything on its servers for good. Whether its agreements those content providers have with premium cable channels, a home video release, or some other factor, the fact of the matter is that company's won't see it has good business to keep their content on Netflix continually.
How often do movies and TV shows arrive on and leave Netflix?
Fairly often. Netflix is constantly updating its library, adding and removing content, if not every day, then at least each week. In particular, the first of each month often sees an influx of new titles to the Netflix catalog, as well as a number of departures.
You can see the best of what's new each week right here on iMore.
What are my mobile viewing options? Can I watch videos offline?
Netflix offers apps for iPhone, iPad, and Android, so yes, you can take Netflix with you wherever you go. You can also download movies and TV shows (so long as they support the feature) onto your mobile devices
How much does Netflix cost?
Netflix currently has three streaming plans available for customers. The first, available for $7.99 per month, lets you watch on one screen at a time in standard definition. To get high definition, you'll want the $9.99 plan, which lets you watch on two screens at once (perfect for sharing with a spouse, partner, or roommate) in high definition. The third and final plan allows you to watch on up to four screens at once in HD and Ultra HD (4K, when available) for $11.99 per month.
Where can I sign up?
You can head to netflix.com to get signed up.
Master your iPhone in minutes
iMore offers spot-on advice and guidance from our team of experts, with decades of Apple device experience to lean on. Learn more with iMore!
Joseph Keller is the former Editor in Chief of iMore. An Apple user for almost 20 years, he spends his time learning the ins and outs of iOS and macOS, always finding ways of getting the most out of his iPhone, iPad, Apple Watch, and Mac.