Netflix 'Just for Kids' now available on iPad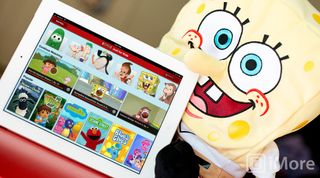 One of the most requested features for Netflix for iPhone and iPad is the "Just for Kids" section that's available on most other platforms -- and now it's finally here on the iPad! Even better, you don't have to do anything to get it. Netflix pushed a backend update and now you should see a "Just for Kids" button at the top left of the screen next to the Browse button. Unfortunately, Just for Kids is only available on the new iPad and the iPad 2, although Netflix has promised that the first generation iPad should receive support soon. No word yet on Netflix for iPhone.
The Just for Kids section of Netflix is filled with movies and TV shows suitable for children ages 12 and under. It's great for parents because it gives the peace of mind that your child won't accidentally stumble across something inappropriate, and it's great for kids because it's easy for them to find something they like. Keep in mind, however, that there isn't a way to lock your kids into Just for Kids, so adult supervision may still be required.
How many parents out there are excited about Just for Kids for Netflix on the iPad?
Free - Download Now
(opens in new tab)
Source: Netflix blog (opens in new tab)
Former app and photography editor at iMore, Leanna has since moved on to other endeavors. Mother, wife, mathamagician, even though she no longer writes for iMore you can still follow her on Twitter @llofte.
Can someone please tell me why they would not push this out to the original iPad as well?????

It's probably an iOS 6 only feature, and the iPad 1 doesn't support iOS 6.

If you use guided access you can restrict the exit button at the top left and rest assured that you kids can be fine on Netflix left unattended

That's a great tip! Thanks!
Thank you for signing up to iMore. You will receive a verification email shortly.
There was a problem. Please refresh the page and try again.