The new Typo 2 for iPhone's not that great, but their iPad keyboard's kinda neat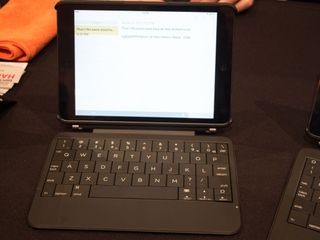 (opens in new tab)
Typo made a splash at CES 2014 with the BlackBerry-aping Typo keyboard for iPhone, and they were at CES 2015 to show off their new not-patent-infringing Typo 2 keyboard. But really, the more interesting news out of Typo was their new iPad keyboard, it doesn't try to copy Apple. If anything, it feels more like a copy of the Microsoft Surface Type Cover, but with some slick software.
But first, let's look at the Typo 2 for iPhone. Leaving behind the BlackBerry-style design of version one was obviously the right legal call for Typo, but it's led to a keyboard that's not quite as functional as before, and certainly nowhere near as attractive (not that the original Typo was a good-looking device). Additionally, the Typo 2 still covers up the iOS home button, and while there's a supplementary home button on the keyboard, it lacks the Touch ID fingerprint sensor you can find on the iPhone 5s and iPhone 6, which means you can't use Apple Pay. Typing was decent, but in our short time we found the keys rather stiff and the offset layout a little difficult to get used to.
Image 1 of 5
The Typo for iPad, however, actually isn't that bad. Typo says the $179 keyboard is the thinnest Bluetooth keyboard for iPad. Both the full-size iPad Air and the smaller iPad Mini keyboards offer full-size keys, although the iPad Mini one combines a few keys (tab and Q, for example) to help with the condensed layout. Typing was a relative breeze on both models.
The keyboard's not the only part of the Typo Air. There's also a case for the tablet that while adding some bulk, also ads a friction hinge metal kickstand to prop up the tablet at whatever angle you desire. Typo says their using the same provider that builds the hinge that keeps the MacBook Air's display upright.
Image 1 of 4
Possibly the coolest part, and likely the most controversial, is the software that Typo's developed. On one part, they're touting built-in autocorrect (not predictive typing), something that few other Bluetooth keyboard manufacturers can claim. That comes courtesy of the Typo app for iPad, which includes a custom software keyboard that's not at all a keyboard. In their demo, Typo brought up a calendar inside their keyboard app, essentially giving the iPad dual-app capability. But if we had to guess, that kind of app would flies in the face of Apple's App Store review guidelines.
Even without the app, the Typo for iPad keyboard seems like it might be pretty decent. We'll need to get more time with it to make a final judgement, but even the combination of the keyboard and case might well be enough.
Get the best of iMore in in your inbox, every day!
Derek Kessler is Special Projects Manager for Mobile Nations. He's been writing about tech since 2009, has far more phones than is considered humane, still carries a torch for Palm, and got a Tesla because it was the biggest gadget he could find. You can follow him on Twitter at @derekakessler.
I find that keyboard cases never allow one to type as fast as simply typing on the iPad itself does, but I would be interested in seeing someone come up with a typing cover like the Surface uses, just to see if it could work. Unfortunately, every single time someone comes up with an iPad keyboard it's part of a case (like this one). The fact that you have to put an iPad in a case to use an accessory makes it a non starter for me. Cases just get in your way. They are bulky nonsense at best. Keyboard COVER, and I'll at least stick my head up. Keyboard CASE, and I'm not interested at all.

They need to be a case because they need some way to hold up the tablet.

True (or a separate stand I suppose). Never thought of that, but I still can't see using any case myself typing or otherwise. The iPad is bulky enough. Cases are just the worst IMO.

I agree. The only keyboard that I use with the Air 2 is the Logitech Ultrathin that works with the older iPads. I use the Smart Cover to hold the iPad up and the BT keyboard is separate. Still store both the keyboard and Air 2 in a sleeve case together. The old BT keyboard adds some physical strength to the Air 2 in case there are those that might be afraid of "bengate" issue. Sent from the iMore App

First it was the iPhone keyboard that was practically a carbon copy of the Blackberry, now they have taken the type cover from the Surface family and put it on an iPad. Can this company ever get away from taking a design from another company and duplicating? I'm sure they call this thing their own but yet again all Typo seems to do is show that they can't be creative enough to design products. Sent from the iMore App

What will Microsoft have to say about this one...BlackBerry might still come at them too...

I'm sitting here looking at my Surface Pro 2 and don't see one iota of resemblance other than the fact that they both have keys. Honestly seems like a pretty nice device though I'm not going to run out and replace my Zagg Rugged Book for it. I like the fact that I can detach the keyboard without removing the case. Rough environment in a truck. The phone keyboard is just as hideous this year as last year and I can't understand why anyone would give up the functionality of touch id for it. It's doubtful they will have Blackberry problems anymore though. That keyboard looks more like the Blackjack and if I recall, Motorola won that lawsuit. Sent from the iMore App
Thank you for signing up to iMore. You will receive a verification email shortly.
There was a problem. Please refresh the page and try again.