Typo 2 resurrects the iPhone keyboard case, looks a bit less like a BlackBerry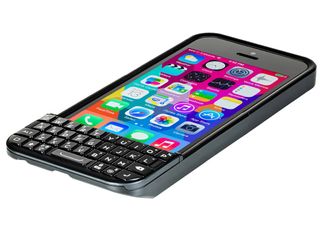 As if the original Typo keyboard wasn't enough, a new version of everyone's favorite iPhone accessory is now available for pre-order. The $99 Typo 2 — while very similar to it's older brother — has been remastered and redesigned with some new features, hoping to steer clear of any lawsuits this time around.
The Typo 2 features Typo smart typing (auto capitalization and the like), a backlit keyboard, lock key and even a battery indicator. The keyboard is a bit different than the previous version as well, obviously due to some harsh feedback from their "design inspiration" at BlackBerry.
You can pre-order the Typo 2 (which appears to be only for the iPhone 5/5s) now for just $99, with orders expected to start shipping in September.
Pre-order a Typo 2 for $99
Get the best of iMore in in your inbox, every day!
Editorial Director - High Yield
After getting his start writing about BlackBerry in 2008, Adam is the Editorial Director of High-Yield content at Future. Leading an outstanding team, he oversees many of the articles the publisher produces about subscriptions and services – VPN, TV streaming and antivirus software. From buying guides and how to watch content, to deal news and in-depth reviews. Adam's work can be seen on numerous Future brands including TechRadar, Tom's Guide, T3, TTR, Android Central, iMore and Real Homes.
Looks like a keyboard from the Moto Pro or Charm.

I would buy one if it worked with the 5c.

I can see the iPhone being top heavy while holding with this. It makes the phone look ridiculously long. I see the attraction though, I've flitted between iPhones and BlackBerrys for a while. Eventually, I always go back to BlackBerry and always for the keyboard... Sent from the iMore App

I'm sure it's a nice accessory, but it makes the iPhone look too long. Maybe if they come out with one for the iPhone 6, it will look better... Brought to you by the Nexus M8

And the point is? Sent from the iMore App

This is a completely stupid and pointless device! It makes the iPhone look terrible. I hope these fail like the first one. Sent from the iMore App

Because the way it LOOKS, versus function, that is what matters? SMH.

Never has so much been made of a product that so few will buy.

Just get a BlackBerry and enjoy a real keyboard, battery life, unrestricted Web browsing, android and blackberry apps, and be free from the shackles of apple and iTunes.

Love this, but battery life is so bad on iphone that I can't give up my Mophie case! If it charged my phone like Mophie... sold!

Size doesn't surprise me with things out like the mophie juice pack lineup that gives all iPhones double chins already. But covering TouchID is a big mistake. Even without TouchID it takes away the home button functionality! Even with the fact you can remove the keyboard on top. But you have to carry around another piece then. Also I kind of believed with the lawsuit the production got shut down. I even though its main backer, Ryan Seacrests, disowns the company now. With the lawsuit and loss of functionality.
Thank you for signing up to iMore. You will receive a verification email shortly.
There was a problem. Please refresh the page and try again.