Newly installed and updated apps reportedly crashing on launch due to corrupt App Store binary bug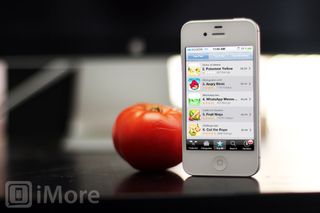 If you've downloaded or updated an app from the iPhone or iPad App Store in the last day or so, and it's crashing every time you launch it, you might have gotten a bad binary from Apple. At least that's what Instapaper developer Marco Arment began trouble-shooting last night on Twitter, and has now posted in detail about on Marco.org.
At first blush, it sounds like Apple has corrupted copies of app update files on their content distribution network. Whatever the cause, if you're experiencing the problem, try deleting it and installing it again. If the problem persists, wait a while and try again later -- wait a day if you have to.
Needless to say, this has also resulted in a slew of bad reviews for Instapaper and other afflicted apps. It's important to stress -- this isn't the developer's fault, this appears to be a problem on Apple's end in the App Store system. Developers are victims here. If you left a bad review, please consider going back and amending it. If you haven't reviewed Instapaper or any of the afflicted apps in a while, and you like them, consider giving them a review right now to help make up for the deluge of misdirected negative reviews they're suffering from at the moment.
Update 1: The Early Edition 2 is also getting caught and have posted a warning on GlasshouseApps.com advising users not to update until Apple resolves the issue.
Update 2: GoodReader seems to be experiencing the same App Store issue and they've put up a tech support article GoodReader.net explaining how to make sure you don't lose any GoodReader files or data.
Update 3: Based on some screenshots sent our way, it looks like FairPlay, Apple's DRM (digital rights management) wrapper, might have been improperly applied, resulting in unusable binaries.
If you're a developer and you want to avoid experiencing the problem yourself, or if you simply want more information on what Arment has managed to piece together, hit the link below.
Source: Marco.org
Rene Ritchie is one of the most respected Apple analysts in the business, reaching a combined audience of over 40 million readers a month. His YouTube channel, Vector, has over 90 thousand subscribers and 14 million views and his podcasts, including Debug, have been downloaded over 20 million times. He also regularly co-hosts MacBreak Weekly for the TWiT network and co-hosted CES Live! and Talk Mobile. Based in Montreal, Rene is a former director of product marketing, web developer, and graphic designer. He's authored several books and appeared on numerous television and radio segments to discuss Apple and the technology industry. When not working, he likes to cook, grapple, and spend time with his friends and family.
why the tomato in the photo tho? heheheh

Instapaper's problem is easier to solve because we can just delete it and reinstall. But the same problem happened to GoodReader yesterday, as you can see in the reviews some people lost their important files inside during reinstall. Fortunately GoodReader has a GoodReaderUSB utility for both Windows and Mac to help backup the files and folders. This caused me great trouble yesterday when I was trying to open an important document.
I think something's going wrong inside Apple. This had never happened before.

Something going wrong inside Apple? LOL!!! Yea. It is. And engineers are bailing on Cook. What's he going to do to fix it?

Thanks for the info. Was running into this on the Podblaster update I downloaded last night and figured it was the developer. Good to at least know what's going on.

Good point about the apps with data.... I always take advantage of (and look for it as a feature) the ability of any app to save a copy of (or export) the app data. While it is really nice to be able to just delete and app and reinstall it from the 'cloud', you lose the data in a number of apps when you do this.
And, not a bad reminder to make some kind of off-line copy of data from things like Address Book and Calendar, as if they ever go wonky, there isn't a way to get that data back. Or, who knows when you might make a mistake and delete something... and the magic of sync will replicate that mistake, efficiently and quickly across ALL your devices.

iPhone Repair Experts, Same Day Shipping. Get Started Now, iPhone Repair – iPhone 3G, 3Gs, 4, 4S, iPod 4 Repair, iPad 1, 2, 3, Repair, iMac G5, G6, Repair, MacBook Pro, Air, Repair,
http://www.clinic4iphone.org
Call or Text: 281-310-0858
iphone glass replacement
iphone 4 glass replacement
iphone 4 front glass replacement
iphone 4 back glass replacement
iphone 4 digitizer replacement
repair iphone 4
iphone 4 water damage
iphone 4s screen replacement
iphone 4s lcd replacement
iphone 4s back glass replacement
iphone 4 repairs
iphone 4s repair service
iphoe 4 repair service
i phone 4 service
replacement glass for iphone 4

Good times for those involved. Hopefully more apps will take advantage of iCloud data as it grows. One way to prevent this data loss (though will increase the need for purchasing additional iCloud space).
Off topic:
And I love that "iPhone Repair Experts" is allowed to post advertising/spam and I often get "Awaiting moderation" for what ever reason.

I feel a bit differently. If the app doesn't work, leave a bad review. It's not on us to make them work. It's not on us to pinpoint who is at fault.
This isn't beta iOS 6 as people were admonished about earlier. Where's the plea for Apple to fix the problem? Where's Apple's response?
It would seem that if specific apps got a ton of bad reviews because of an Apple problem, then Apple should make an effort to compensate them or make it right.

And when Apple 'fixes' the App Store problem, they should also go and delete all reviews that were posted during the period of corrupted binaries.

Or, a review that just notes the problem introduced in this version, rather than a bad review. I can't recall if it allows a review without giving a rating (if not, that would be a good idea).

So Angry Birds Seasons HD is the free app of the week, but it shows $1.99 for me, why?
And I saw the comments, app was crashing terribly.

Lookimg at the article, he stopped listing apps after 114, because it was growing larger, and larger. Was this by accident, or an Apple employee p***** off. This does not look good. Does this just affect the apps, or can it be a little sneak problem that could affect your device. I was searching in safari on the 3rd, and the screen just froze. It took several hard resets before the phone finally reset. All I had was a black screen. I remember just updating apps before doing a search. Have not had any more problems.

Big whoop. This is a frequent thing on my Galaxy S II on the android market.
Thank you for signing up to iMore. You will receive a verification email shortly.
There was a problem. Please refresh the page and try again.