All-you-can-read magazine subscription service comes to iPad with Next Issue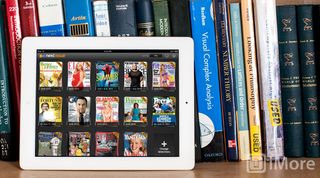 The Next Issue has finally arrived on the iPad, and is set to offer a subscription service that could transform the way you access glossy magazines on iOS. In their press release, Morgan Guenther, CEO of Next Issue Media said:
Free - Download Now
(opens in new tab)
Right now Apple's method of offering magazine content is through special App Store apps that live in Newsstand and need to be downloaded and subscribed to or purchased on an individual, magazine-by-magazine basis. Zinio has provided a similar single point of discovery, purchase, and reading for a long time now as well. Next Issue, however, is focusing very much on a Netflix-style model, with subscription plans that cover multiple magazines a month.
The Next Issue for iPad provides access to up to 39 titles including Bon Appetit, Brides, Golf Digest, GQ, Self, Vogue and Wired, with more promised to come in the future.
There are two subscription models available. The first comes in at $9.99 a month; this gives you access to monthly and bi-monthly magazines and back issues. The more expensive $14.99 a month subscription includes weekly magazine titles such as Entertainment Weekly, The New Yorker, and a few others. If you are still on the fence, you can sign up for a free 30 day trial.
Unfortunately, it's currently only available in the United States.
The question is, would you be willing to pay a monthly subscription to gain access to regular magazine publications? I would say that if the content available suits your reading habits then it is an excellent proposition. The cost of a printed magazine is nearly the cost of a month's subscription so it does make good economic sense. What do you think?
UK editor at iMore, mobile technology lover and air conditioning design engineer.
I dig that model. As you say, it would be all about whether the included magazines suit my interests.

Sounds nice but the real test will be which magazines are available to read

I think news apps like Flipboard and Zite offer more interesting information for free than I could get by having a few magazines available.

Sounds insane. With all the free blogs and websites, why pay a subscription?

Some people - me included - enjoy balancing out the Wild West of the blogosphere with some well-polished, professional writing. :) This is a steal for me, considering there are about 10-to-15 magazines on that list that I frequently enjoy reading. And according to a few other articles, more magazines - and some newspapers - are on the way. I'll be trying it out.

So you're saying the "well polished, professional writing" can't be easily found on the net? It's your nickel though.

Only available in the "Unite" States huh? Wonder when us United States people get it ;) This is actually pretty neat and I'll have to give the trial a go
Thank you for signing up to iMore. You will receive a verification email shortly.
There was a problem. Please refresh the page and try again.