Embark on a pirate adventure in Nightmares from the Deep: The Cursed Heart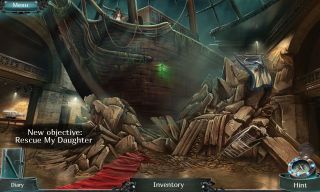 Hidden object games are a great fit for mobile devices because users can scan around a complex image and directly tap the objects they find. But some gamers want more than just objects to find – they seek a little narrative, a slice of adventure. That's where the Hidden Object Puzzle Adventure (HOPA) genre comes in.
Of the many HOPA developers working on PC and mobile, Poland-based Artifex Mundi is easily one of the best. Their games feature intriguing premises and beautifully painted scenes. Today we look at Nightmares from the Deep: the Cursed Heart, one of Artifex Mundi's most popular titles.
Pirate's Love
Cursed Heart is the first game in the Nightmares from the Deep series. Its story centers around a supernatural pirate named Remington whose decayed body comes to life inside of a museum. Soon he wrecks the museum and kidnaps the museum director's daughter. As the director Sarah Hall, you must to follow Remington to his island base and rescue her before it's too late.
The story comes to life via fully voiced and competently acted dialogue. The cinematic sequences appear in two forms: CG animation and hand-drawn animation. The CG rendered movies look great and match the in-game background artwork in terms of beauty. The hand-drawn sequences are passable, but their character art and grasp of anatomy often leaves something to be desired.
A dozen doubloons
Besides rescuing your daughter, the main goal in Cursed Heart is to find 12 special doubloons hidden throughout the game. When gathered together, the doubloons will open a magical quest and reveal its mysterious contents.
Each doubloon placed on the chest also causes a movie to play that will reveal a little more of the game's backstory. The only problem with these scenes and the game's story in general is that it's too front-loaded. You'll learn how the captain got his power, the importance of a woman from his past, and his plans for the kidnapped daughter way too early in the game. Each doubloon's story scene fleshes things out a bit more, but you'll have the whole story figured out long before collecting the last one.
Puzzles
As an adventure game, Cursed Heart has more than its fair share of puzzles. Often these involve scanning the environment for objects to gather and use later. Things you pick up appear in your inventory, which is always accessible from the bottom of the screen. To use an item on something in the environment, simply tap and drag it to the desired location.
The game classifies more complex puzzles as minigame puzzles. These come in the standard varieties like assembling a painting from pieces, rotating starfish to make a pattern, mixing a chemical formula, and more.
A few puzzles get too esoteric and finicky for my liking, such as a minigame involving reassembling a broken record. I put all the pieces together seemingly perfectly, but the game didn't lock them in place and register the record as reassembled.
Luckily, you can skip the occasional problematic puzzle on the default difficulty. You can also use hints to direct you to the next location or important items in the background. Both functions operate on timers, so you can't just use them nonstop.
Another helpful function is the map system. After leaving the museum, you'll have access to maps of each subsequent environment. Besides the obvious aid in navigation, maps also indicate locations of the next puzzle or action you're supposed to do. Maps are still present on the hardcore difficulty option, but the rest of the hints will be disabled.
Hidden objects
Without hidden object sequences, a HOPA would just be an adventure game. Cursed Heart does have a number of hidden object scenes, though they're spread out a bit between the other types of puzzles. Each scene includes a list of nine or so items to find. Sometimes you'll have to combine, open, or move things in order to find the right items.
The hidden object scenes, like the background art in general are gorgeously drawn and filled with luscious details. In some games, these scenes are just cluttered with randomly-placed junk and seem to be designed more for challenge than anything else. Cursed Heart's hidden object sequences show more artistry and less impossible object density, making for much more plausible scenes.
Matching tiles
Players who don't care for hidden object games will be pleased to know that Cursed Heart provides an alternative to those sequences. Whenever one comes up, you can choose to play mahjong solitaire (also known as Shanghai) instead! You know, that's the game in which players must match pairs of tiles that are stacked in a pattern. The tiles have pirate themed artwork and everything.
The mahjong solitaire puzzles are focused more on fun than challenge. Players can choose to reshuffle the stack at any time, and it will automatically reshuffle whenever no moves are left. The puzzles do increase in complexity as the game progresses, though.
Players can mix and match between hidden objects and mahjong for variety, though you'd miss out on a a Game Center Achievement or two by doing so. Completing either type of puzzle will reward you with an inventory item that will be needed in order to progress.
Collector's Edition features
The iOS versions of Cursed Heart bear the "Collector's Edition" subtitle. So does pretty much every other version of the game, so it seems like the default edition to me. But the game does include some unlockable bonus features that warrant the fancy subtitle.
Minigames: Replay any of 16 minigames from the main adventure.
Hidden object scenes: Choose from the 19 hidden object puzzles found in the main adventure.
Videos: Nine regular story videos and 12 doubloon videos to watch
Concept art: Nine paintings representing scenes from the game
You can't choose to replay the mahjong solitaire puzzles directly, but they can be revisited from within the individual hidden object puzzles. Other than a dedicated mahjong menu, the only bonus feature the game really lacks is a sound test.
Epilogue
Cursed Heart's Extras menu holds one more special feature: a Bonus Adventure. This mini adventure functions as an epilogue and lasts an hour or two.
The museum director has survived the main adventure but she must fill find a way to get back home. The Bonus Adventure contains the same exploration, puzzles, and hidden object gameplay you'd find in the main game. It even has voice acted dialogue.
While it's classified as a Bonus Adventure, the epilogue could have just as easily been included within the main game. I suppose having it as a separate option is handy for when you want a short play session on the go.
Not a nightmare to play
If you enjoy adventure games, finding hidden objects, or even matching mahjong tiles, Nightmares from the Deep: The Cursed Heart is a must-play. The sequel Nightmares from the Deep: the Siren's Call recently launched on Windows Phone, so we can expect an iOS port shortly.
Cursed Heart is available in a free version that is essentially a trial. You can unlock the full game with an In-App Purchase. It also comes in both regular ($4.99) and HD ($6.99) flavors, so be sure to get the one that best fits your display.
Get more iMore in your inbox!
Our news, reviews, opinions, and easy to follow guides can turn any iPhone owner into an Apple aficionado
Paul started writing about games in 2003 with his first strategy guide (Bomberman Land 2) for GameFAQs. He continued writing guides while earning his B.A. in Literature. When Windows Phone launched in late 2010, the Xbox integration lead our hero to jump on board the platform. He joined Windows Phone Central as Games Editor at the beginning of 2011, going on to review over 125 mobile Xbox titles over the years. He now leads Windows Central's Xbox One coverage, personally specializing in developer interviews, indie games, controllers and accessories, and Twitch broadcasts. Paul loves games on all platforms; he goes where the games are. Although very busy with console coverage, he sometimes contributes gaming articles to iMore and Android Central.