Previously lost episodes of the classic Doctor Who series recovered and now available on iTunes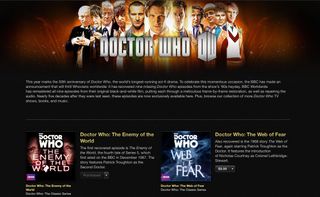 For those of you out there who are Doctor Who fans, you may already know that for years now the BBC has been looking to recover many of the early episodes from the long-running British science-fiction television programme. Back in the 1960's and 1970's episodes were wiped or otherwise destroyed due to a number of various reasons with the biggest ones being economic and space-saving concerns at the BBC.
Over the years, many episodes have been recovered from various parts of the world thanks to how the content was transferred and shared back then and the number of missing episodes had been reduced to 106. That number has stayed the same for a while now and many folks had come to the conclusion that there simply must not be any more out there to be found.
As a Doctor Who fan myself, I'm pleased to say, they were wrong. The BBC has found a small bevy of episodes in Nigeria, Africa. Nine to be exact that weren't already in the archives, from the series and as such has now released them to iTunes exclusively.
Needless to say, the finding of these episodes is pretty spectacular and are being celebrated on their own but it comes at a time when there is already Doctor Who celebrations planned. On November 23, 2013, Doctor Who celebrates 50 years since the very first episode, "An Unearthly Child," aired on BBC television.
If you're interested in learning more about the discovery of the episodes, I highly suggest checking out Doctor Who fan site Kasterborus otherwise, you'll find the links to the episodes on iTunes below. Also, if you're a Doctor Who fan stop by the iMore forums to discuss the new releases.
Source: BBC
Get the best of iMore in your inbox, every day!
Editor-at-Large at Mobile Nations, gadget junkie, energy drinker, ranter.
They are charging £9.99 on the UK Store which seems incredibly unfair!

How are you arguing this? It should be free? Just like all those free DVDs and VHS sets of old episodes? Just because it's made by the BBC and you've paid a license fee, doesn't mean they should provide content for free in perpetuity.

Oh I didn't mean that. I meant that it's $9.99 on the US store and £9.99 on the UK store, meaning the US are getting the episodes cheaper. I'm quite happy to pay for them, but felt it unfair that the UK are having to pay for more for the episodes.

They probably thought it was easier to do it that way, rather than do the math and figure out the dollar/pound exchange.

Most if not all content on iTunes has equivalent UK pricing to the US store. 99c = 69p / $2 = £1.49 etc it generally follows that pattern all the way up ... it's not a perfect exchange rate, but it serves to show there is a difference.

Don't forget we pay a huge tax premium on everything in the UK as well...

As the OP says, the pricing strategy charges almost 40% more to UK purchasers. 9.99 pounds is $15.96 as of this morning.

I wonder if someday the BBC finds all the lost episodes. I doubt it, but it would be awesome!

I have a bunch of old ones on VHS, but they were recorded in the US in the 70's, mainly Baker and Pertwee. Don't think they lost many, except Baker's Shada (I think it was that or something similar). That's what they clipped in to The Five Doctors.