Nokia reportedly discussing the possible sale of its HERE maps division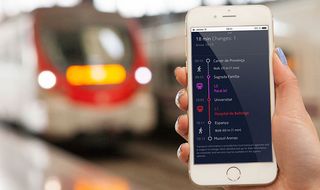 The company may decide to ditch the maps business in part to concentrate its time on its wireless network division. HERE Maps is already getting some interest from other companies and private-equity firms, according to Bloomberg's unnamed sources. It adds:
Nokia launched a version of HERE Maps for the iPhone and iPad in 2012 but pulled it from the App Store in late 2013. HERE Maps returned to the iPhone in March 2015.
Source: Bloomberg
I have been writing professionally about technology and gaming news for 14 years.
Apple please please please buy this and use it to make Apple Maps not awful. Thanks

I agree with you. Apple needs to buy HERE now, it could help fix  map issues. I had HERE on my NOKIA Lumia 920 and like it best out of all navigation apps I have used.

Apple should open up the checkbook... The 'HERE' unit is the former NAVTEQ... having that as the basis for Apple's Maps would be a boon.

I used the Nokia maps app on iOS and found it a miserable experience.

You may have used the old Nokia maps app that Nokia pulled and admitted themselves was awful. The newly launched HERE maps app is completely new and much better. Sent from the iMore App

Apple really should purchase this. Would definitely help its map app.

Apple should seriously consider purchasing HERE Maps but I can't see it happening. Sent from the iMore App

My problem with Apple is they never buy things they should like IOS developers, and buy companies they shouldn't like Beats.

apple maps still have black and white photos....

Please Apple... Please...
Thank you for signing up to iMore. You will receive a verification email shortly.
There was a problem. Please refresh the page and try again.