Nokia reportedly shopping its HERE Maps division to Apple, others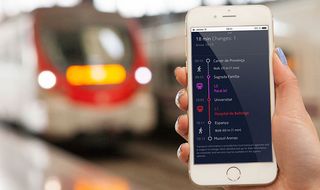 According to a new report, Apple is one among many companies, including Amazon and Alibaba, that Nokia is targeting for a potential sale of its HERE Maps division. Bloomberg reports:
The report goes on to state that Nokia is targeting other companies as well, including Facebook, Baidu, and Sirius XM.
It was reported earlier this month that Nokia may be looking to offload its HERE Maps division amid financial troubles. According to today's report, the company is seeking to get $3.2 billion in any potential deal—much less than the $8.1 billion Nokia paid for the mapping assets in 2008.
While there's no guarantee that Apple will be the one to snatch up Nokia's mapping assets—it is just one of several companies Nokia is reported to be targeting—it could be a interesting acquisition that would bolster Apple's current mapping efforts.
Source: Bloomberg
Get more iMore in your inbox!
Our news, reviews, opinions, and easy to follow guides can turn any iPhone owner into an Apple aficionado
It would be a jolly good thing if Apple were to open the checkbook for this one... The HERE business unit is the former NAVTEQ... Apple's Maps could do well to add HERE's expertise to the Maps app.

I usually use Apple Maps, but any time I need transit directions I use Google Maps. The difference is amazing. Google maps has lapped Apple Maps many times over. So I'm hoping that Apple buys Here, and really any other companies that will help them catch up to Google Maps and hopefully surpass Google. I would love to be able to say "Hey Siri, show me a street view of ____"

i have download 8 map apps on my iPhone 5s 64gb gold .
include google map , maze ? google earth , and others ...
i use apple map and google map most of the time , i admit google map is more acurete

This would be a huge win for Apple if they can pick this up. Posted via the iMore App for Android

I'd also like to see Apple do this. Especially considering how badly they blew it when they had they chance to buy Waze, but grossly under bid it.

Hopefully Apple buys it. They sure need major improvements in Apple Maps plus Here maps is fantastic, especially the offline capabilities that is has. Posted via the iMore App for Android

It would be an awesome addition to Apple maps to be able to use it in offline mode. This is one of the best features of Here Maps. Hope it happens & it gets integrated into the native maps app. Sent from the iMore App

I'm also really hoping that Apple will buy HERE Maps and integrate it into their own Apple Maps. We could really use the offline mode if we're in a place with little or no signal.

But I hope apple will integrate offline maps. This is the main selling point for people who don't have unlimited data. This makes it better than apple or google maps because of this one little thing. Sent from the iMore App

I'll go out on a limb and say Apple aren't (and shouldn't be) interested in Here, just as they had no interest in Nokia's Devices division. Here is losing money and generally always has been. Plus, Apple like to keep core technologies within their ecosystem. If they acquire Here, they'd have to maintain and service current Here customers. If Apple scrapped Here for parts, $3,2B or more is too much for the best cherry-picked bits. Apple can do better by spending $3,2B on their own maps, which have already improved beyond what critics recognise since debut. Alibaba, Amazon or Facebook acquiring Here makes a lot more sense.

The raw map data alone would be worth the money for Apple. Posted via the iMore App for Android

The question you have to ask is: What is the *return*? Would you switch away from Google Maps? Would it bring more users to Apple products? I think spending $3,2B for marginal, questionable map quality improvements would yield a poor ROI. Not to mention the current Here business commitments that need resolve. Apple acquiring Here is unnecessary and I say it doesn't happen.

This would be a good buy for Apple. Nokia's HERE, through it's acquisition of NAVTEQ, is one of the largest map providers in the world. Although Apple Maps' sources much of it's data from TomTom, owning HERE would give them essentially an equal size database which they own.

If Apple were to buy HERE Maps I would consider using Apple Maps again. I currently use Google Maps which is miles ahead of Apple Maps currently. Sent from the iMore App

Apple needs to buy "Here"! I believe it can help Apple with their map issues, and prevent Yahoo from buying it. Yahoo uses Here for their maps, that alone should be a reason to buy it. As well as, solve some of their international map issues to. I have seen Google's map car and the Here car, but never the Apple's. I seen pictures on Imore, I believe this says a lot.