Nomad gives away free Lightning cables with $5 donation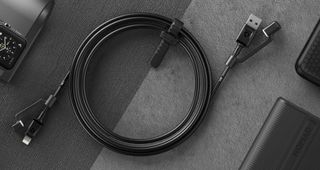 Nothing is better than getting something for free. How about if it is for a great cause? That's what Nomad's new Carbon Fund Initiative (opens in new tab) does—gets you a free Lightning cable—and all you have to do is donate $5 to a great cause.
Nomad's Carbon Fund Initiative is aimed at raising funds for reforestation in the Amazon. I you do donate $5, it will help plant five trees in the Amazon. You can also donate $10 and $20 to plant ten or twenty trees. If you donate, Nomad will send you its 1.5 meter Lightning cable for free (plus shipping), which normally goes for $24.95.
If you were thinking of scooping up a new Lightning cable, now is the time to do so. It's a great cause and you'll get a fantastic cable out of it. Nomad will make $0 through this promotion.
You can go to Nomad's site to jump on this amazing deal (opens in new tab).
FYI, your link takes me to their homepage, ended up finding the link on Apple Insider.

I don't see the link there either.
Thank you for signing up to iMore. You will receive a verification email shortly.
There was a problem. Please refresh the page and try again.