Notes for Mac: The ultimate guide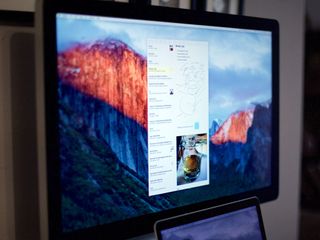 Notes was first introduced as a standalone application for Mac with the release of OS X 10.8 Mountain Lion.
Previously integrated in the OS X Mail application, the move to a standalone application allowed created notes to sync across all your Apple devices connected to your iCloud account. The OS X version allows you to quickly create, format and attach media to notes from your desktop or laptop.
Keep track of ideas as they pop up throughout your work day and share them with friends or colleagues. With Notes, anything is possible.
Get the best of iMore in in your inbox, every day!
"Siri, write a really funny bio for me to use for Mobile Nations" "Okay, Drew, here's your really funny bio: How-to writer, fiddle player, retro gamer."
My biggest issue with Notes is on iOS. If I use a share sheet to save a note (say from Safari or TweetBot), it saves on my iOS device. BUT it doesn't sync to iCloud until I open the Notes app on the device, so I can't see it on my mac until I do this. I'd like using the share sheet action to sync to iCloud as well. Is there a way to fix this or is it just a bug?

I continue to struggle to get notes to sync correctly. I have logged out and back in, but it still is not working. I can't seem to sync between any of my iOS devices or macs.

I find that with iCloud in general, always seems to show different results on each device. For notes, I use Notebooks by Alfons Schmidt, works perfectly across all my IOS devices and Macs by syncing via my own server (Synology DS), but can also sync with Dropbox.
It just works. Sent from the iMore App

I want better backup and restoring. While I normally use my Mac to write notes, occasionally I will use my phone or pad, in which case, I've accidentally deleted stuff with my uncoordinated fingers. And I can't undo those changes. Randomly, I do see previous versions of notes. If I'm lucky, I can go to one of those. But sometimes those previous versions aren't there. I have absolutely no idea why they sometimes show up and sometimes don't. I wish it worked just like most everything else on my Mac, with an undo command when I edit, and with Time Machine backups and restores.
Thank you for signing up to iMore. You will receive a verification email shortly.
There was a problem. Please refresh the page and try again.