Now anyone can create an iTunes U course to be viewed on student iPads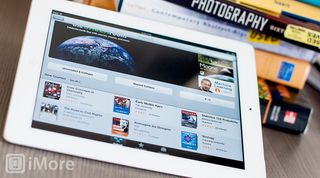 Alongside the release of OS X 10.8 Mountain Lion, Apple also updated iTunes U to allow teachers (and virtually anyone) to create courses for the iPad. More specifically, the courses that are created can be shared and viewed in the iTunes U iPad app.
It turns out that you actually don't have to be a teacher at all to create an iTunes U course. All you have to do is visit the iTunes U Course Manager page (opens in new tab) and create an account. However, the catch is that if your Apple ID is not associated with an educational institution, you cannot publish your course to iTunes U, but are given a link that you can share with whoever you want. When someone clicks on the link with their iPad, they will be taken to the iTunes U app and be granted access to your course. Apple ID's that are not associated with an educational institution are limited to creating no more than 12 courses and enrolling no more than 50 students per course.
This lower level of entry is awesome for teachers at schools that do not have an iTunes U account. For example, since the community college I teach at does not have an iTunes U account, I have never been able to create an iTunes U course to use alongside my courses. Now I can! Smaller K-12 schools may also not be interested in the hassle of creating an iTunes U account for their institution, but individual teachers can choose to use it anyway. This really was a smart move by Apple. Especially with the iPad mini's imminent release.
However, the biggest thing that iTunes U currently has going for it is its availability on the iPhone and iPad and the ability for anyone to be a "teacher". Personally, I will continue to use my own personal website to make content available to my students because of the restriction that my iTunes U courses must be viewed on an iPad. Availability on the iPad is awesome -- restricting to only the iPad? Not so much. (This is only the case for teachers who are not associated with an educational institution's iTunes U account). Now, my feelings may change if a large percentage of my students have iPads once the iPad mini is released, but with only 1 or 2 of my students owning iPads, iTunes U just isn't a practical choice for me.
From a student's perspective, if you're looking for a free online course that is not associated with an actual course you're enrolled in, there are similar services, like Udacity, that are much more robust and provide a better learning experience. I hope Apple is taking notes, because I'd love to see iTunes U reach a similar level.
In addition to the changes for teachers in iTunes U, the iTunes U iPhone and iPad app has also been updated for students.
So what do you think about these changes to iTunes U? Are you a teacher and planning to use iTunes U to supplement your class? I'd love to hear from students as well -- do you want your teachers to start using iTunes U? Have you ever taken an iTunes U course? What was it a good experience? Let us know!
Free - Download Now
(opens in new tab)
Source: Apple (opens in new tab)
Get the best of iMore in in your inbox, every day!
Former app and photography editor at iMore, Leanna has since moved on to other endeavors. Mother, wife, mathamagician, even though she no longer writes for iMore you can still follow her on Twitter @llofte.
Leanna, do you know if these courses can be accessed by students on Macs/PCs too? I'm thinking at least in iTunes to download videos, etc. If so, that would of course expand the potential audience a lot, at least for that feature.

If the instructor's ID is associated with an educational institution, then yes. But for teachers like me who do not have an ID associated with a school, the links to our courses can only be viewed on an iPad :(

So can the course content be viewed on an iPod or is the app exclusive to just the iPad and iPhone as you stated in the article? On the apple website it says that the app is available for the iPad, iPhone, iPod. My point is that I have encountered more students with iPods than iPad's and If you have a similar situation the iTunes U app could still be a viable option for delivering engaging content to your students. Just a suggestion....
Thank you for signing up to iMore. You will receive a verification email shortly.
There was a problem. Please refresh the page and try again.