NSFW: Apple's benign neglect of the Mac App Store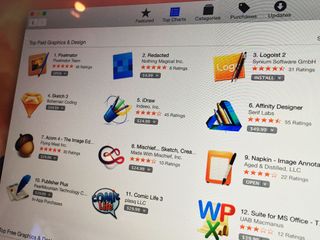 Sam Soffes recently released Redacted, a $4.99 Mac app that makes it easy for you to pixelate, blur, or add black bars to images. If you already have an image editing app that does this, it's no big deal, but it's a handy utility for people who need that capability and nothing more.
I doubt Soffes was expecting to burn up the Mac App Store charts when he released it. But that's exactly what happened.
(It's still tracking well in the Graphics category, from a recent peek into the App Store).
How many copies did he sell on launch day? 94. That's all it took to climb up to the top of the charts.
It's no surprise that Mac App Store sales volume is markedly lower than the iOS App Store. iOS users are a captive audience: There's only one place to download software for your iPhone or iPad without jailbreaking the device, and the vast majority of Apple users have absolutely no interest in hacking their smartphone.
Comparatively, you can get Mac apps anywhere. You can download them directly from the developer's website, if they want to set up the infrastructure to manage it. Apple requires no exclusive arrangements with its Mac vendors, either; an app sold on the Mac App Store can be sold on other download services with no penalty or problem.
Some Mac app developers have made real money on the Mac App Store. But Soffes's experience isn't unique: Some developers have decided that the Mac App Store is not worth the effort.
For some, it's that Apple's sandboxing rules for the Mac App Store aren't worth dealing with. Others don't find the incremental revenue increase compelling, especially given that they have to tithe 30 percent of their gross sales to Apple for the privilege of having their app distributed.
The Mac App Store has been a permanent fixture of the Mac app ecosystem system since late 2010: Apple's had almost five years to mature it, and they've done a good job in some respects. The company's editorial teams have worked to generate categories, lists, and features of apps to help improve discoverability. The interface has been improved. And the depth and breadth of products has improved considerably since its first launch. Ultimately, though, people still have to use the damn thing, and many of them don't.
I have no compunction about buying stuff from the Mac App Store, but I'm no dummy: I don't do it arbitrarily. I shop around first. If I can find a better deal, I'll go elsewhere. And I'm not just talking price, either.
Take games, for example: Apple's stupid rules hamstring game developers who want to use cross-platform APIs for game matching. You end up with crippled games in the Mac App Store, when copies from the Steam store work better — often for less money.
At the store I work at on weekends, I often help customers with their Mac problems and questions. An alarming number of customers who already have Macs have absolutely no idea that the Mac App Store exists, even though the blue icon sits in many an unchanged Dock.
In fairness to them, Apple produces a computer and operating system that is complete enough without third-party apps for most average users: It enables them to check email, pay bills online, visit websites, engage in social media, and more, and that's all they're really interested in doing. They don't want to put new apps on their Mac. And that's fine.
But in the same token, Apple's doing nothing to encourage them to check it out, either. And in the process, the company's benign neglect of the Mac App Store does its own developers and all its customers a disservice.
Master your iPhone in minutes
iMore offers spot-on advice and guidance from our team of experts, with decades of Apple device experience to lean on. Learn more with iMore!