NSFW: Apple's benign neglect of the Mac App Store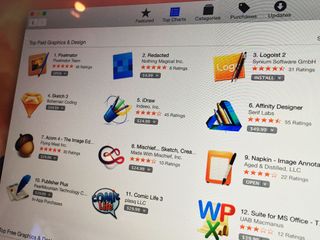 Sam Soffes recently released Redacted (opens in new tab), a $4.99 Mac app that makes it easy for you to pixelate, blur, or add black bars to images. If you already have an image editing app that does this, it's no big deal, but it's a handy utility for people who need that capability and nothing more.
I doubt Soffes was expecting to burn up the Mac App Store charts when he released it. But that's exactly what happened.
(It's still tracking well in the Graphics category, from a recent peek into the App Store).
How many copies did he sell on launch day? 94. That's all it took to climb up to the top of the charts.
It's no surprise that Mac App Store sales volume is markedly lower than the iOS App Store. iOS users are a captive audience: There's only one place to download software for your iPhone or iPad without jailbreaking the device, and the vast majority of Apple users have absolutely no interest in hacking their smartphone.
Comparatively, you can get Mac apps anywhere. You can download them directly from the developer's website, if they want to set up the infrastructure to manage it. Apple requires no exclusive arrangements with its Mac vendors, either; an app sold on the Mac App Store can be sold on other download services with no penalty or problem.
Some Mac app developers have made real money on the Mac App Store. But Soffes's experience isn't unique: Some developers have decided that the Mac App Store is not worth the effort.
For some, it's that Apple's sandboxing rules for the Mac App Store aren't worth dealing with. Others don't find the incremental revenue increase compelling, especially given that they have to tithe 30 percent of their gross sales to Apple for the privilege of having their app distributed.
The Mac App Store has been a permanent fixture of the Mac app ecosystem system since late 2010: Apple's had almost five years to mature it, and they've done a good job in some respects. The company's editorial teams have worked to generate categories, lists, and features of apps to help improve discoverability. The interface has been improved. And the depth and breadth of products has improved considerably since its first launch. Ultimately, though, people still have to use the damn thing, and many of them don't.
I have no compunction about buying stuff from the Mac App Store, but I'm no dummy: I don't do it arbitrarily. I shop around first. If I can find a better deal, I'll go elsewhere. And I'm not just talking price, either.
Take games, for example: Apple's stupid rules hamstring game developers who want to use cross-platform APIs for game matching. You end up with crippled games in the Mac App Store, when copies from the Steam store work better — often for less money.
At the store I work at on weekends, I often help customers with their Mac problems and questions. An alarming number of customers who already have Macs have absolutely no idea that the Mac App Store exists, even though the blue icon sits in many an unchanged Dock.
In fairness to them, Apple produces a computer and operating system that is complete enough without third-party apps for most average users: It enables them to check email, pay bills online, visit websites, engage in social media, and more, and that's all they're really interested in doing. They don't want to put new apps on their Mac. And that's fine.
But in the same token, Apple's doing nothing to encourage them to check it out, either. And in the process, the company's benign neglect of the Mac App Store does its own developers and all its customers a disservice.
The Mac Appstore is crap. I even hate it as a vehicle for updates. Even the iOS AppStore is crap.
Why can I navigate and open multiple tabs like a browser? The search facility is rubbish too.
Personally, I always navigate to the dev website to see if I can buy there.

I wouldn't say "crap" But I would say it need a dedicated team to improve the user experience.

Definitely not crap at all. The big problem for me is the price of the apps. I can get Fantastical for $5 on my iPhone/iPad but it cost $40 on the Mac. Same with 1Password, $10 on the iPhone/iPad $50 on the Mac! I'm not saying these apps aren't worth it, but virtually the same functionality, but $30 more. That's a hard pill to swallow. Look at Pixelmator. They used to charge $79 for their app and dropped it to $15 for a while in the Mac AppStore and it went crazy. Ton's of People bought it and it was great. Now I think they charge $29 for their app. When we are used to spending $5-$10 for good apps in the iOS AppStore, spending $50 for virtually the same app on the Mac AppStore is tough. I think $19 is the price I'll start buying things at in the Mac AppStore, for $10 I'll even buy an app that might not be that good. Also, with Redacted he's charging $5 for an app that does something you can do for free in Preview. Also, Mac AppStore ratings are JUST volume, it's popularity within a certain time frame.

Agreed! Sent from the iMore App

The cost of the software is determined by the developers (after adding in Apple's cut). If you don't like the pricing, just remember what software used to cost.

It's not crap at all. Software purchasing on computers has been around far longer than app stores, and people were already used to buying software elsewhere. What I like about the Mac App Store is that it gives new developers a way to introduce products. As a consumer, I like the way I can browse categories and find stuff. And I have no problems with the update process. Here's the other thing, people don't buy computer software as frequently as they do mobile apps. Except for games, once you have a core set of computer applications, you're usually set and not looking for anything else unless something comes up the increases productivity. I also don't feel like it's being neglected either.

It is pretty crappy. Search is insanely poor. The way it updates is very poor. I have to open it at least 1x a day just to go to the Updates Tab and let it check, because it doesn't seem to do it otherwise. On Windows 8.1 the Store App will automatically update everything and I literally never have to ever open it. Windows Update catches all but Optional Updates automatically. I hate how the Mac App Store does updates. It's a Royal PITA and I hate having to check manually for that stuff all the damn time. The only developers jumping full in on the Mac App Store bandwagon are those that are coming from Mobile OSes (like iOS). It's a haven for Start-Ups but a lot of good apps have predated the App Store and aren't there. You have to do a ton of work to find them. A lot of those apps are insanely overpriced compared to equivalent (in functionality and user experience) Windows Apps and some of them are insanely simple but come with ridiculous price tags. Since buying my Mac, I have bought 99% of my Apps on Windows because the Apps do more and are way cheaper (especially if you can catch a deal on Amazon). I'm not sure what they can do to remedy that, because the crux of the issue isn't really the search or anything, it's the fact that so many developers are ignoring the App Store, but discoverability for Mac Apps in general is poor compared to Windows due to not many sites covering this stuff. It is, overall, way easier to find new Windows Apps that do great things than it is to find Mac Apps. In some cases I've found some decent ones, but they were like a dozen or so pages into my search results because of how a lot of sites optimize for search engines. Many people won't even get that far before they choose a different search term (which can bury useful results down even further).

Have you turned on "Automatically check for updates" in the System Preferences? There are also check boxes for automatically installing apps, OS X updates and/or security updates. Found under System Preferences --> App Store (fourth row)

Yes. The pain point is that it doesn't seem to check for anything unless you open the App Store. Often updates that were released days earlier that I only just read about are still there when I open it, and that never happens on the Windows Store. The apps update in the background pretty flawlessly there. The first thing I do on any new computer or smartphone after the first boot is literally go through every single setting in on the device (and all of the stock apps) and set things the way I want them - that way I know it will work "properly" moving forward with no need to go in there and do things like... check if "Automatic check for updates" is turned on. It's been on since < 1 hour after I bought the computer ;-)

As mentioned by others, search is bad/useless. I will look up specific apps, but rarely use it to search for a category of apps or specific function of the app. For that type of search, it is often better to use Google, Yahoo or Bing. The one thing I REALLY like is the automatic updates of apps. I find it annoying to have to download and update 5-6 apps on each mac in my house whenever they update. That is a total waste of time for a platform that has decent auto-update features in the app store. SplashID recently pulled their app from the Mac store and the only way to update now is manual (the app checks for updates on open), which is less than ideal when the update notification simply opens a browser page for me to download it and install it manually. I realize that not everyone has a house full of Mac users, but updating 6 systems manually every time something new appears gets old REAL fast.

App Store's user experience leaves much to be desired. It violists the rules of discoverability. It has no way tow really refuse an update. By default, it updates without permission. That being said, it will always be less of a 900 lb gorilla than the App store for iOs because you just don't need that many apps. iOS is about breaking functionality into small convenient pieces. Multiple apps help accomplish this task. Mac OS is more monolithic. App categories are broader and functionality is less specific.

The Mac App Store is complete crap for free Apps. Making dev's to pay $99 a year to "sell" their Free Apps? Stupidest idea ever! Sandbox is too tight, too...

Hardly surprising. All the top productivity apps are not on the Mac or windows app stores because they don't need to be. Why would Pixologic give Apple 30% for every copy of zbrush they sell? The economics are simply idiotic. Let the PC be the PC, which is to say, the Wild West where people can do whatever they please. We don't need app stores as we're intelligent enough to use Google and search for the apps we want.

Not necessarily. At Microsoft's BUILD developer conference, they said that they'll be allowing x86 apps into the store while also announcing that Adobe is bringing Photoshop and Premiere to the Windows Store. 1Password is also in the Windows Store for free while being $50 in the Mac App Store. Apple needs to stop with their draconian practices of the Mac App Store, otherwise it will never grow.

One thing that burns me up about the Mac Appstore is how SLOW it is. It kills me how long it takes to load sometimes. They should get a lesson from the Synaptic package manager on Linux. Very simple and snappy.

I don't think this is a NSFW article, it is just a Mac OS X article plain and simple. I'm one of those people who has had a Mac since 1984, the only point being that I already have just about everything I could ever want a desktop or laptop to do. OS X is mature, and I'm a mature user. When I'm in the market for a new app, I do check both online and in the App Store. Chances are what I really want and is best for my usage is not in the AppStore but is available. Normally I'm looking for something niche and of very high quality, like a sample library of every instrument of a symphony orchestra including various articulations. Things like that cost between 1-10K USD. I will say Logic from Apple is top notch and in the App Store. The biggest problem with the App Store is finding things, true with iOS and OS X. I have played around searching for things and pretending I don't know the name of what I want and frequently I cannot find it until I "cheat" and search on the app's actual name — that needs to be fixed more than anything. There are way too many dead-wrong results in searches while many things that should be a search result never appear.

Logic is an Apple App, so they don't have an issue with giving 30% (~60 per license) to themselves. To an outside company, giving Apple ~$60 of every $200 App Sale is a huge hit to their bottom line, and since desktop OSes like OS X and Windows do allow them to sell their software themselves (or for a lower hit on sites like Amazon, for example). I tend to look for my Apps on Amazon. The prices are often on discount (sometimes deeply) and the Developers make more money there. You don't see Audition on the App Store. You don't see Cubase on the App store. You don't see any of the other super popular DAWs or high end NLE (Video) there. Cause those companies aren't going to give Apple $30 of their Subscription Revenue or high ticket prices on every sale. Also, people are severely overestimating Apple's iOS App Store's effect on Microsoft Office Sales. I doubt it accounts for even a 5% uptick in sales. Most Office users had office from their PCs before Microsoft even released those apps and with Windows' Marketshare there's a much higher chance they got their Office Subscription via Microsoft's own website than the iOS App Store. Microsoft had to do what they had to do for obvious reasons, and for convenience. I can certainly say that getting the Office Subscription through the App Store makes it nigh unmanageable. When I wanted to upgrade from Personal to Home Premium I had to wait two weeks for the Subscription to end and then call Microsoft and Apple to find a way to make it fall off so I could upgrade my subscription (you can't change subscription type via the iOS apps after subscribing to any other subscription in app).

Benign? Sent from the iMore App

Oh for heaven's sake. Its not crap, and I find it extremely convenient to buy my apps this way –when I buy a new machine, I never transfer anything anymore, because most everything is waiting for me, a couple of clicks away. In a few cases, e.g. Photoshop Elements, I find I do better shopping on the Web. I don't know if anyone has posted a guide to shopping "On or Off the Mac App Store," but I'd surely welcome one. HINT, HINT: Mr. Flargh? Posted via the iMore App for Android

"they have to tithe 30 percent of their gross sales to Apple"
Tithe means tenth. I'm not trying to correct Mr. C, but if Apple only charged 10%, no dev fee, and burned down the sandbox, used the 10% to host, check for malware, & auto-update, (they have hundreds of billions of $ in their pocket, why so greedy?) then the OSX App Store would be a better place.
.
Also, yes, search is crap. I tried to find a simple photo collage app, I had to download 3 or 4 apps to find one that even did what I needed. None of them were satisfactory, and I ended up moving the photos to my iPad and launched one of the 3 or 4 apps I already had to do it.
.
Perhaps another option would be to abandon this mess and add the function to emulate(?) iOS apps in OSX, but this would ultimately require a touch screen Mac or a good port to m&kb interface. Sent from the iMore App

They had Magic Trackpad, and I didn't buy an expensive iMac to run apps that my iPhone can run without it. Part of the issue with the Mac App Store is that it's filled with basically "Mobile App equivalents." Overpriced apps that don't do much more than what you can do with an iOS app. Not many people want to waste money on that, especially when many of them are duplicative due to what Apple preloads on OS X or iOS devices. I go to OS X because I need something more powerful than an iOS app to do what I need to do. Otherwise, I could have saved SEVERAL HUNDRED dollars by just getting a freaking iPad Air, which costs 1/3rd the price.

I prefer to buy my Mac apps there. Easy and safe place to buy. Card info already stored. Purchases good across all my devices. And easy re-download when I get a new device. Sent from the iMore App

Just to pricey plain and simple. I understand developers need to make money but most of these apps are way over priced. Don't agree with me thats fine.......the numbers don't lie though!!!!

Strange! I am Polish (that's for regional difference notification ;-) ) and I have absolutely no problem with Mac app store! I really love it! I don't like apps that are not in the store.. send me certificates and registration codes vi email. I actually payed twice for 1Password, DayOne and many more just to have them with the package in one place. It has many advantages imho - updates, upgrades, re-installation ease, 2-3 machines use.. and overall convenience. Mac App Store FTW!

I like many things about the MAS - no install codes or license keys, fully sandboxed apps, automatic updates, family sharing and the ability to easily install the apps on multiple Macs are all great things, just as they are on iOS. I have no problem with pricing whatsoever - software in 2015 is cheap, cheap, cheap compared to just a few years ago and so price is rarely a concern for me. However, the MAS discovery process is terrible and most people are unaware about installing apps on computers in general - they don't treat Macs like their iPhones and install things just to see how they work. They tend to rely upon a small set of tools that don't change frequently, unless they are proper geeks. Heck, this inertia is probably responsible for >30% of sales of Microsoft Office! People are often not even aware that apps exist to solve their problems, which strikes me as a king-size job for marketing: connect people's issues with tools that can help them. That's usually a job for a software company, but becomes a job for MAS, too.

Peter, I always enjoy reading your articles. You're my favorite iMore author. I think the Mac App Store is a great idea and has great potential. Just poorly executed, and along with most other commentator, I feel Apple should spend more time on improving it.
Thank you for signing up to iMore. You will receive a verification email shortly.
There was a problem. Please refresh the page and try again.