The Oculus Go Standalone Virtual Reality Headset offers one of the best VR experiences that doesn't require a PC or console to use, and it just became a bit more affordable with a permanent price drop at various retailers, including Best Buy and Amazon. Both the 32GB and 64GB versions are now $50 off, bringing the 32GB model down to $149 and the 64GB option to $199.
There's a moderate shipping delay on this headset at Amazon currently, with both models unavailable to ship until mid-February. To receive your order sooner, shop at Best Buy or Walmart instead. You'll score free shipping at either retailer, or you can select free in-store pickup where available.
The Real Deal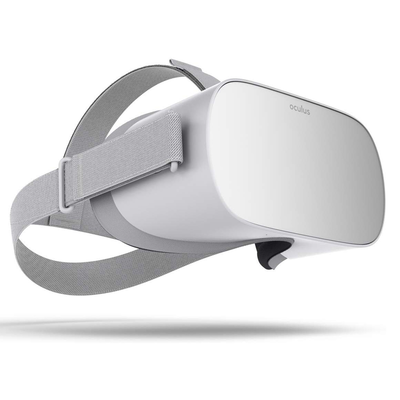 Oculus Go Virtual Reality Standalone Headset
Discover virtual reality with the 32GB Oculus Go at $50 off its original price. You don't need extra equipment like a fancy PC or powerful console to run this system, either.
$149.00 $199.00 $50 off
Oculus Go is a virtual reality headset designed for everyone. It's the third headset from Oculus, and it's meant to exist between the phone-powered Samsung Gear VR and PC-powered Oculus Rift. It's a little more capable than the phone-powered headset, but not quite as capable as the PC-powered experience. But as a standalone system, meaning it doesn't need to connect to anything, Oculus Go offers something unique.
There are plenty of critically-acclaimed games to play, movies to watch, and concerts in which you can immerse yourself with new content coming all the time. The portable form factor is unique to this headset, too, and there are built-in speakers for great sound without a mess of cords. You may want to invest in a carrying case to protect your gear on the go.
Android Central put the Go through its paces in this in-depth review, so it's worth checking that out if you want to know more. If you're already decided, now's the time to buy it at its new low price! Once your new headset arrives, be sure to look over this list of the best free games for Oculus Go.
We may earn a commission for purchases using our links. Learn more.