Olloclip for iPhone 6 and iPhone 6 Plus review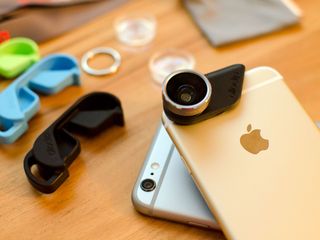 Olloclip is now available for the iPhone 6 and iPhone 6 Plus. And not only has the 4-in-1 lens system been completely redesigned for the new form-factors, but for the first time ever, Olloclip has been redesigned to work with the front FaceTime camera as well. So, how does it work?
What's in the box
When you unpack the Olloclip for iPhone 6 and 6 Plus you'll notice that you have a few more pieces than before. The colored pendants that you get serve two purposes, the most obvious is to protect the inside of the lenses. The second is to make it more convenient than ever to tote your Olloclip with you wherever you go. Just clip it on the included lanyard or to your keychain and your Olloclip can instantly go everywhere you go. As always, you also get the small nylon bag that includes two lens covers.
Olloclip offers a few different color combos so you can mix and match with the iPhone 6 or 6 Plus you own. These include silver, red, gold, and space grey.
How the Olloclip system works
The Olloclip 4-in-1 system includes four lenses: a fisheye, wide angle, 10x macro, and 15x macro. The macro lenses are on the inside of both the fisheye and the wide angle. Simply unscrew the top lens to reveal the two macros below them. This functions much in the same way as older versions of the Olloclip. The main difference now is how while one lens covers the rear lens, the other covers the front lens. You can easily swivel the Olloclip off by flipping it upwards in order to remove it or turn it around.
At first I was concerned with how you could tell the difference between the 10x and 15x macro if you unscrew both the wide angle and fisheye, but quickly found out that they only screw on to one side of the assembly. That means you can't mix them up accidentally, no matter how hard you try.
There's just one last thing to keep in mind and it's that you can't use the Olloclip with a case on your iPhone. For anyone who prefers not using a case, this isn't an issue. But if you're particularly clumsy, you may want to think about whether or not you'll want to take your case on and off in order to use the system.
Now on to what you guys really care about....
Photo samples
You can plainly see that the wide angle lens in the Olloclip system does a great job of expanding what you can pull into a single frame. It's my favorite lens of the four included and the one I use most frequently. Now that it works for the front facing camera as well, just think of how many people you can cram into a selfie if you want!
I don't use the fisheye lens that often but for those that are creative, you'll find wonderful ways of using it. I plan on trying to experiment more with it while traveling, particularly for more unique selfies or shots of architecture.
The 10x macro lens is great for grabbing detail on flowers, animals, text, and pretty much anything else you need to get close to. I was even able to capture a shot of my dog's eyelashes despite the fact that he was panting while I snapped it. Some of this can probably be attributed to the iPhone 6's improved camera as well. Pair this macro with burst mode, and it's pretty simple to snag a useable shot. If something is still, like the driftwood in the first photo, you'll have zero issue.
Holy crap the 15x macro can really get in there. Those are seriously carpet fibers on a rug. The first photo is the Safari icon on my iPhone 6 Plus. I purposely used the device that has the highest pixel count and I could still get in close enough to see individual pixels. Some discoloration happens of course but the fact that I can get in that tight is pretty incredible. However, if you don't have a steady hand, the 15x macro is harder to control and not very good at capturing anything that may be moving. Luckily, that's why we have the 10x macro too!
When using the Olloclip with the front facing camera, you can clearly see that using the wide angle lens you get a lot more into a single shot. Like I said above, you can definitely cram in more people if you need to! Not only that, you can get more of the background. And then you also have options like fisheye and macro that work perfectly fine with the front facing camera as well.
The bottom line
The Olloclip is still my favorite lens system for any iPhone and I'm excited to take it with me when traveling over the holidays this year since I can now take advantage of it for selfies as well. Not only that, the wearable pendants makes it easier than ever to make sure I always have it on me, whether that be on a lanyard or on a keychain.
For those that already have owned an Olloclip lens system, it's definitely worth the upgrade. And for folks who may be considering a lens system for the first time, the Olloclip won't disappoint.
Get more iMore in your inbox!
Our news, reviews, opinions, and easy to follow guides can turn any iPhone owner into an Apple aficionado
iMore senior editor from 2011 to 2015.
Great review. I was always interested in the Olloclip when I had the 5S and this seems like a nice upgrade for the 6'S. Great sample pics. Wide angle and macro looks good. Sent from the iMore App

Wish they'd add a telephoto.

There is a telephoto available for the 6 and 6+. It's also on sale for Black Friday currently. But unfortunately it's a separate buy from the 4-1 lens.

Please send a link to the telephoto available for the 6 and 6+. Olloclip's website only shows a telephoto for the 5

First off...u write very pertinent, useful and detailed reviews. Kudos.
Second I know u said it can't be used with a case. But can it be made to work with a thin case like the apple leather case? Sent from the iMore App

I have the apple leather case and it doesn't work. Sent from the iMore App

I wish they would develop a set to work with cases on the phone. I have been using Olloclip for years and even won a set. Love the macro lenses. Sent from the iMore App

Any idea how it compares to http://photojojo.com/store/awesomeness/cell-phone-lenses/ ?

I'm still struggling getting the lens aligned on my 6. Its taking some getting used to. The lens on the 5 fit differently. However, this lens is an absolute must! With use I'll get used to it. I don't leave home without it. They really upgraded the whole package with the lanyards and carrying clip. I'm a walking commercial for this lens. And now that I know there's a telephoto lens, I know what I'm getting for Christmas.

I found if you can see the front facing camera through that one (mine is white so may not be possible with black) that helps.
Love the lens, only trick is its not that friendly towards screen protectors - definitely not glass ones but the plastic should be ok if you're careful.

Please give enough sample pictures to compare ..!! And please also show the best telescopic lens..!!! Sent from the iMore App

I'm using this one: http://phonelenscases.com/ztylus-iphone-6-case-lens-adapter-kit-metal.html takes great images, no pieces to carry, and looks so awesome.

It looks really awesome, my 16 year old daughter wants one for Christmas. I just want to know what the warranty is ? She is really good with her things, She has a otter case and I know she will have to take that off to use this, wish it was adjustable. And what is the difference between this and the one IPod sales ?