Ongoing TomTom on iPhone Saga Goes On. And On.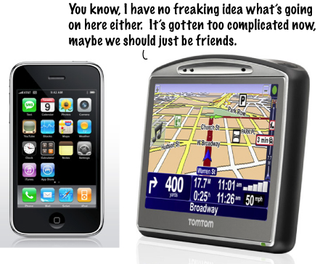 Are you tired of hearing about whether or not we'll get actual, real, turn-by-turn GPS on the iPhone yet? You shouldn't be, because it's a killer feature that a lot of other smartphone platforms are justifiably proud of and the iPhone needs to get it, Apple's crazy rules be damned. At least, that's what we tell ourselves when we cover all this TomTom news, from "It's coming to iPhone" to "It's not coming."
The latest? Despite what you may have heard (ahem), TomTom is working on a client and has one in-house that works "pretty well" according to MacGeneration (via AppleInsider). So says TomTom press chief Yann Lafargue, who adds that as for whether or not the darn thing will ever ship, TomTom can't really say.
We know that Apple's SDK agreement prohibits it (probably so Apple can't get sued when you follow your GPS directions into a lake), but we're willing to sign away our firstborn rights to sue for this, okay Apple? Can't you guys make nice?
Get the best of iMore in in your inbox, every day!
Are we sure that the 2.0 release of Google Maps does not include include turn by turn directions? I know Jobs didn't showcase this at WWDC, but it seems like a no-brainer to have turn by turn directions as part of Google Maps. Maybe this is why Apple forbids anyone else to develop - they've already integrated it...hmm

I say again, the section of the SDK agreement pertaining to no turn by turn is a word for word duplicate of that which comes in the Google Maps API. I have said it before, but I really think it just means you can't create a turn by turn voice navigation program and use it with the existing Google Maps client.
I don't think it prohibits third parties from building their own navigational program from the ground up, including maps. So long as it has the proper disclaimers that is.
Why in the world would Apple include a GPS, but not allow for navigation? It just doesn't make sense. They could have kept their old triangulation methods and been done with it.

"Are you tired of hearing about whether or not we'll get actual, real, turn-by-turn GPS on the iPhone yet? You shouldn't be"
Hmm? TomTom's software would no doubt include additional features (like voice annunciation) but turn-by-turn directions are already available on the iPhone. In Google Maps, just tap the eyeball, then tap "List" to view turn-by-turn directions.
There's no reason to think this would go away in iPhone 2.0. The Apple website says, "Get directions to wherever from wherever. View turn-by-turn directions or watch your progress with live GPS tracking."

I dont care what the issues are at Apple, all I know is that I am the customer and I demand turn by turn guidence on my iphone. Apple, get it done!!

Well, it took forever, but it's finally here in the US app store: http://bit.ly/tomtomgps

I am going to have to take a closer look at this one, thanks
Thank you for signing up to iMore. You will receive a verification email shortly.
There was a problem. Please refresh the page and try again.