OnLive Desktop hits the App Store, Windows 7 access from your iPad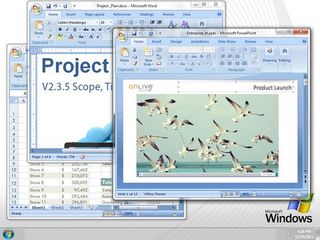 OnLive Desktop has now gone live in the App Store. OnLive Desktop is an app which will provide a cloud based Windows 7 experience for iPad users. The OnLive Desktop app will give users access to a Windows desktop experience without the need for any VNC or remote desktop connections. It is all stored in the cloud and accessible from your iPad or a desktop machine.
Instantly view, edit and create documents using actual Microsoft Office Word, Excel and PowerPoint
Easily transfer files between OnLive Desktop and other devices
Experience high-performance, instant-response PC applications
Interact with lag-free animation and video
OnLive Desktop is available as a free download and is compatible with any iPad running iOS 4.3 and above. You will need to create an account with OnLive before you can use the service. Currently this is only available in the U.S.
Have an app you'd love to see featured on iMore? Email us at iosapps@imore.com, tell us about your app (include an iTunes link), and we'll take a look.
[gallery link="file" order="DESC" orderby="title"]
UK editor at iMore, mobile technology lover and air conditioning design engineer.
Will it be released for the UK ?

Just used my US itunes account and installed this in the UK,cant connect it keeps telling me its full.

Ok, I'm confused. Without internet explorer or any other possible way of connecting to the internet... how does the Microsoft Office client do me any good? You can't upload files or download files. Why would I want to write a report on there if I can't get it off? Sorry Onlive... you need to focus more on games. Maybe next time you can work on keeping your customers informed about apps you've submitted.

You also have 2 gig of file storage that you can access through other means. That 2 gig also appears as your My Documents folder in the virtual PC.
Obviously, the upsell of $10 / month is that you get IE for even easier access to files.

I believe it requires a free account that includes 2 GB of cloud storage.

It's really nice, smoother and faster than I expected.

Took me less than a minute to crash Word. Got the End Process error box and everything. Yep, Windows on a tablet. Can't imagine why that didn't catch on. Oh, those tiny touch targets are laughable.

Youtube link says "private". Link not working.

Music Will Change... Foreverwww.musicwillchangeforever.com
Thank you for signing up to iMore. You will receive a verification email shortly.
There was a problem. Please refresh the page and try again.